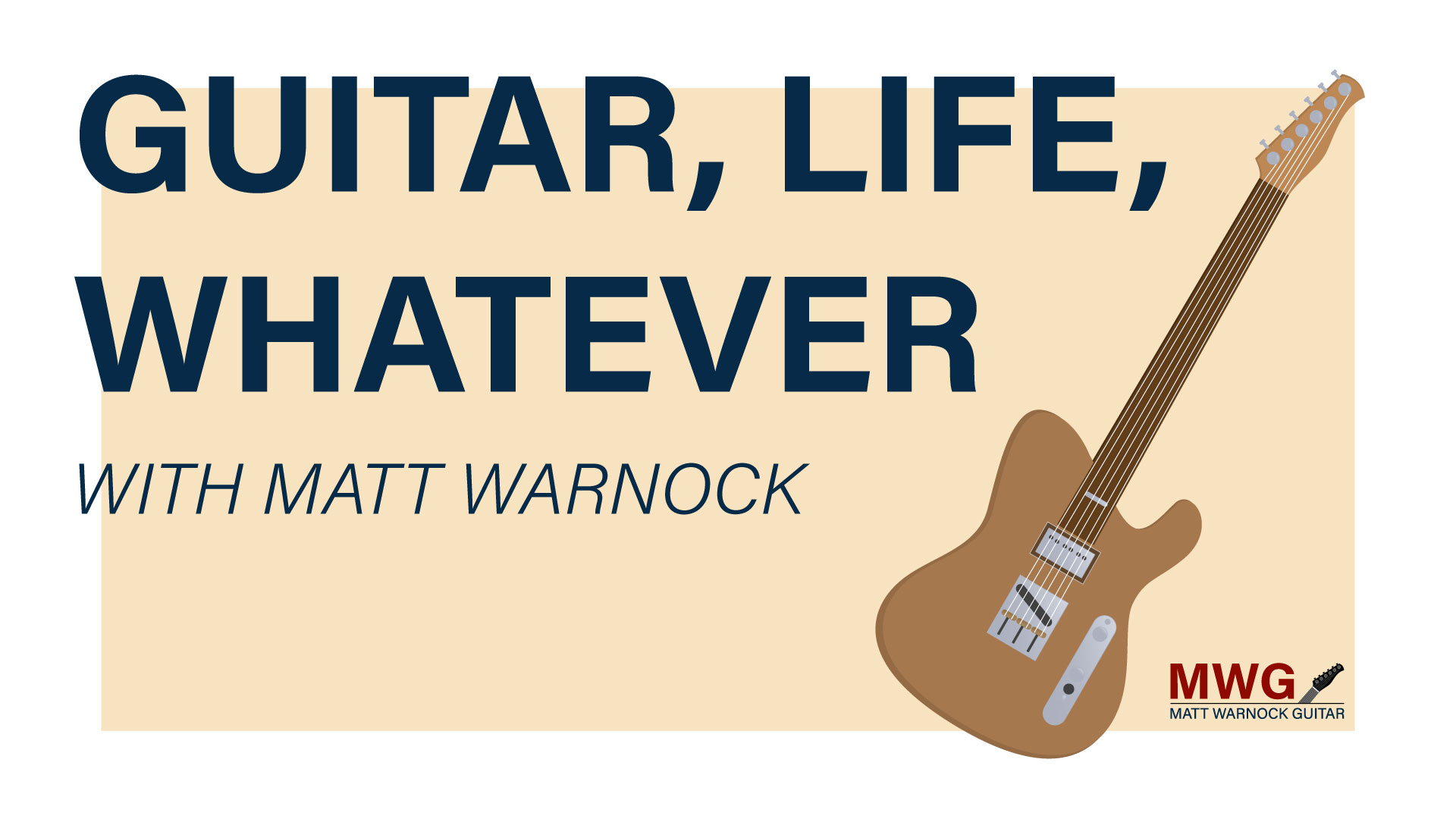 Guitar, Life, Whatever Podcast
Guitar, Life, Whatever, explores how musicians relate to the modern world with in-depth conversations between jazz guitarist Matt Warnock and videographer Zaskia Villa. Special guests will stop by from time to time.
Use the links below to subscribe and download any podcast to listen offline!
How to Play Alone Together Live Workshop - Episode 33
Matt breaks down this classic jazz standard as you learn how to comp and solo over this tune with confidence and authentic jazz vocabulary..
Deep Dive - Have You Met Miss Jones - Episode 32
Matt breaks done this jazz classic as you learn how to navigate soloing and comping over Miss Jones.
How to Play Body and Soul Workshop - Episode 31
Matt breaks down one of his favorite jazz standards, Body and Soul. Learn how to comp and solo over this essential jazz ballad with this fun and engaging live workshop recording.
Essential Fingerstyle Techniques - Episode 30
Matt breaks down essential techniques and exercises for playing fingerstyle guitar and fingerpicking. Play your favorite fingerstyle songs with ease by working on these fun and creative fingerpicking workouts.
Guitar Life Whatever - Summer 2020 Edition - Episode 29
Matt and Zaskia sit down to discuss what's going on with MWG, the world, and in their own lives during the turbulent summer of 2020.
When Pro Guitarists Solo, This is What They Do - Episode 28
Matt breaks down how pro guitarists create memorable and exciting solos. Dive into essential techniques, concepts, and exercises as you expand your soloing chops on guitar.
Matty's Mindblowers! - Episode 27
Matt pulls back the curtain on his favorite tips and tricks when soloing and comping in a jazz guitar setting. Learn from Matt's 25 years of jazz gigging and teaching in this must hear podcast.
Minor Blues Chords for Guitarists - Episode 26
Dig into essential minor blues chord shapes and comping concepts with this live workshop replay. Matt dives into his favorite chords and comping workouts for minor blues as you level up your playing and have fun with these exercises.
Intro to Minor Blues - Episode 25
Learn how to analyze, solo, and comp over any minor blues song with confidence. Matt takes you deep into the minor blues realm with this live workshop replay.
Bored of Your Blues Chords? - Episode 24
Learn how to spice up your blues chords as you expand beyond barre chords and root based chords in this live workshop replay. Grab your guitar or sit back and enjoy this essential podcast episode.
Bossa Nova Guitar Essentials - Episode 23
Dive into the world of Bossa Nova guitar with this replay of a live workshop with Matt. Learn all about chords, colors, rhythms phrasing, and more from this great Brazilian music.
Bebop Bootcamp Live - Episode 22
Matt breaks down essential bebop guitar soloing concepts and skills in this live workshop replay. Learn how to create authentic bebop lines and solos with these fun and exciting workouts.
Essential Guitar Soloing Skills - Episode 21
Learn essential soloing skills and workouts with this fun workshop style podcast with Matt. If you've never improvised before, or you're stuck in a rut, this podcast episode will take your soloing skills to the next level.
Get Rid of Guitar Technique Worries for Good - Episode 20
Matt talks about his favorite technique exercises that fix any problems you have and builds a solid foundation with dexterity, coordination, stretching keeping your fingers close the fretboard at all times, and more. Take your technique to the next level with these fun guitar workouts.
How to Play Minor Blues Songs - Episode 19
Learn how to build a minor blues song, how to solo over minor blues chords, and how to comp chords over a minor blues song. Matt's digs into his 25 years of experience jamming minor blues songs to help you reach your musical goals quickly and with fun exercises.
How it All Got Started - Behind the Scenes at MWG - Episode 18
Join Matt and Zaskia in the first GLW live episode as they discuss life changes, the year in review so far, practicing guitar in today's world, and more.
Jam Session Essentials - Episode 17
In a replay of a live workshop, Matt discusses how jam sessions work. What you should play in a jam session as a guitarist. And, how to set yourself up for jam session success. Funny jam session stories, hard lessons learned, and more in this exciting podcast episode.
The Blues Side of Jazz Blues Guitar - Episode 16
Replay of the live Facebook workshop titled "The Blues Side of Jazz Blues Guitar." Learn how to bring the blues into your jazz guitar soloing and comping in the style of Wes Montgomery, Kenny Burrell, George Benson, and more. Grab your guitar and have a blast exploring this material in your playing.
Comp & Sing in Quarantine - Starring Holly & Matt - Episode 15
Holly & Matt play duo jazz blues as they demonstrate different ways to comp behind a vocalist, both good and bad...They also talk about their experience with each approach to comping and how that effects their playing and interaction in a duo setting.
Trio Conversation - Holly Joins the Gang - Episode 14
Holly Holmes, Matt's better half, joins the conversation as she's stuck working from home right now. The trio talks about how to fit in on stage, how singers tune to guitarists, how to support a singer, and more.
Memory, Habits, and Pushups - Episode 13
Matt and Zaskia talk about memory in regards to life and music. They also dig into build habits for learning guitar based on a pushup story Zaskia read about. And the normal hilarity ensues...
Zaskia Makes a Music Video and Matt's Horror Stories - Episode 12
Zaskia talks about her experience directing, producing, and editing her first music video. Matt talks about 3 times in his life/career where he ran into a situation that caused him to rethink his future in music. The fun ensues!
Transformation in Music, Life, and Whatever - Episode 11
Zaskia and Matt talk about transformations in music and life. How challenging ourselves leads to positive change, and why Matt started Play Jazz Guitar in 2016.
Journey - From the Band to Our Musical Adventures - Episode 10
Matt and Zaskia discuss their musical journey's, the band Journey, Matt's desire to be free with his performances and Zaskia's life and music connection.
New Year New Goals for 2020 - Episode 9
Matt and Zaskia discuss setting musical goals, how goals are effective learning tools, what we're listening to and more.
Meet the Team - The Gang's in Town! - Episode 8
The gang is all in Tucson and so Matt, Zaskia, Steph, and Ben sit down to talk about guitar, creativity, how you the listener drive everything we do and more!
The Art of Guitar Building - Episode 7
Matt sits down with luthier Dan Koentopp as they discuss guitar making, life, and whatever. http://koentoppguitars.com/
Ask Matt - Q & A With Matt Warnock - Episode 6
How tall is Matt? What's Matt's favorite sports team? Is Matt a 300 year old vampire masquerading as a guitar teacher? Get these answers and much more in this week's episode of Guitar, Life, Whatever...
Learning How to Learn - Matt and Marc in Conversation - Episode 5
In this special guest episode, Matt and Marc Talk Guitar, Learning, Johnny Smith, life with the guitar as a non-career musician, and more.
Behind the Camera - Getting to Know Zaskia - Episode 4
Who is Zaskia? Matt and Zaskia talk about who she is, where she comes from, and he she fits into the MWG and GFL family. This week's topic comes from a listener question who wanted to know more about the person behind the camera. Instagram link here.
What is a Professional Musician? - Episode 3
Matt and Zaskia talk about the meaning of the word professional in the artistic world, why Matt prefers professional vs. unprofessional instead of professional vs. amateur, and more!
Failure and Learning - Episode 2
Matt and Zaskia talk about the role of failure in learning and how to use failure as a motivational experience when learning to play guitar, and in life and general.
A Life in Guitar - Episode 1
In this episode we discuss how one relates to the guitar in their first months of playing vs. their 25th year of playing. Matt and Zaskia delve into creativity, who we play for, playing with the beginner's mind, and more.