Beginner's Guide to Jazz Guitar
A Step-By-Step Course to Solo and Comp in an Authentic Jazz Style.
Course Curriculum
Introduction
Available in days
days after you enroll
Chapter 1 - ii V I Chords
Available in days
days after you enroll
Chapter 2 - Jazz Picking Patterns
Available in days
days after you enroll
Who is This Courses For?
This course is designed for guitarists looking to play authentic jazz guitar and who haven't had success in the past or are starting from scratch.
It's for guitarist's who:
Want to learn jazz guitar but it seems impossible.
Have tried other courses and weren't happy with your progress.
Are stuck in a rut with your jazz guitar studies.
Want to explore a new musical genre in your playing.
Want to play and not be overwhelmed with theory.
Are ready to learn jazz guitar and have fun at the same time!
I've been playing and teaching jazz guitar for over 25 years and have watched thousands of my beginner students successfully learn to play jazz guitar.
I want to share with you everything I've learned about how to best learn jazz guitar as a beginner with authenticity and confidence.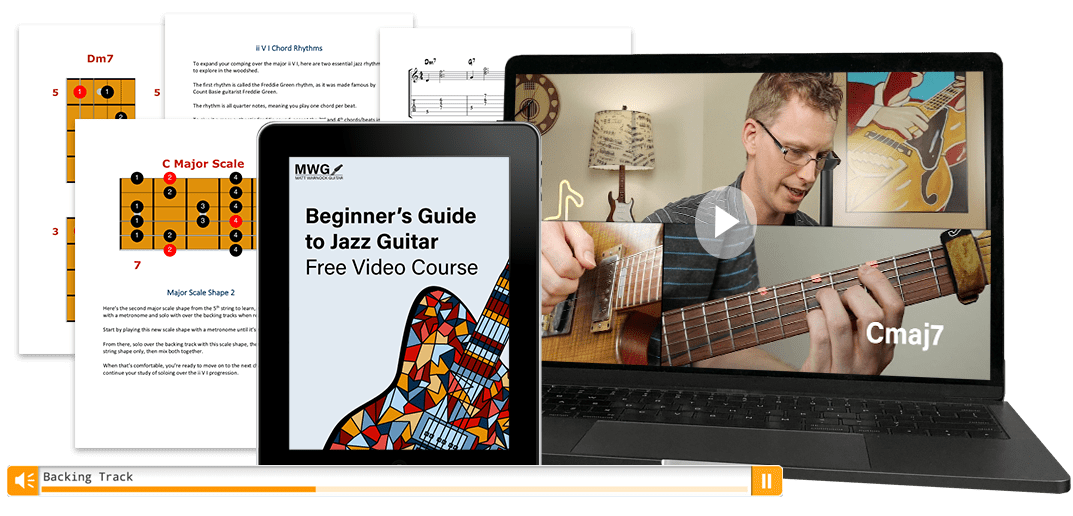 Back in the day, when I was just a young sprout, I heard an album that changed the course of my entire life, the album Kind of Blue by Miles Davis.
I had already been improvising in a rock and blues context, but when I heard Miles and the gang playing, I thought, "that is exactly what I want to sound like!"
Problem was I had no idea how these great players created all those hip lines and cool piano chords I was hearing on the record.
So, I decided to dedicate every spare minute to learning how to play jazz guitar.
I was obsessed, I learned from every book and magazine I could get my hands on, I recorded jazz off of the radio to listen to and transcribe, I took private lessons.
I went all in.
And, while I did learn a lot about how to play jazz guitar, I wasted a lot of time in the practice room along the way.
I spent months exploring techniques and concepts, only to find they weren't that helpful for me, or even worse, I discovered a short cut after putting all that time in.
In the end I was able to sort through tons of material, keep the good stuff, leave the rest, and develop an approach to learning jazz guitar that worked, 100%.
I then made it my life's goal to work with as many other guitarists as I possibly could so that they too could benefit from those golden nuggets I discovered in my own studies.
I've taught this material to thousands of private students and everyone has been able to learn how to play jazz guitar to their best potential.
From the rock guitar virtuosos who wanted to expand their playing, to classical guitarists wanted to improvise, and everyone in between, these exercises allowed them to play jazz guitar.
Even the people who came to me, having tried to learn jazz before and felt that jazz was "impossible to learn," even those people learned to play jazz guitar.
Now, we all can't be Wes Montgomery. There's a lot of DNA, early exposure, and lifelong dedication that goes into becoming a professional jazz guitarist.
But.
You can all become the best jazz guitarist you can be and enjoy every minute in the practice room.
And that's all we can ask for as guitarists.
The first steps in your journey to playing jazz guitar are in this course, come get started.
What You Learn
ii V I soloing and comping concepts.

Essential jazz chord shapes.

Approach chords.

Jazz picking patterns

Major Scale patterns.

Jazz soloing lines and phrases.

And much more!
What You Get
Video Lessons

Quizzes to test your knowledge.

PDFs with musical examples and practice guidelines.

Backing tracks to jam online and offline.

Ability to ask questions and get quick, helpful answers.

And much more!
Benefits
Become confident with ii-V-I soloing.

Learn to nail II-V-I chords.

Multiple camera angles for easy study.

Slow down videos to learn exact hand movements.

And much more!
Why Enroll
Make all your lines sound like jazz.

Comp chords like a jazz veteran.

Learn how to play the cool notes outside scales.

Mix chords and scales like a pianist.

And much more!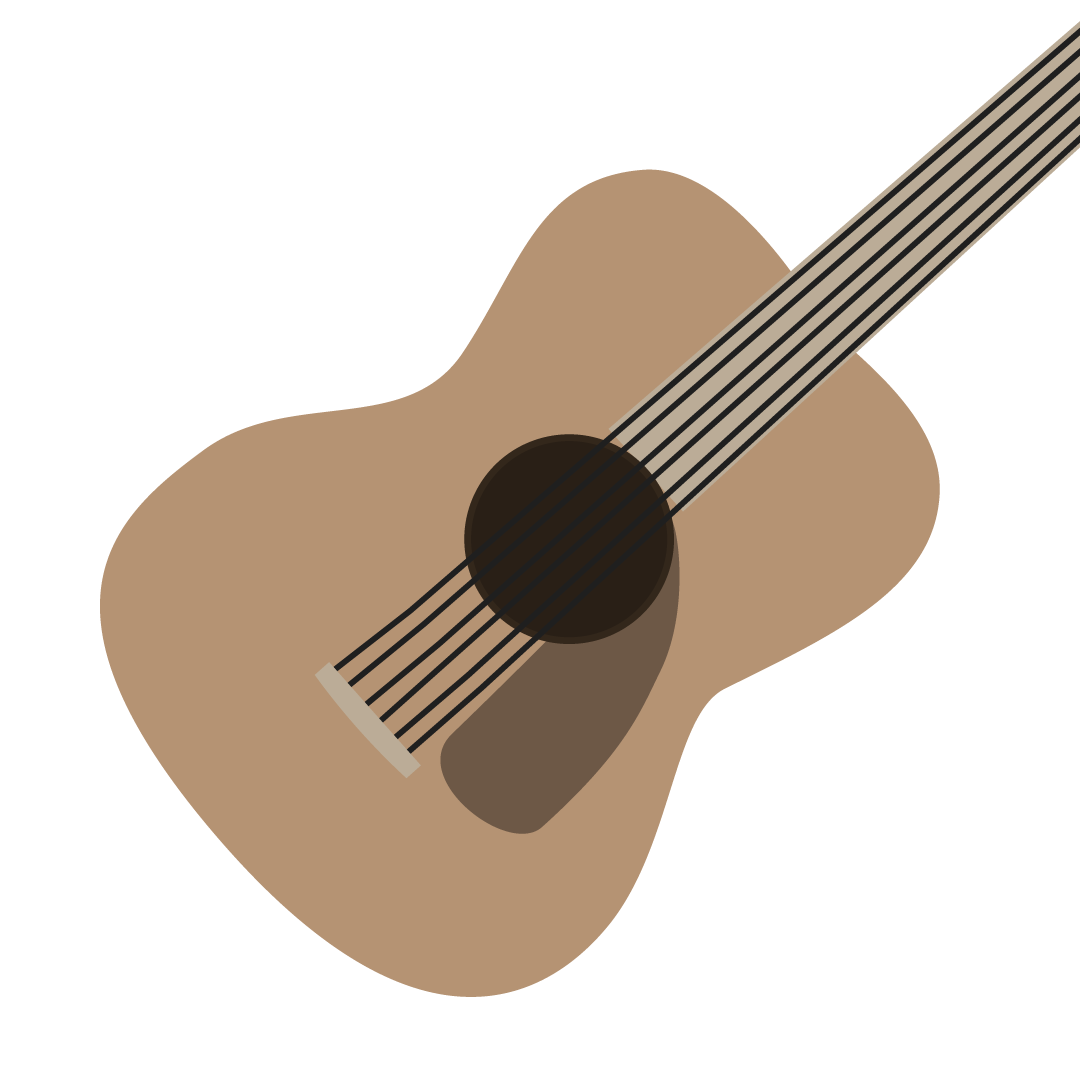 "Matt, you have the most informative site for guitar players I've ever found. I think you're the best teacher I've found on the Net and I've found a bunch."
- Merlin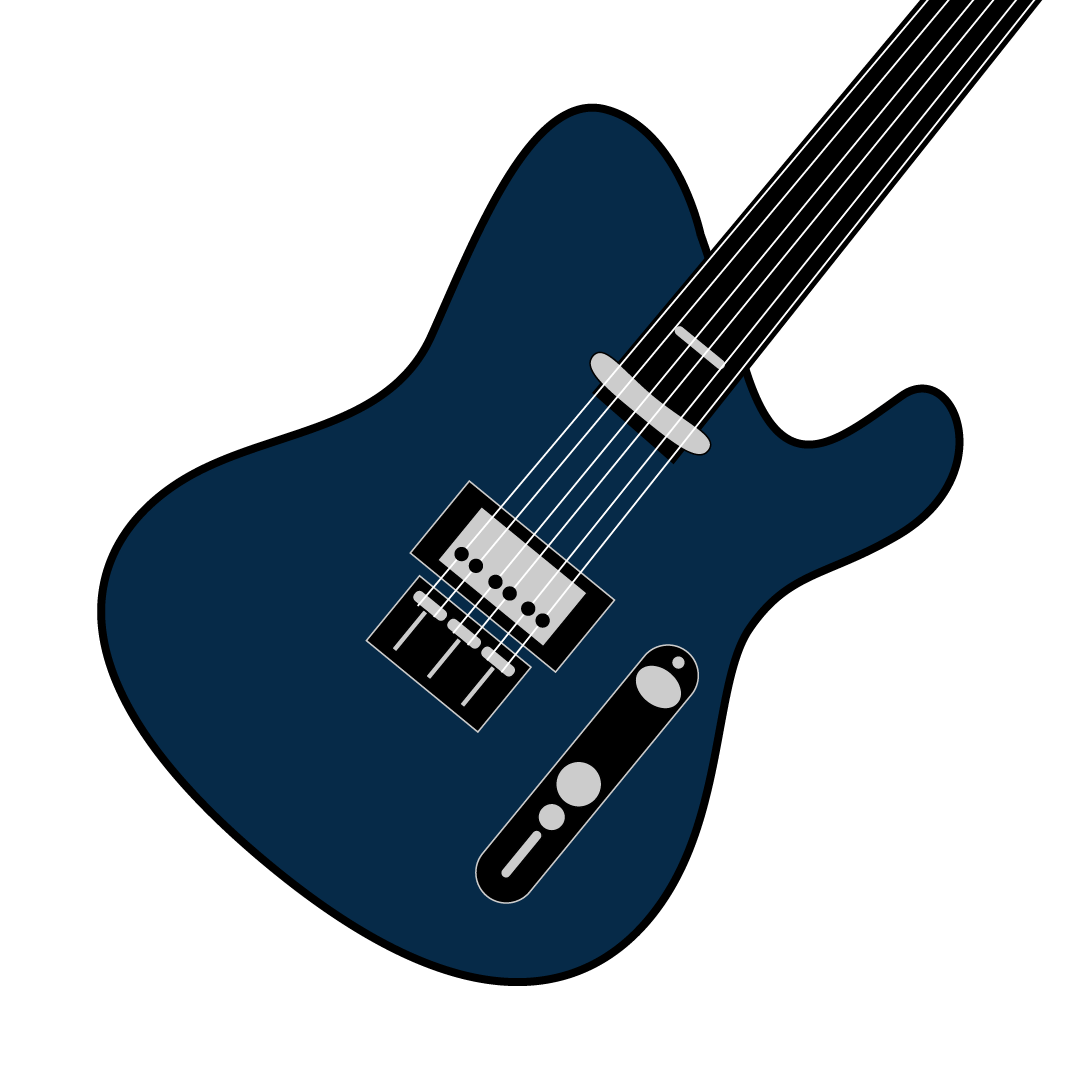 "May the jazz guitar god bless you. This is the best ever beginner jazz guitar course and it's free. I've learned so much in a matter of minutes. Bravo."
- Garland
Frequently Asked Questions
When does the course start and finish?
The course starts now and never ends! It is a completely self-paced online course - you decide when you start and when you finish.
How long do I have access to the course?
How does lifetime access sound? After enrolling, you have unlimited access to this course for as long as you like - across any and all devices you own.
Can you play jazz on acoustic guitar?
Yes, you can play jazz on an acoustic guitar. As well as an electric, archtop, flat top, and any guitar you can think of.
What chords are used in jazz?
Extended and chromatic chords are used in jazz. These chords are played using chord shapes such as drop 2, drop 3, 4th chords, rootless chords, guide tones, and more.
What is the most common chord progression in jazz?
The major and minor ii-V-I is the most common chord progression in jazz. It is found in hundreds of jazz standards and if you can play ii-V-I's you can play countless jazz songs.
What is a jazz chord progression?
Jazz chord progressions use secondary dominant chords (II7 and VI7), turnarounds (iii-VI-ii-V-I), and blues chords (I7-IV7-V7), and more. ii-V-I's make up a large part of jazz harmony, but there are also many other popular changes to check out.
What scales are used in jazz?
Jazz musicians use melodic minor modes, bebop scales, diminished scales, pentatonic scales, and more. When learning jazz, scales are a beginning, not an end as you learn to apply the jazz language to any scale you learn.
What does comping mean in jazz?
Comping is short for accompanying and is when you play chords, as a guitarist, behind the melody or a solo. It is the art of complimenting and inspiring the soloist using chords, subs, rhythms, lines, and more.