"Before studying with Dr. Matt I garnered awards as a jazz guitarist and had degrees from the New England Conservatory, plus my PhD. I studied with John Scofield, Wayne Krantz, and many other jazz legends. THEN I studied with Matt. WOW! not only is Matt and outstanding player, he's easily the best teacher I've studied with." - Dr. Roland Davis
MWG All Access Includes:
Everything you need to play better jazz guitar in a supportive community.
The Studio
Feedback & Community
Tune of the Month - Jazz Standards
Daily Jazz Guitar Lessons
Weekend Jazz Challenges
Positive Community
Studio Jams
Feedback from Matt
One-On-One Guidance
Jazz Listening Sessions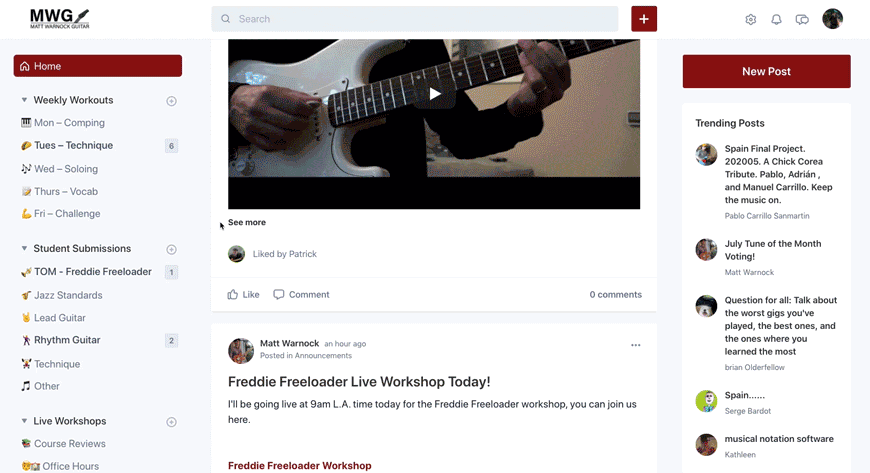 "Thanks Matt. Your curriculum is the finest I've experienced. So accessible, low pressure, adaptable, and consistently motivating. Most of all, as a teacher, you are an awe-inspiring explainer and listener. For me there hasn't been a session that goes by without you finding and revealing some unexpected and deeper sense of the experience of listening to and playing jazz guitar." - Tony Armelin (MWG Member)
Tune of the Month
Organized & Personalized
New Standard Every Month
Daily TOM Lessons
Comping Workouts
Soloing Exercises
Form Analysis
Beginner to Advanced Levels
Authentic Swing Feel & Vocabulary
Chord Melody Arrangement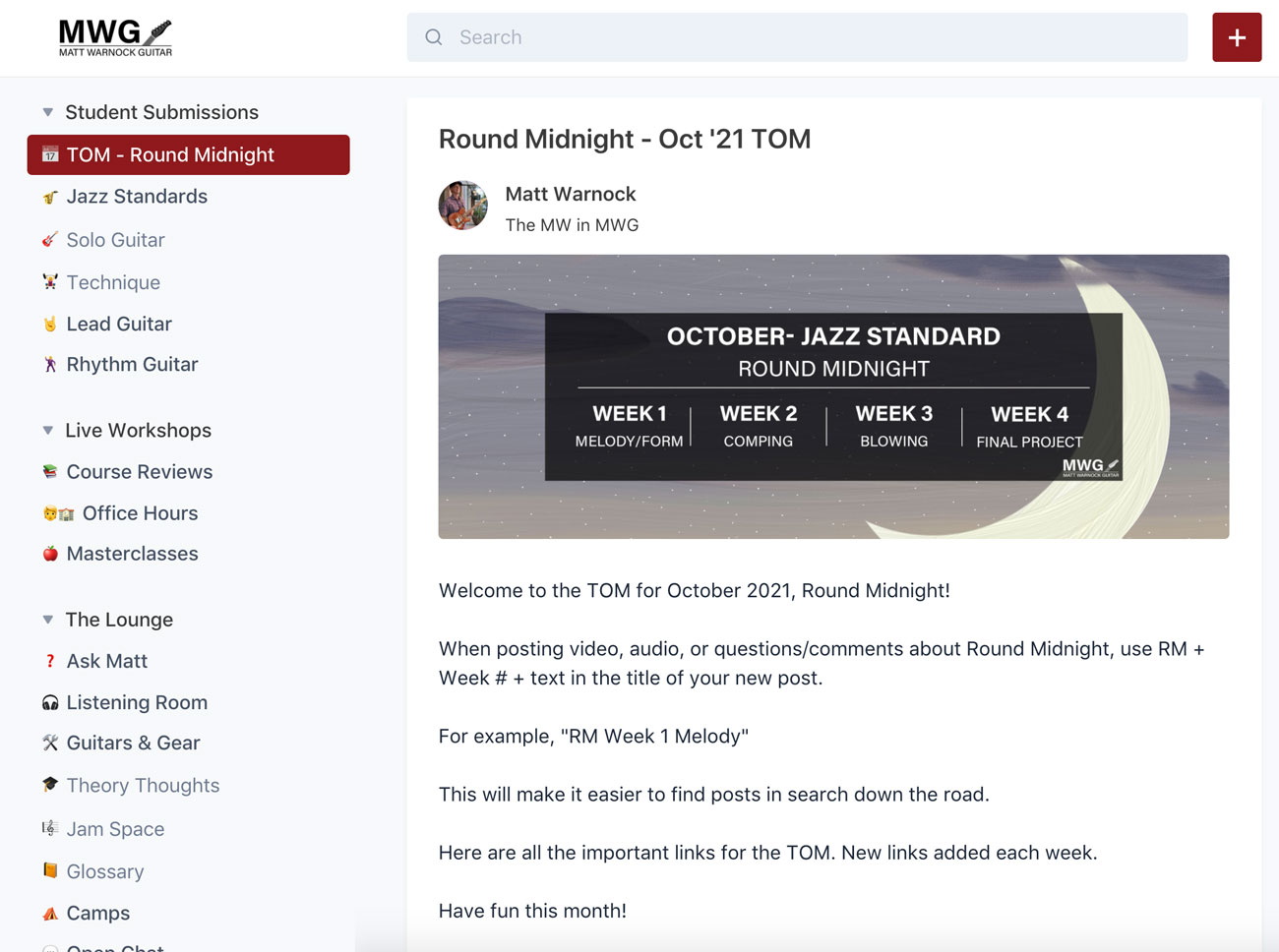 "Matt's online lessons are a great resource for any jazz guitarist - from beginner to pro. Matt is simply a great teacher and player." - Dave Stryker
Live Workshops
Interactive & Engaging
Live Jazz Guitar Lessons
Jazz Concept Deep Dives
MWG Course Reviews
3-4 Workshops Every Week
Interact with Community
All Levels of Experience
Direct Answers to Your Questions
Expert Instruction
Watch Live & On Replay Anytime
Start Now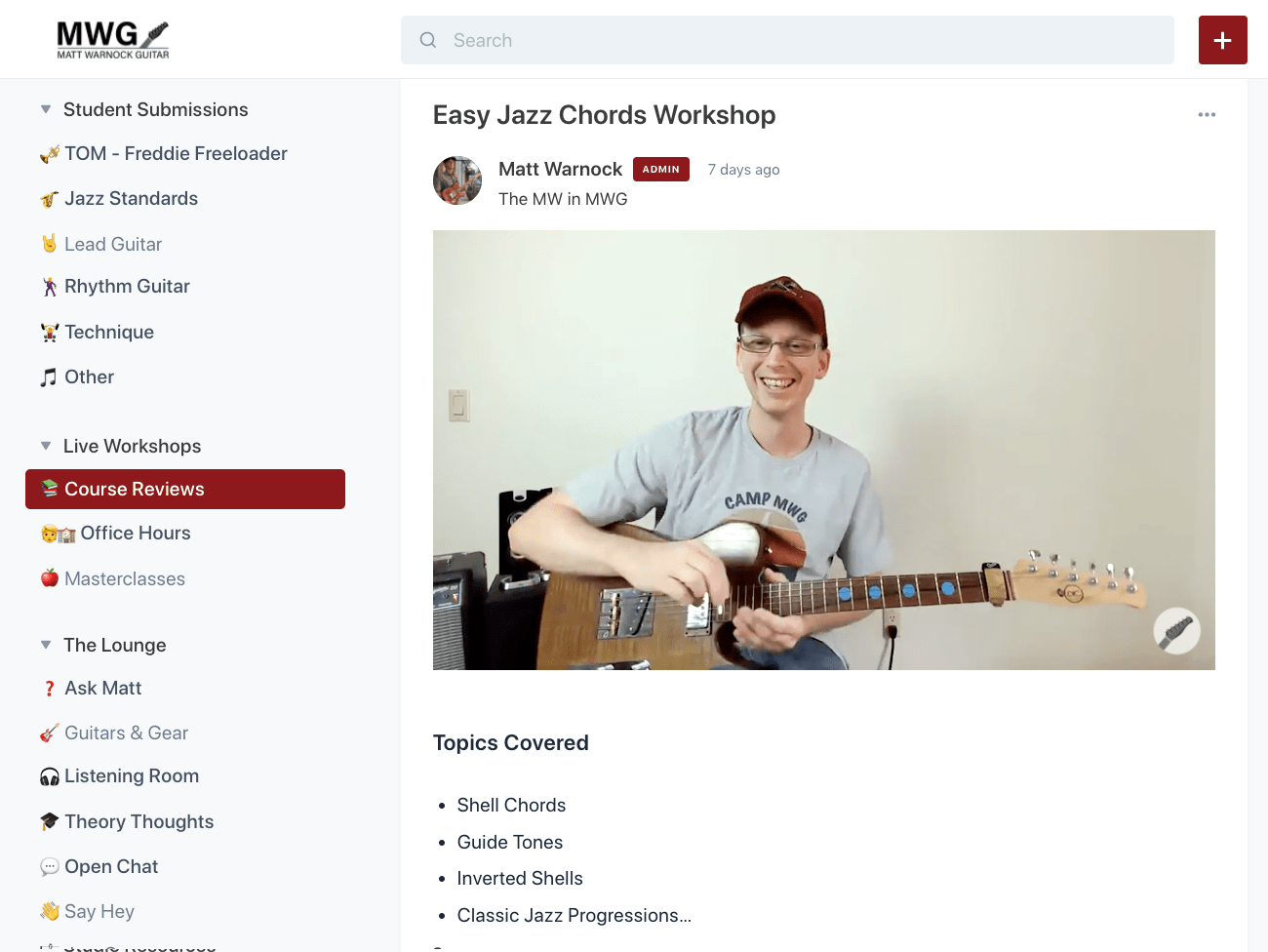 "I just love it when I see a new video lesson posted by Matt. His lessons are concise and to the point! I wish that his lessons were available to me when I was learning how to improvise!" - Vic Juris
Masterclasses
Unique & Personal
One-On-One Lessons With Matt
Watch Replays Anytime
Jazz Skill Breakdowns
Instant Feedback
See Progress in Minutes
All Levels of Players
Soloing, Comping, Musicianship, & More
25+ Years of Experience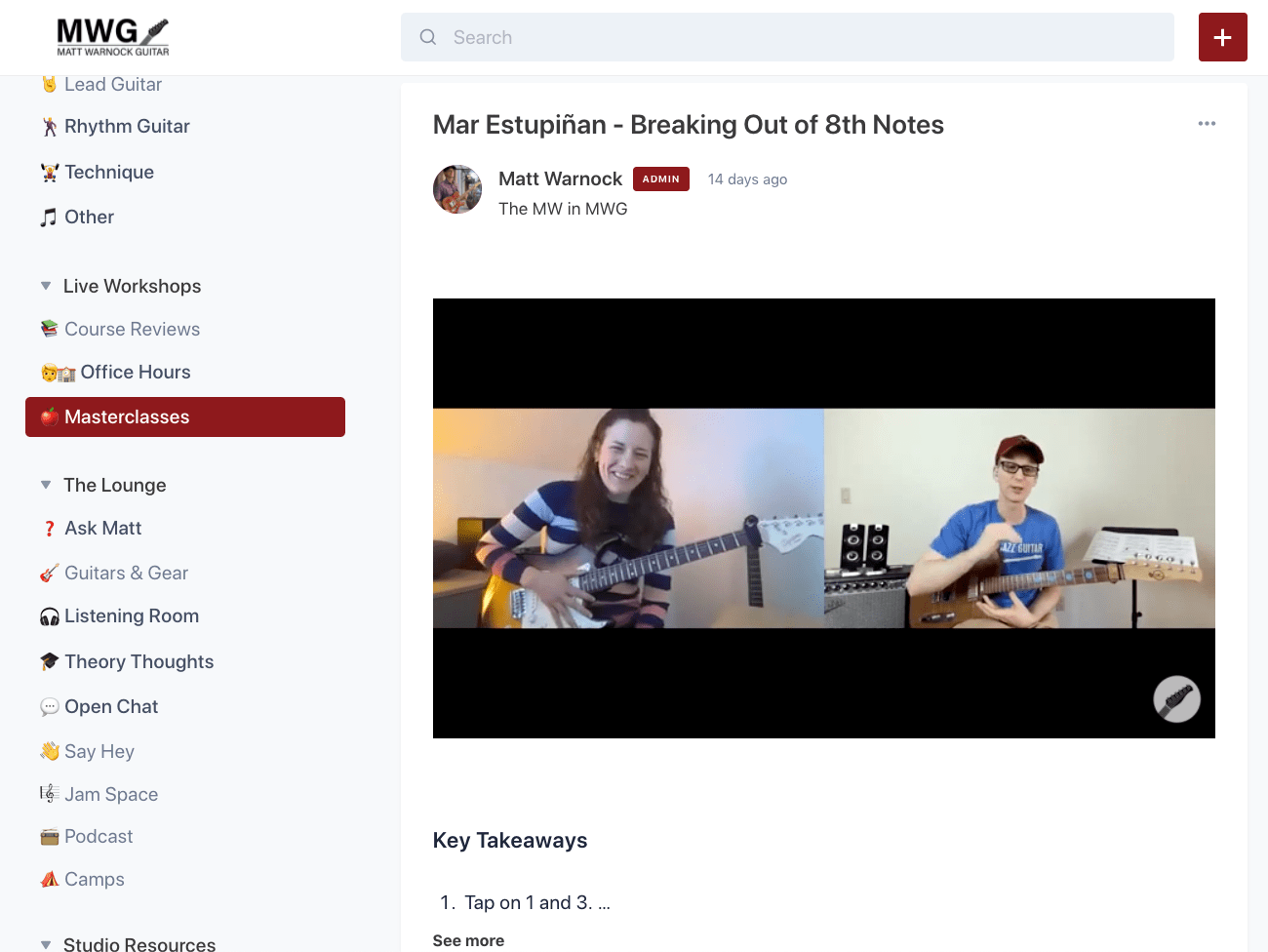 "Just started today…already a better player. Matt has ideas and concepts I NEVER would have stumbled upon by myself. Worth the $." - Chris Flagg (MWG Member)
Courses
Levels & Catagories
20 Ordered Levels
Skill Categories
Track Your Progress
Guidance From Matt
Video, PDF, & Mp3s
Jazz, Blues, & Fingerstyle
Weekly New Releases
Tailored to Every Level
Play at YOUR Pace
Play Jazz Guitar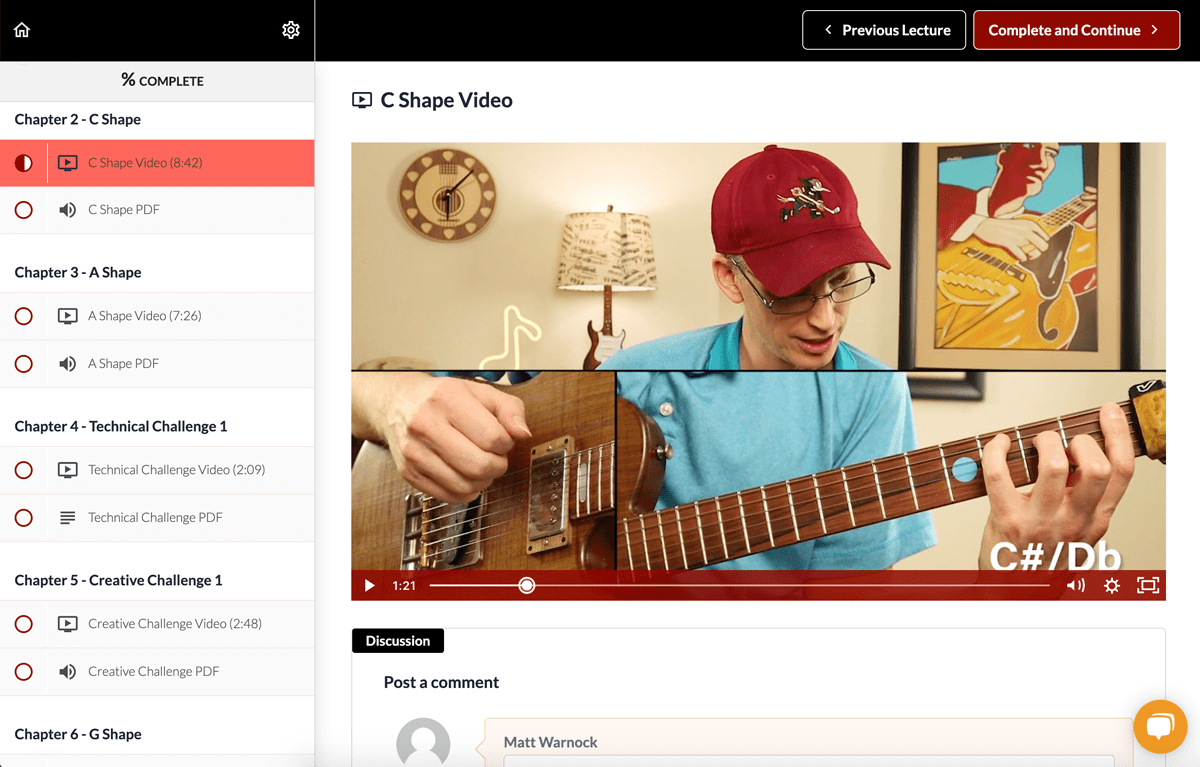 "You're like a wizard Matt! I just posted that comment and you've already replied with great advice to the questions I was still forming in my head to ask you offline! Man, I have no idea how you do it, but I'm so glad I found your lessons and using them. Thanks for that advice!" - David Michaels (MWG Member)
Libraries
Resources & Fundamentals
Quick & Concise Lessons
Chords, Scales, & Arpeggios
Jams, Jazz Licks, & Warm-Ups
Technique Workouts
Video, PDF, Mp3, & Jam Tracks
Instantly Improve Your Playing
All Levels & Musical Goals
New Libraries Weekly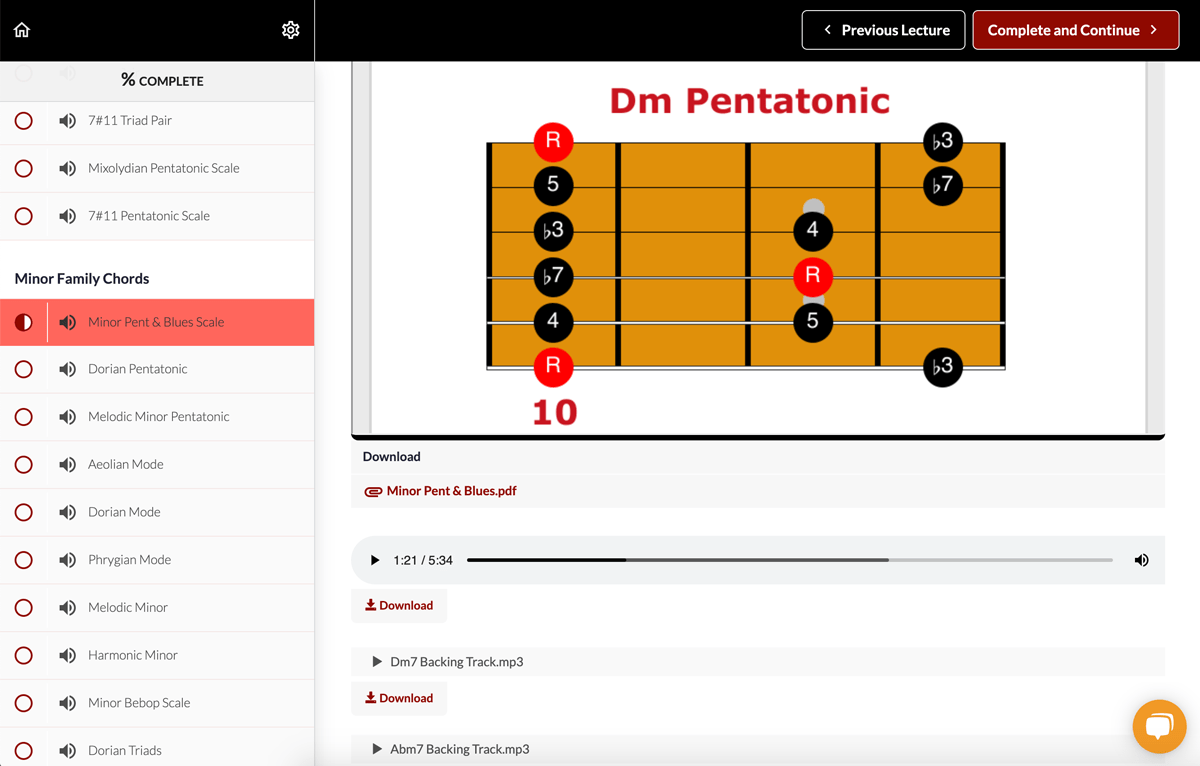 "Great course! I'm finally seeing how the different positions for scales link together on the fretboard and it makes improvising much more fun!" - Frank Spear (MWG Member)
Camps/Deep Dives
Personal & Focussed
Summer Camp
Live Workshops
Guest Workshops
Community Interaction
Player Studies
Chord Melody
Creative Comping
Philosophy of Improvisation
In-Depth Mode Study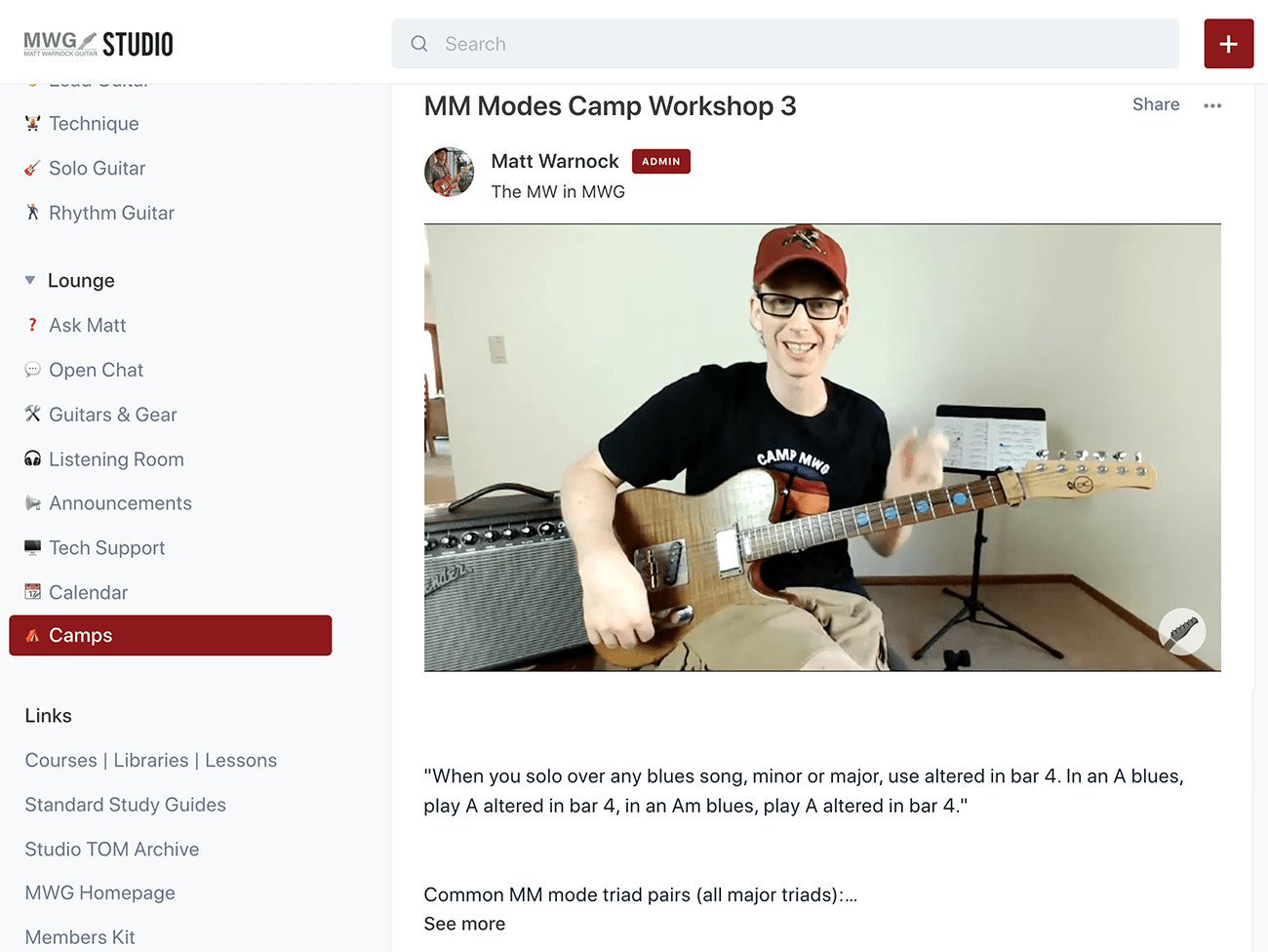 "MWG is really terrific. It's extremely well organized by level of difficulty and there are many live interactive events. I really enjoy it. I think it's as good if not better than having a live teacher." " - Norm Marier (MWG Member)
Open Practice Sessions
Unique & Interactive
Multiple Sessions Per Week
Open to All MWG Members
1 to 1 Lessons
Your Questions Answered
Direct Feedback on Your Playing
Play with and/or for Matt
Benefit from 25+ Years Jazz Experience
Friendly & Welcoming Lessons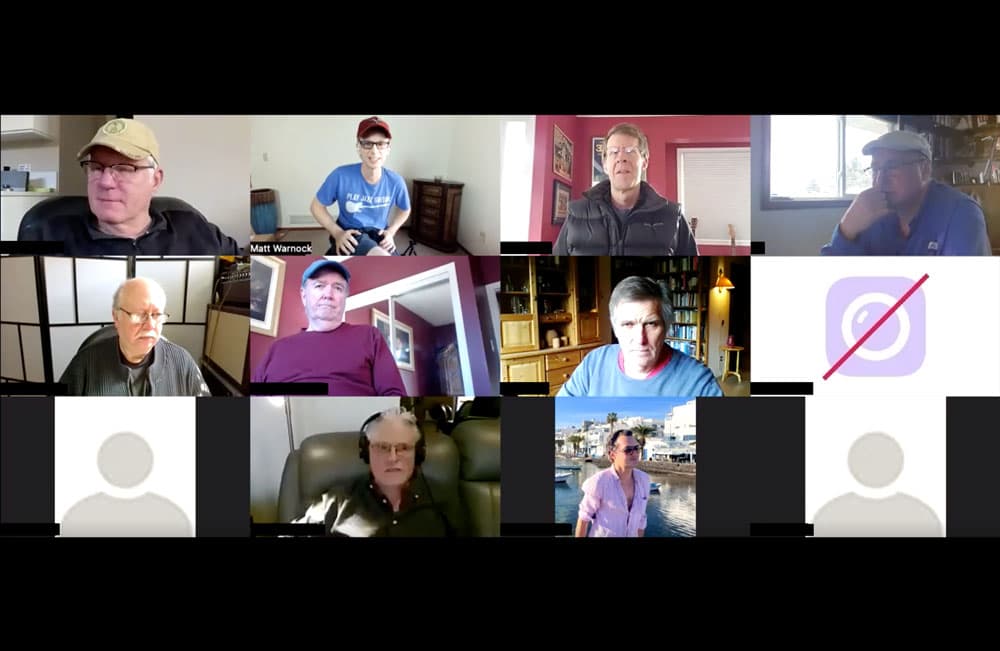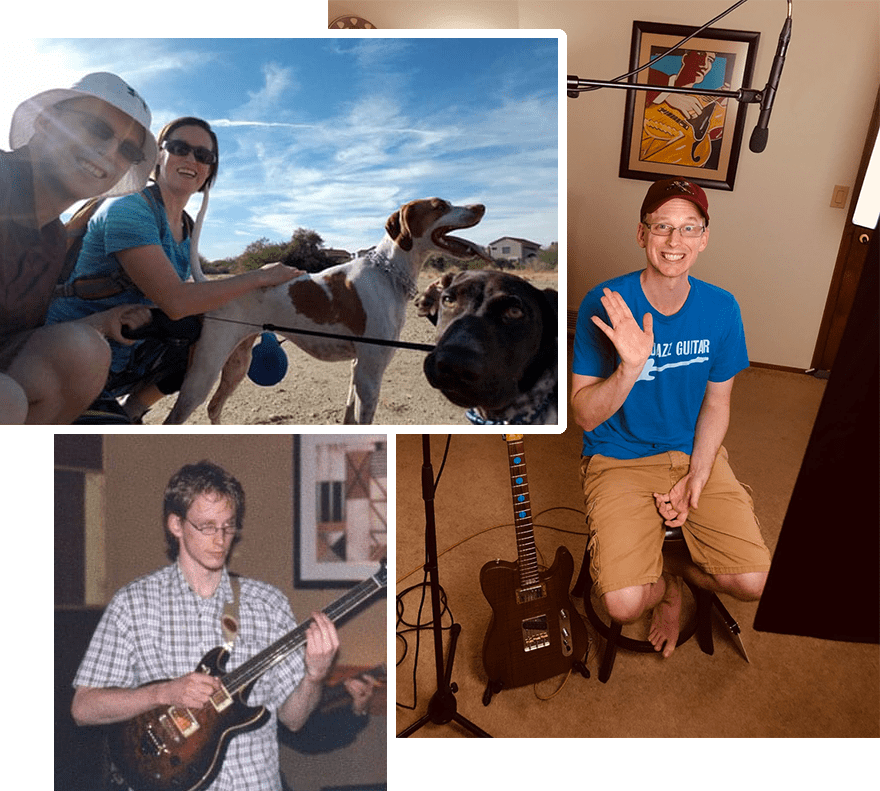 Meet Your Teacher: Matt Warnock
Hey! I'm Matt, the MW in MWG and the site's resident guitar teacher. After travelling the world teaching & performing jazz guitar for over 25 years, I now run MWG full time with my awesome team.
Having taught over 8,000 private lessons, given 600+ live workshops, and played over 2,000 live gigs, you benefit directly from my 25+ years of jazz guitar playing and teaching experience.
When I'm not hanging out with members in the Studio and live workshops, you'll find me hiking around Tucson with my wife Holly and two Pointers Carmen and Stevie.

All jazz guitar journeys are unique, and they can all benefit from:
Cutting Edge Education
Supportive Community
Expert Jazz Guitar Teacher
Personalized Feedback
Interactive Workshops
Collaborative Jazz Jams
Organized Lessons
Flexible Schedule
Growing from these experiences is only possible when you have an expert jazz guitar teacher to guide and support you along the way.
Benefit from my 25 years of jazz teaching experience with guided lessons, live workshops, and the Studio.
Start Playing Today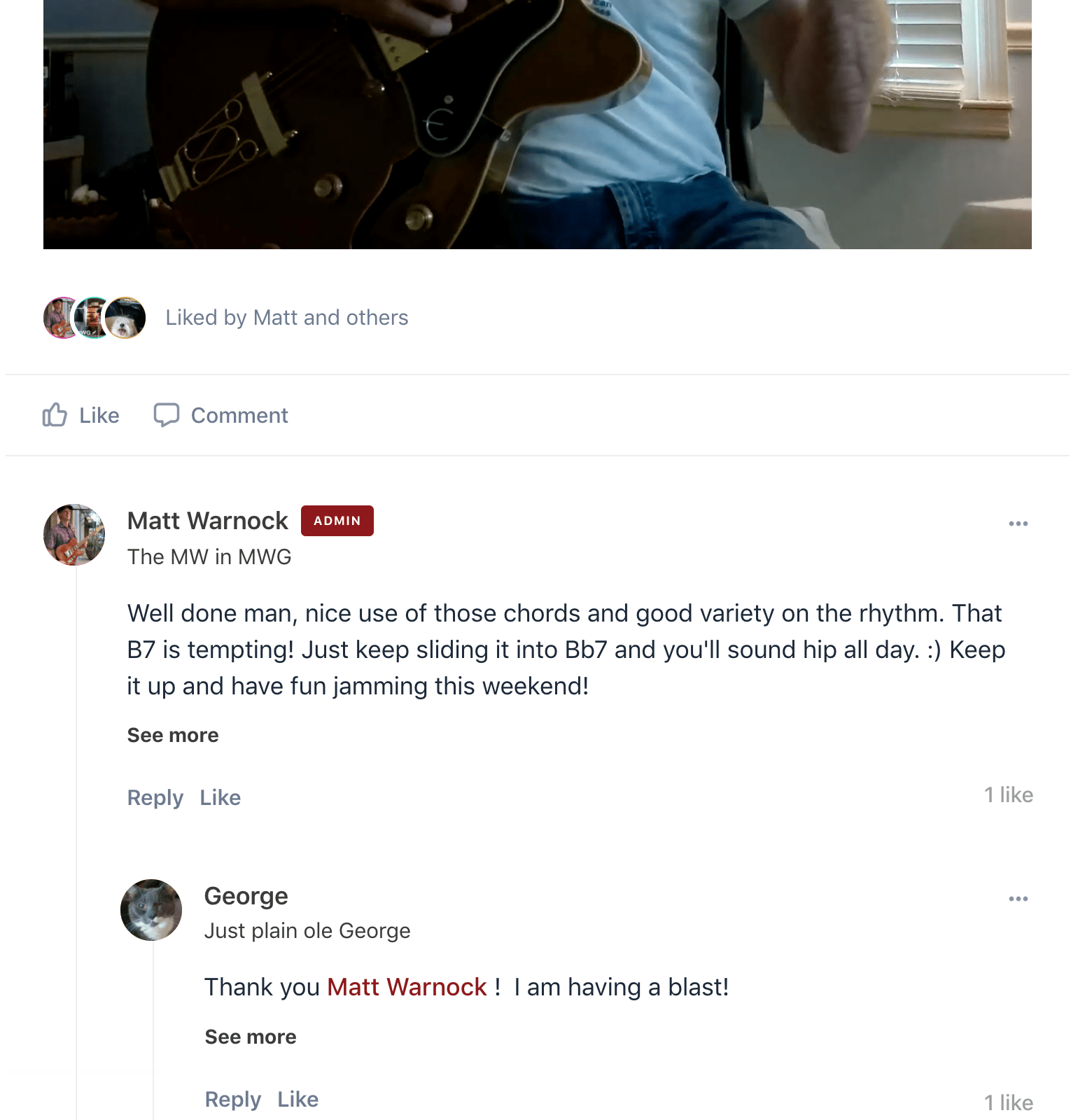 Che Bonilla, MWG Member
This shy guitarist learned to comp, solo, & build chord melodies over standards.
Before MWG
Struggled with soloing over standards.
Didn't know how to build or use jazz chords.
Couldn't play scales, modes, or arpeggios.
After MWG
Soloing over standards with sidestepping, enclosures, & more.
Nailing chord-scale relationships and how to solo with modes.
Creating chord melodies over jazz standards.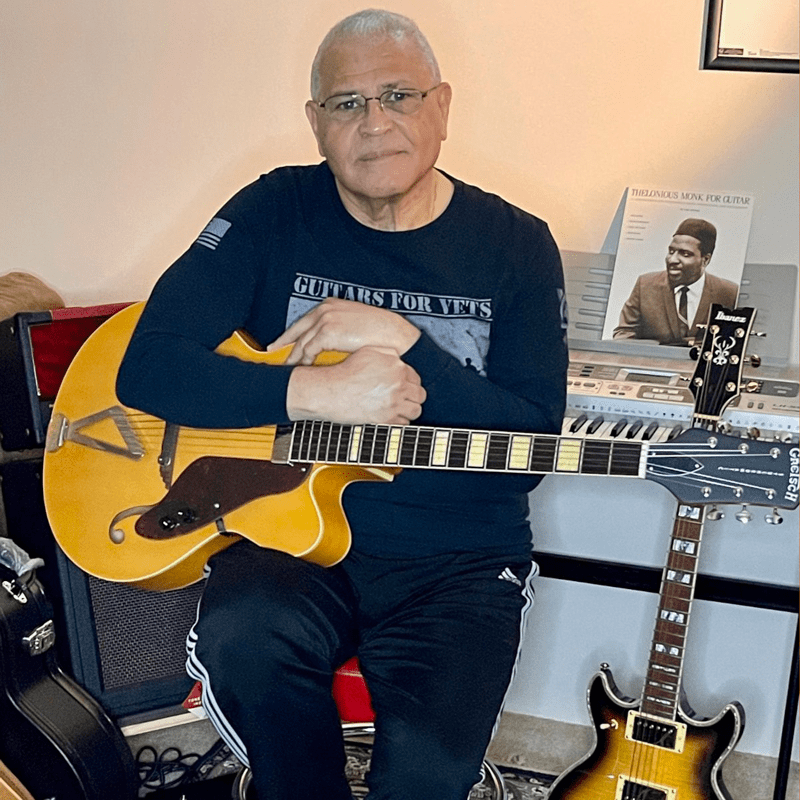 "Being a part of MWG is like having a personal guitar teacher who shows up regularly at your home, whenever you need them, to clarity every issue. Matt's always there to answer ANY question, regardless of level or how simple you think the question is. The amount of material on MWG is enough to maintain your music education for years. On top of that, All Access members are the most helpful, warm, and kind folks out there. I started out shy, unwilling to post videos. Now I post almost daily and the support I receive has taken my playing way beyond my expectations." – Che Bonilla - USA
"After teaching thousands of students over the past 25 years, I honestly believe that with the right guidance, creative workouts, and a supportive community, every guitarist can learn to play jazz and have tons of fun along the way." - Matt Warnock Founder MWG
Want to see MWG in action?
Play Jazz Guitar Today.
Get MWG All Acces Here
MWG is a Safe Space to:
Ask questions.
Post your music.
Experiment with jazz concepts.
Tackle new challenges head on.
Grow as a jazz musician.
Express yourself on guitar.
MWG is a positive, inclusive, and encouraing community where every guitarist is welcome to learn, share, and feel comfortable and confident in your playing.
No Trolls
No Negativity
No Judgment
No Rejection
When you feel encouragement from your peers, supported by your teacher, and welcomed into a community, your confidence grows and you reach new levels of creativity on the fretboard.
At MWG, you're more than another player, you're a valuable & appreciated member of our community.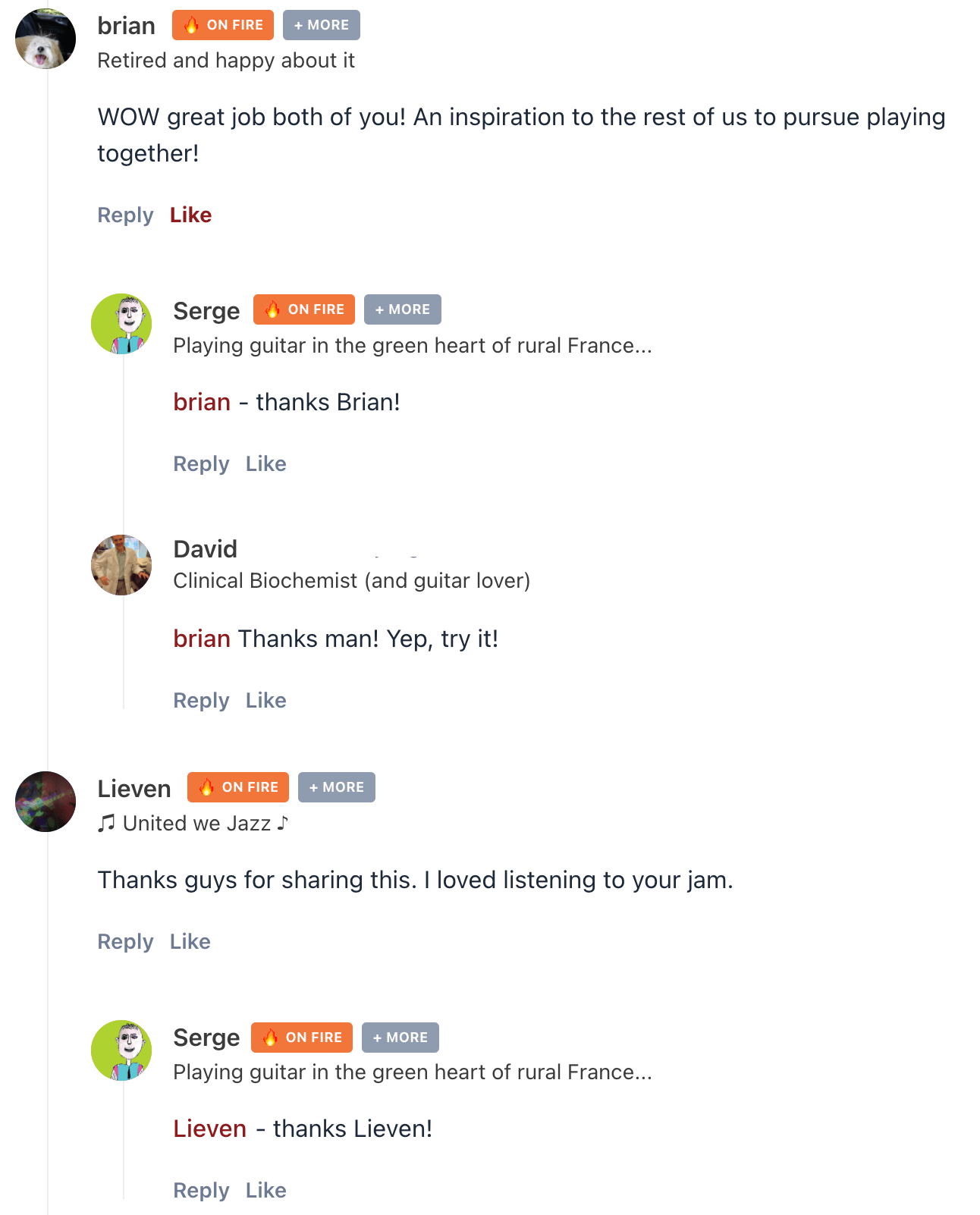 ---
MWG is for guitarists who:
Love listening to jazz and are ready to play.
Have tried to learn jazz before and didn't get far.
Want an organized approach to learning jazz.
Need a personalized jazz learning experience.
MWG is NOT for guitarists who:
Expect to master jazz guitar "overnight."
Avoid exploring new ideas on guitar.
Don't like supporting others and building community.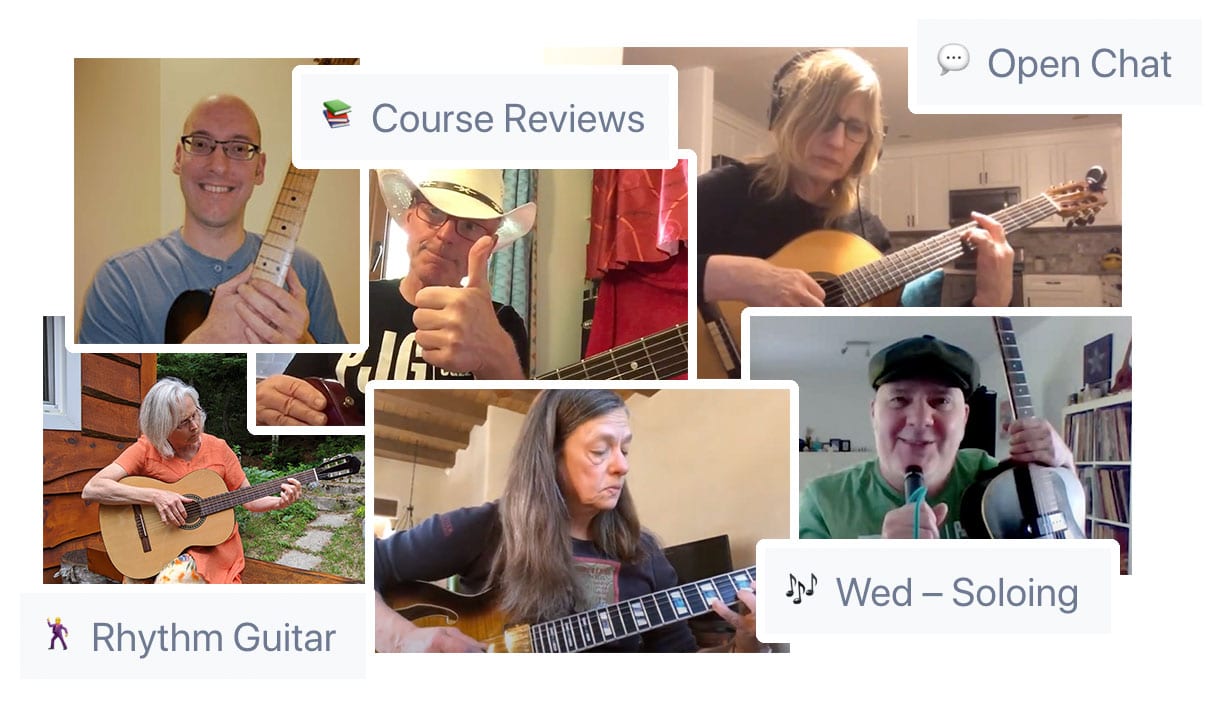 Ready to Get Started?
1. SIGN UP
Safe and secure checkout makes it easy to get started with MWG at no risk to you.
30 Day Money Back Guarantee
2. START PLAYING
We work together to find the perfect lessons, courses, & workshops for your guitar needs.
Personlaized Learning
3. IMPROVE & ENJOY
If you dig MWG, keep playing and having fun. If it's not for you, cancel any time.
Zero Risk to You!
"Playing jazz guitar and reaching your maximum musical potential is totally achievable when you have a dedicated teacher who cares about you as a person, player, and community member." - Matt Warnock
Join MWG Here - Zero Risk!
Harvey Willensky, MWG Member
Classical guitarist falls in love with jazz, improvising, and chord melodies.
Before MWG
I wanted to improvise and play more freely.
I'd never played with a group or backing track.
Rhythms when soloing and comping were a struggle.
I got lost in the form and couldn't hear chord changes.
After MWG
I can improvise over standards in real time.
My timing & rhythm has improved dramatically.
My arrangements and chord melodies have improved significantly.
Listening to jazz is more enjoyable. I now understand what I'm hearing.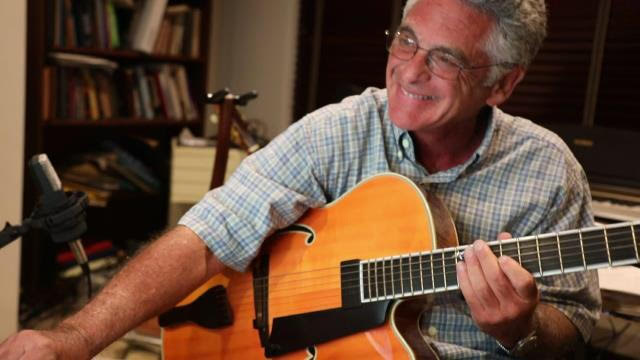 "I've been playing classical guitar for 60 years, and jazz for 5. MWG's structure, material, and support has given more experience and growth than any other musical learning experience I've ever had. Not only has MWG improved my jazz playing, it's improved my classical playing as well." – Harvey Willensky - USA
Ready to Play? Enroll Here
MOST POPULAR
12-Month Plan
$24.92/month
Get 30 Days Free Here
30-Day Free Trial
Tune of the Month
2 Months Free
Billed Annually
Unlimited Access to Lessons
Daily Practice Sessions
Weekly Jazz Workshops
Guest Artists
Unlimited Video Submissions for Feedback
Personal Guidance from Mattt
7-Day Customer Support
30 Day Money Back Guarantee
1-Month Plan
$29/month
Enroll Now Here
Unlimited Access to Lessons
Tune of the Month
Daily Jazz Practice Sessions
Weekly Workshops
Guest Artists
Unlimited Video Submissions for Feedback
Personal Guidance from Mattt
7-Day Customer Support
30 Day Money Back Guarantee
Safe and secure methods of payment

Frequently Asked Questions
1. How is MWG different from other sites?
At MWG, I work directly with you as we pursue your jazz guitar goals. I'm there for the daily lesson, in the live workshops giving you feedback on your playing, and answering your questions by email and chat. With MWG you get a private lesson experience without the private lesson price tag.
2. Any contracts or commitments?
None. After you sign up you can cancel any time.
3. What's available to me when I sign up?
Absolutely everything. As soon as you sign up, you get full access to every course, library, workshop, and the Studio.
4. Can I ask you questions directly?
You sure can. You can contact me through the comments, instant messenge, email, and in the studio for a super fast response 7 days a week.
5. What if I fall behind?
You can't. Every lesson is built so that you work at your own pace and on your schedule. You can even keep track of completed lessons to pick up where you left off after any time away.
6. Is it too advanced for me?
No way. MWG has courses that range from learning notes and open chords to advanced jazz concepts. MWG is your one-stop guitar-learning destination.