David Williams, Player Profile
Telecaster player who's comping and soloing in that cool Ed Bickert style.
Before MWG
My main problem was jazz, jazz, and jazz.
Struggled with creative comping and soloing.
Understanding, hearing, and following chord changes.
Being comfortable with jazz as it seemed like a mystery to me.
After MWG
Comping melodically over jazz standards.
Following chord changes without sheet music.
Dynamics and phrasing are greatly improved.
Able to transcribe melodies, chords, and solos by ear.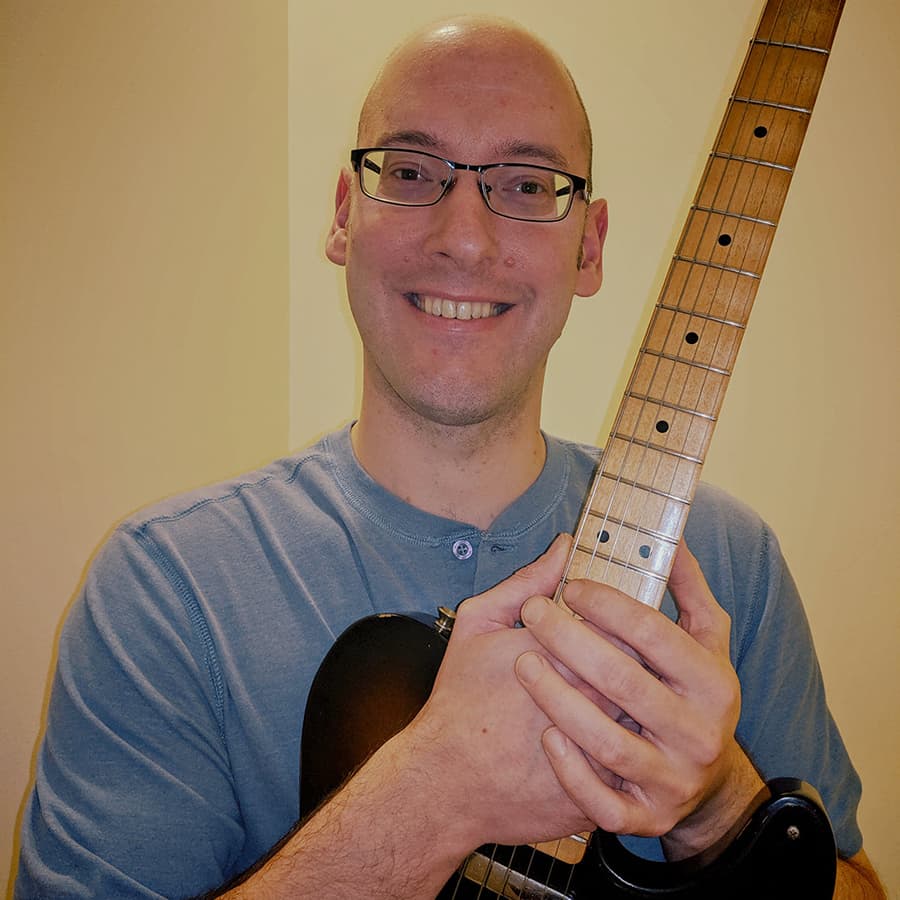 "My MWG experience has been amazing. I love the interaction between students in the studio, workshops and camps. It makes me feel comfortable learning guitar in an encouraging environment. The daily exercises motivate me to keep practicing (even though I don't get to them all). I also appreciate Matt's passion for the guitar, his expertise, and teaching philosophy. He's always encouraging me on my guitar journey! It's also fun to see other students grow as they practice and learn. Thank you, Matt, the MWG team, and fellow MWG members for making this a fantastic place to hang out and learn jazz guitar together!" – David Williams - Canada
Jazz Comping Etudes #1 Includes:
Everything you need to play better jazz guitar chords - instantly. No complicated theory required!
1. Combo Comping Etudes
Each jazz standard in this course comes with a combo comping study that prepares you for your next jazz jam session or garage band jam.
---
2. Duo Comping Etudes
Play 5 etudes over jazz standards in a jazz duo setting. Perfect for accompanying singers, horn players, or two guitarist jams.
---
3. Jazz Chord Vocabulary
Each chord study is built from classic jazz chord vocabulary. Making it easy to pull out phrases and use them in your playing over any jazz standard.
---
4. Essential Jazz Rhythms
Jazz comping is more than notes, it's a lot about swing feel & rhythms. Discover the power of classic jazz rhythms with fun & interactive exercises.
---
5. Melodic Comping Skills
Take your comping to the next level as you learn how to develop one melodic chord ideas. This is the key element in jazz comping that other teachers don't talk about.
---
6. TAB, Audio, & Notation
No matter how you prefer to learn jazz guitar, MWG has you covered with audio, TAB, audio, and notation.
---
7. Jazz Standard Comping
Instantly apply everything you learn in this course to jazz standard backing tracks. Comp tunes from the great American Songbook and beyond.
---
8. Jazz Backing Tracks
Learn by playing as you jam over jazz backing tracks, at different tempos, and over 5 classic jazz standards for hours of practice room fun.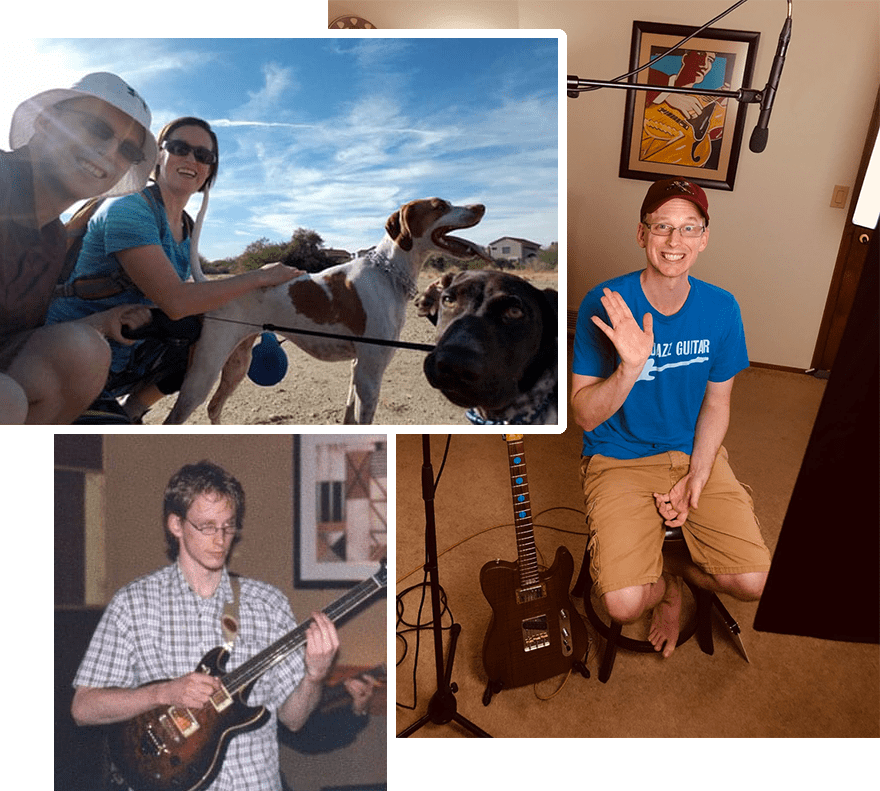 Meet Your Teacher: Matt Warnock
Matt Warnock Guitar (MWG) started from my desire to share jazz guitar with as many people as possible.
As a jazz guitarist, I understood the struggle of not being a "natural born" talent and spent years perfecting my craft before finding success as a jazz musician and instructor.
I've always wanted to help make learning jazz guitar as easy and accessible as possible - because anyone and everyone can be a jazz guitar player.
I've travelled and played all over the world, all the while focusing on building an accurate and accessible platform for students to learn jazz guitar, no matter their ability, previous experience, or goals.
Matt Warnock Guitar is for beginners, people returning to the guitar, and experienced players.
By building an inclusive community that prizes patience and accessibility, there is something for everyone at Matt Warnock Guitar.

Frequently Asked Questions
1. Any contracts or commitments?
None. You sign up for the course and get instant lifetime access.
2. Are the lessons downloadable?
All PDF, audio examples, and backing tracks are downloadable. Videos are streamed online.
3. What's available to me when I sign up?
Everything. As soon as you sign up, you get full access to every lesson, video, PDF, and backing track.
4. Can I ask you questions directly?
For sure. You can contact me through the comments, instant messenge, email, or carrier pigeon for a super fast response 7 days a week.
5. What if I fall behind?
You can't fall behind. Every lesson is built so that you work at your own pace and on your schedule. You can even keep track of completed lessons to pick up where you left off after any time away.
6. What if I buy the course and it's not for me?
Not a problem. Let me know within 30 days for a full refund no questions asked.