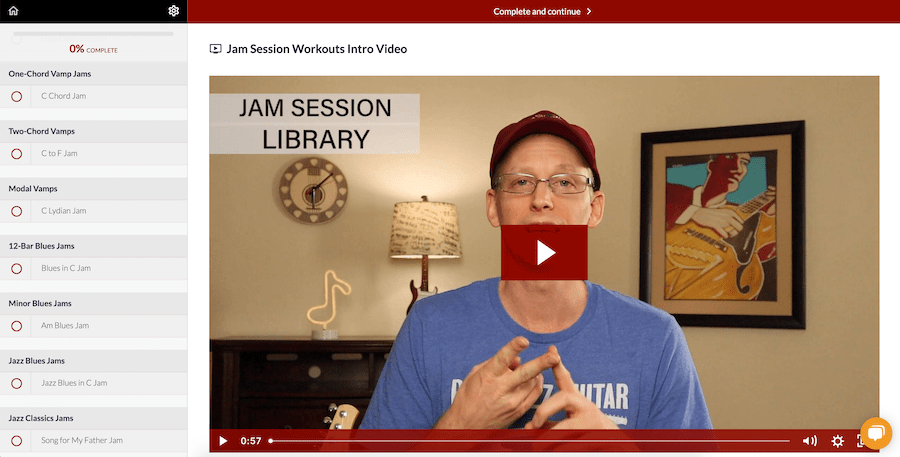 In this C Blues jam, you:
Comp behind Matt's solo.
Solo as Matt comps for you.
Learn new chords and soloing devices.
Tap into your fretboard creativity.
And more...
FREE Chapter Lesson
What You Learn With Jam Session Workouts
1
Fun Progressions
Learn essential progression, vamps, & songs as you get jam-session ready in this course.
1-chord vamps
2-key vamps
Modal vamps
Classic progressions
Full songs - rock, blues, jazz, etc.
2
Jam Session Etiquette
Discover the ins and outs of jam sessions with these real-life sessions.
Keeping the form when soloing.
Hearing when to comp & solo.
Trading 4s.
Real-life count ins.
Much more…
3
Guitar Essentials
Build and expand your guitar skills, learn new concepts, and have fun in the process.
Classic chord shapes.
Popular chord changes.
Scales for soloing.
Vocabulary from Matt's playing.
Much more…
Easy-to-Follow Lessons for Every Learning Style
The step-by-step guidance you need, with the personal attention you deserve.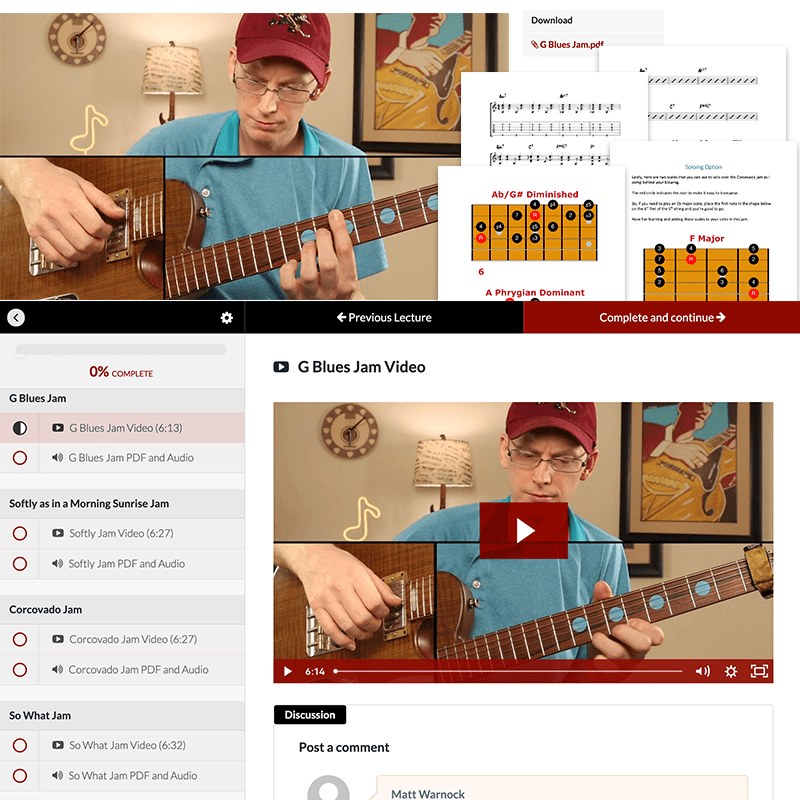 Jam Session Workouts is for you if...
1
Ready for More
...you've checked out jamming and are ready to play with others, but don't know where to start.
Play real songs.
Challenge your skills.
Boost your guitar confidence.
2
Jam Session Vets
...you're a jam session vet looking to keep your skills sharp and have fun in the practice room.
Keep your jazz skills sharp.
Learn by playing with Matt.
Get new tunes under your belt.
3
New to Jamming
...you've never tried jamming before, but you're ready and just need that first push to get going.
Cool-sounding chords.
Solo with confidence.
Express your creativity.
What Jam Session Students Are Sayin'
"This is great. Again the interactive aspect is really blowing my mind!"
- Tony S.
"Really love this, it will help me keep the tunes in my head/ears as well (I have to go back and refresh my memory of the ones I learnt)"
- Dave W.
"Challenging but fun. Just like a real jam session, forgot 99% of what I know. haha. These are awesome Matt."
- Rich P.
"Wow! Your comping sounds so much like Bickert. Are you using 4th chords in the first chorus? So lovely! And I liked how you echoed 'My funny valentine' at the beginning of your solo."
- David E.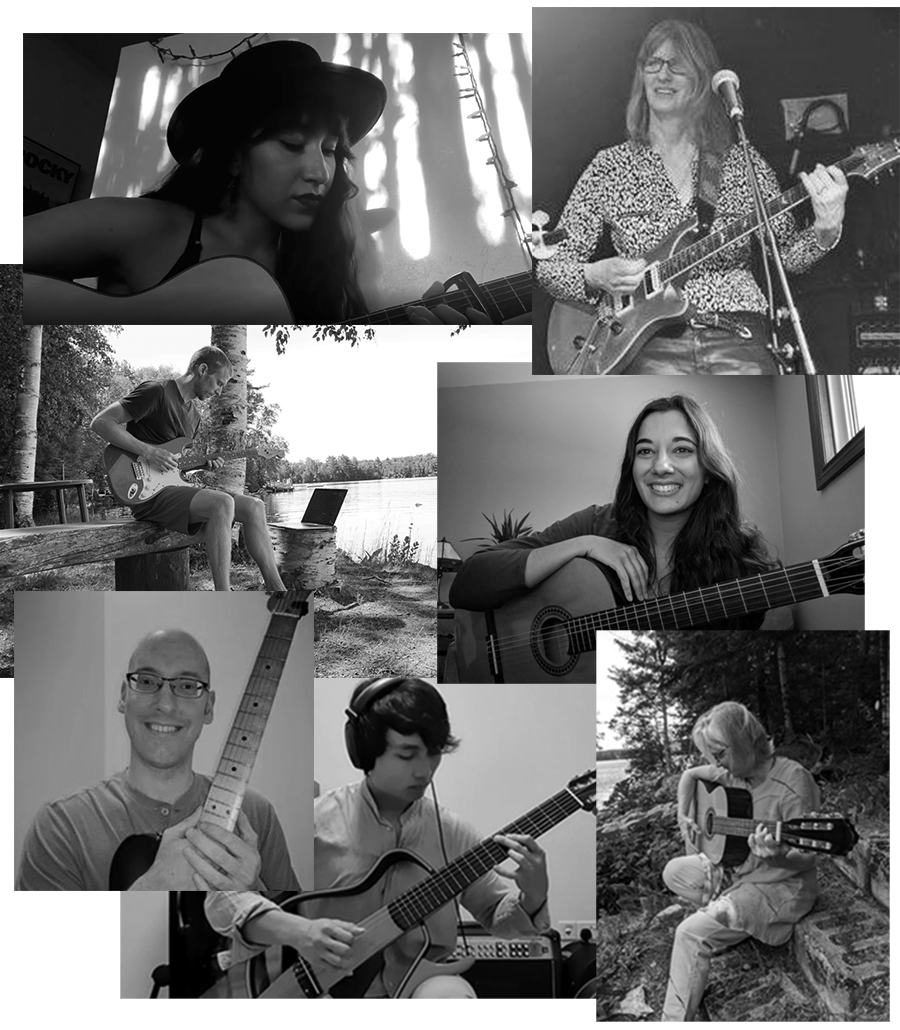 What You Get With Jazz Jam Session Volume 2
1
Interactive Jams
Multimedia lessons to make it easy to play no matter where you are in your development.
Video jams.
Audio jams.
Work online and offline.
Much more…
2
Support
Stuck? Not to worry, Matt has you covered with best-in-class player support.
Support 7 days a week.
Get answers directly from Matt.
IM, email, and chat options.
Much more…
3
Supplementary Material
Jam 5 jazz standards and learn new material as you dig into the building blocks for each tune.
Chord charts.
Suggested comping material.
Soloing devices.
Much more…
Matt's Jam Story
Back in high school, I fell in love with jamming. I practiced all day, every day, and made noticeable progress. But…I always felt like something was missing when I jammed over songs.
Luckily, I was invited to jam with a local band. It was in those jams that I learned directly from experienced players. My playing took off and I never looked back.
This is why I created Jam Session Workouts, to give you the same experience of learning by jamming, playing with an experienced musician, and enjoying taking chances on the guitar.
I know you're going to love these jams as much as I did back in the day. Grab your guitar and let's go play!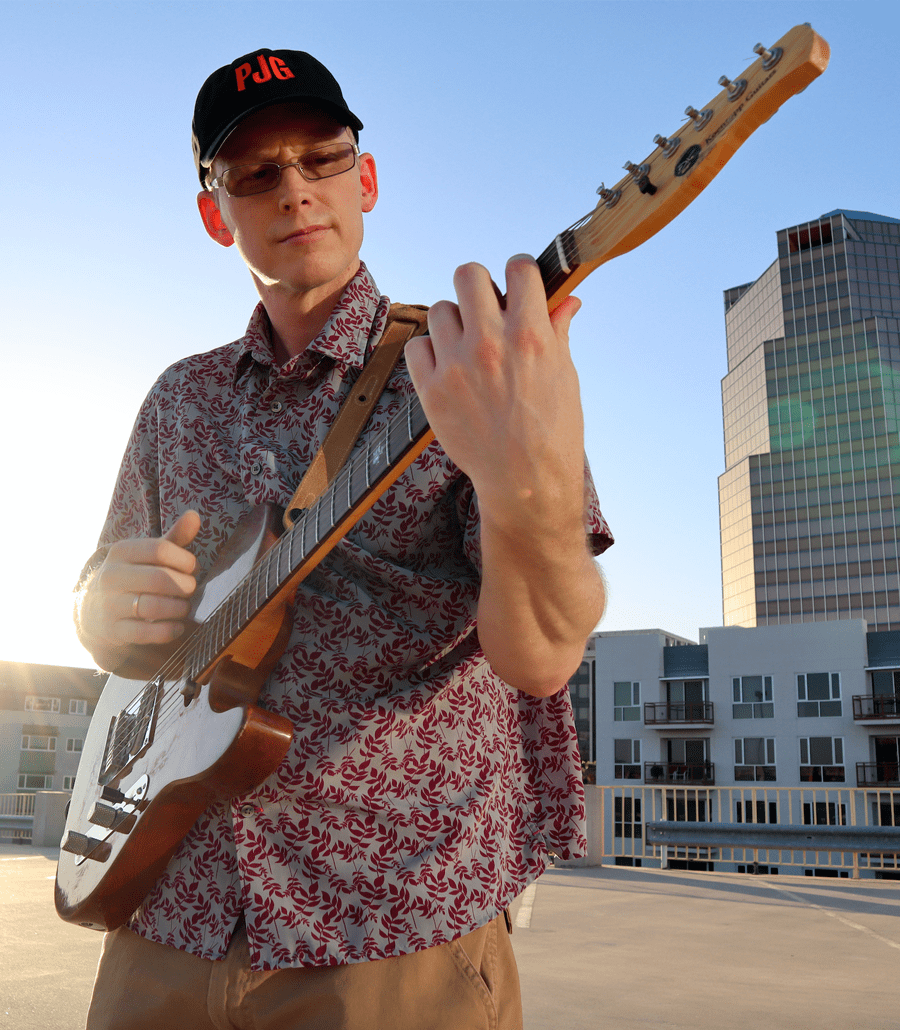 The MWG Experience
1
Expertise
Benefit from Matt's lifetime of studying, performing, and teaching players of all experience levels.
Doctorate in Jazz Performance
25+ Years Teaching Guitar
2000+ Live Performances
8000+ Private Lessons Taught
2500+ Online Lessons Published
2
Community
Discover a welcoming and encouraging community of guitarists just like yourself.
Welcoming Group of Guitarists
Friendly, Global Community
Encouragement From Your Peers
Learn From Fellow Players
Make Guitar Friends For Life
3
Personalized
Reach your maximum potential on your own schedule with expert, personalized guidance.
Personal Learning Pathways
Tailored Ways to Learn
Options for Every Learning Style
Learn by Jamming with Matt
Unique Performance Guidance
Frequently Asked Questions
When does the course start and finish?
Once you sign up, you have lifetime access to the course. Play at your own pace, there's no deadline to finish.
How long do I have access to the course?
You have 24/7/365 lifetime access to the course.
What if I decide the course isn't for me?
I'm happy to give you a refund within the first 30 days after your purchase date, no questions asked.
What skills will this course teach me?
Jam Session Workouts gives you the tools you need to comp and solo over any chord, progression, or song with authentic grooves and vocabualry. You learn to solo, comp, trade 4s, and trade choruses by playing with Matt. Everything you need to jam with confidence is in this course.
What type of guitar do I need for this course?
You can use a nylon string, electric, or acoustic guitar for this course. Any guitar is cool, so go with what's comfortable for you.
What do I do if I need help?
Contact Matt on the Help Page to receive expert support 7 days a week.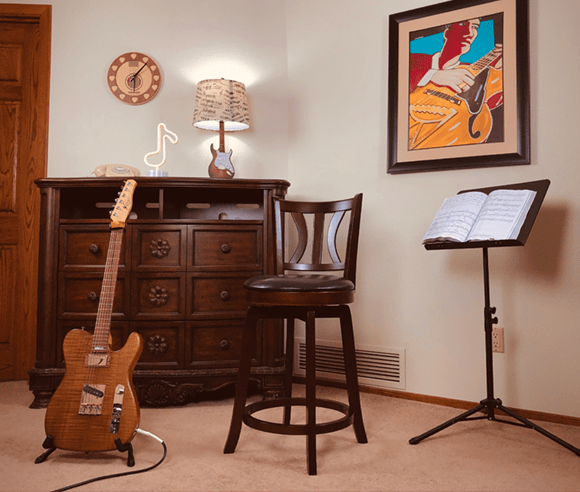 MWG All Access
Ready to Start Now?
Lifetime Access to Jam Session Workouts, Courses, Libraries, Workshops, Office Hours...
New jams added weekly.
Easy-to-play chords.
Soloing devices for every level.
A jam session in your living room.
Learn More Here
30 Days All Access FREE