I Fall In Love Too Easily Study Guide
Essential Jazz Ballad for Guitar in the Style of Chet Baker
This course is only available to GMM Members
Course Curriculum
How This Course Works - Start Here
Available in days
days after you enroll
Chapter 1 - Introduction
Available in days
days after you enroll
Chapter 2 - Harmonic Analysis
Available in days
days after you enroll
Who is This Course For?
This course is designed for guitarists looking to master ii-V-I chord progressions and add an essential jazz ballad to your repertoire.
It's for guitarist's who:
Struggle to solo and/or comp over ii-V-I progressions.
Have worked on 1 or 2 types of ii-V-I's but haven't explored mixed or backdoor changes.
Love the Chet Baker Sings album and want to explore that style of playing on guitar.
Are ready to add an essential jazz ballad to your set list.
I've played I Fall in Love Too Easily for over 20 years in coffee shops, jazz clubs, concert hall stages, and everything in between.
I want to share with you everything I've learned about how to play this essential jazz ballad and level up your ii-V-I skill set at the same time.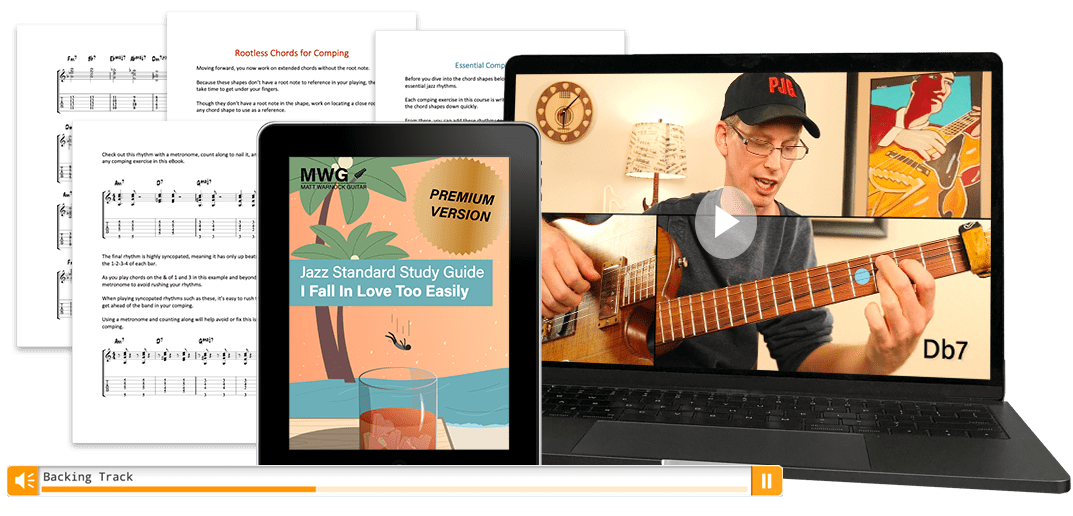 One of the most important lessons I ever learned about playing jazz guitar was also one of the most unexpected in my development.
Back in the day, which is a Tuesday by the way, I would hear stories about "cutting contests," where players would out duel each other on burning fast, complicated tunes.
It was the jazz version of being put in the gladiator ring, where only the fastest, most skilled and driven players would survive.
I heard stories about players going up on stage in jam sessions and gigs and the band would call Cherokee at 320 bpm in some random key like Gb.
"1-2-1-2-3-4" was all the preparation the player was given, and it was off to the races.
Most of these stories didn't end well for anyone involved.
These stories freaked me out, I never wanted to have the experience of being "cut" on stage in front of my friends, peers, and an audience.
And so, I worked on fast tunes, faster tunes, and even faster tunes.
I shedded them in 12 keys and did everything I could to make sure I was always prepared to survive any cutting contest that came my way.
Funny thing was, I was never on a gig or jam session where someone called Donna Lee at 280 in G, it just never happened.
It turns out that most cutting contests are the stuff of legend, at least in old school way they'd been talked about.
Instead, when I started gigging professionally, I realized that there was one type of tune where players would make or break their reputations, ballads.
That's right, tunes played in their original keys at the non-blistering tempos of 40-60 bpm.
The best players, and the players that got the most gigs were those that could play a faster tune, but they excelled at ballads and slower tempo tunes.
And, because I had spent so much time working on fast tunes, I was not a member of this club of ballad masters.
At least not yet.
So, I made it my goal to not only be able to play more ballads and to do so with the highest level of musicianship and skill possible.
This led me to explore players I had previously ignored, including one that would end up becoming one of my favorite jazzers to listen to, Chet Baker.
Chet Baker Sings is sill one of my favorite records, and it contains one of my favorite ballads of all time, I Fall in Love Too Easily.
Not only is this song an essential ballad to have down, it's a joy to play and contains 6, count them 6, different ii-V-I's.
Playing ballads may not seem like much of a challenge compared to burning tunes.
They're slow, the chords move by slowly, and aren't often as "complex" as faster, bebop style tunes.
But.
Playing a ballad with an authentic touch and style is tough and takes practice.
And, when played at a high level, ballads provide a level of musical satisfaction that's hard to duplicate, no matter how fast or complicated you can play.
No matter what your background, musical experience, or skill level, learning a ballad such as I Fall in Love Too Easily provides a positive experience in the woodshed.
You learn a new tune and build your skills at the same time.
Oh, and you get to explore those 6 different ii-V-I's from many different angles.
Can't go wrong there.
You're ready to expand your musicianship, add a new ballad to your repertoire, and master these ii-V-I's.
Let's work together to level up your playing today.
6 Different ii-V-I Progressions
When learning how to play I Fall in Love Too Easily, you not only add a new ballad to your repertoire, you do a deep dive into 6 different ii-V-I's.
Now, you're probably thinking, "Wait, I thought there were only 2 types of ii-V-I's, major and minor, whatch you talkin' about Warnock?!"
Well, you're not far off.
There are two and types of ii-V-I's, AND, there are many types of "mixed" ii-V-I's that composers use to bring variety to their tunes.
The 6 different ii-V-I's you learn in this course are:
Major ii V I – Fm7-Bb7-Ebmaj7
Minor ii V I – Dm7b5-G7alt-Cm7
Mixed ii V I 1 – Am7-D7-G7
Mixed ii V I 2 – Am7b5-D7alt-G7
Mixed ii V I 3 – Gm7-C7-Fm7
Backdoor ii V I – Abm7-Db7-Ebmaj7
As you can see, these ii-V-I's mix parts of major, minor, and even blues progressions to form new and exciting ii-V-I's to explore in your playing.
This is why I Fall in Love Too Easily is to me the most essential ballad to study as a guitarist.
It's a beautifully written tune, is a joy to play on guitar, and by learning this tune you build a skill set that transfers to countless other jazz tunes.
By learning this tune, you prepare yourself to comp and solo with confidence over these ii-V-I's whenever you see them in other jazz standards.
That's a huge win-win-win-win in the practice room.
Don't wait another minute to build learn how to play these essential ii-V-I's with confidence and authentic vocabulary.
Dive into this study guide today and take your comping, soloing, ballad playing, and ii-V-I's to the next level and beyond.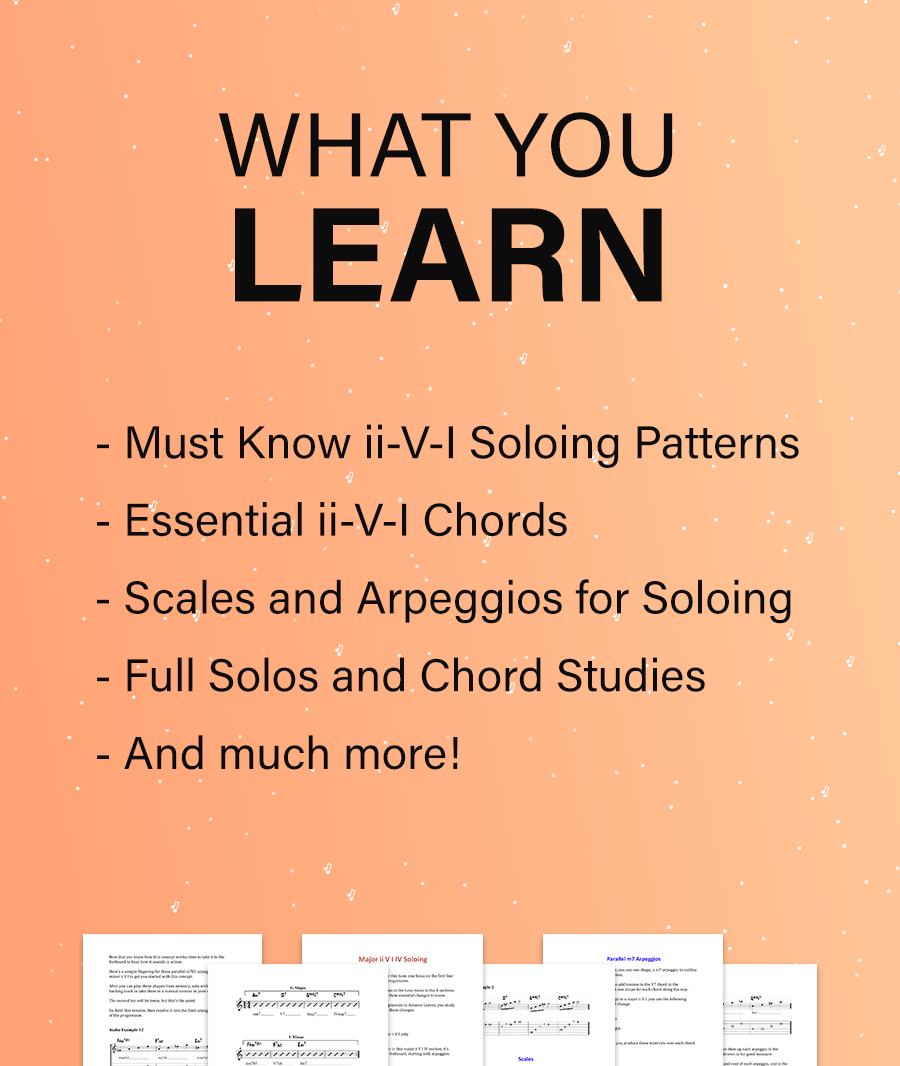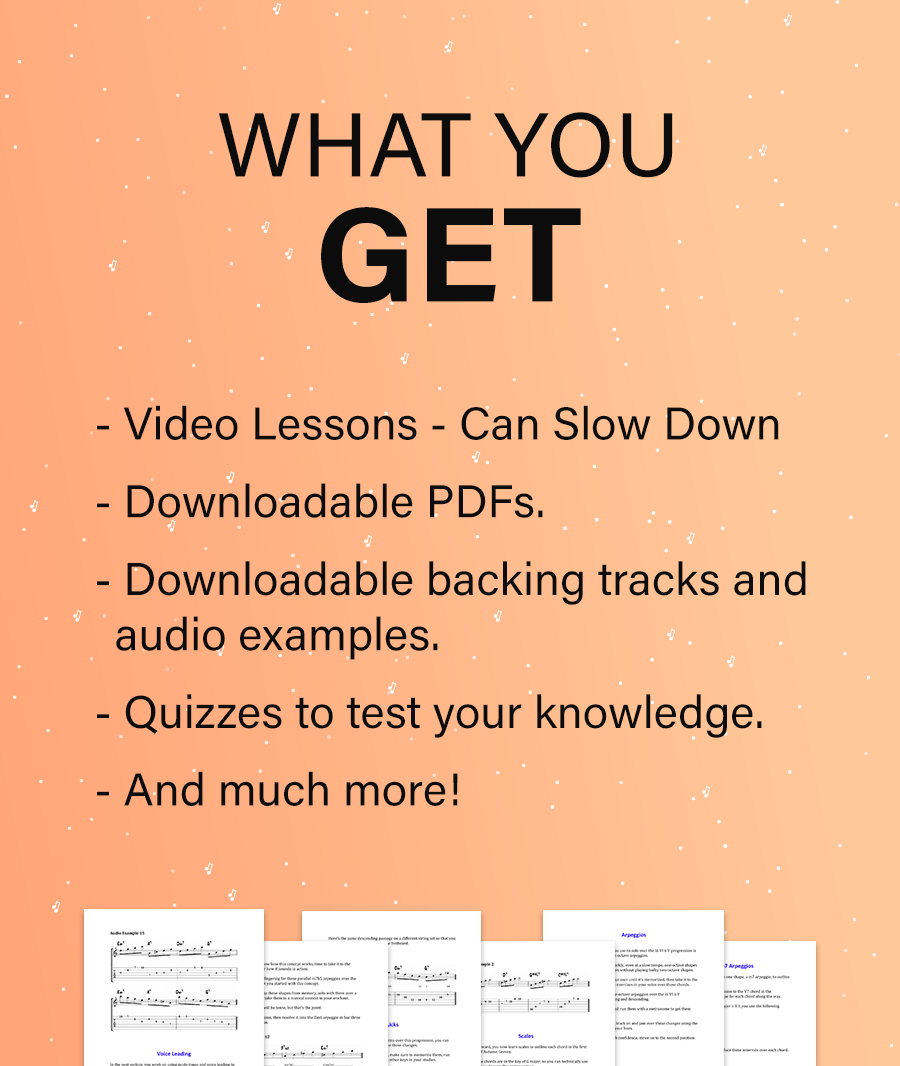 This course is only available to GMM Members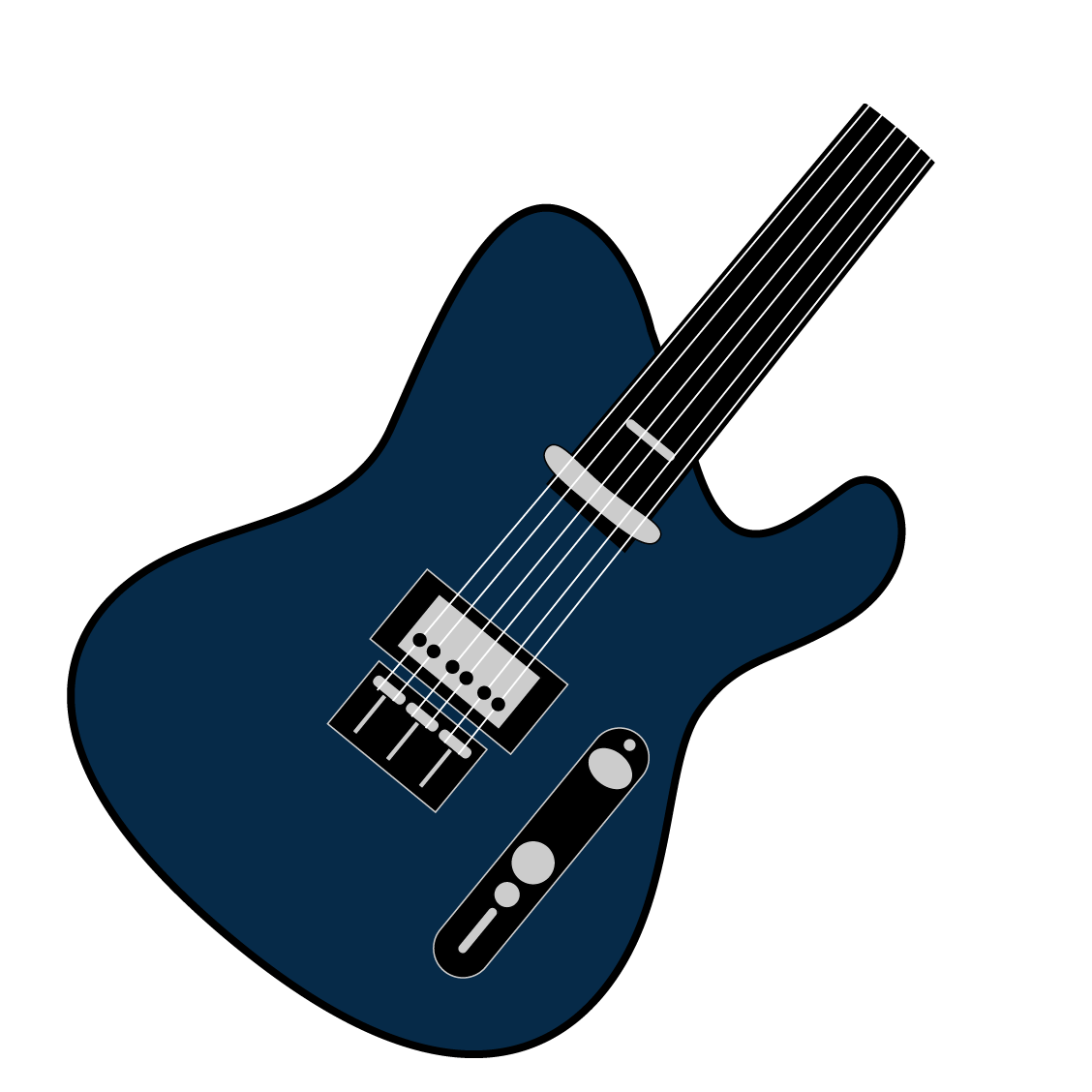 "I'm very impressed with the production quality, seems like a very deliberate and well thought out step in your mission to take on global jazz guitar education domination."
- Rob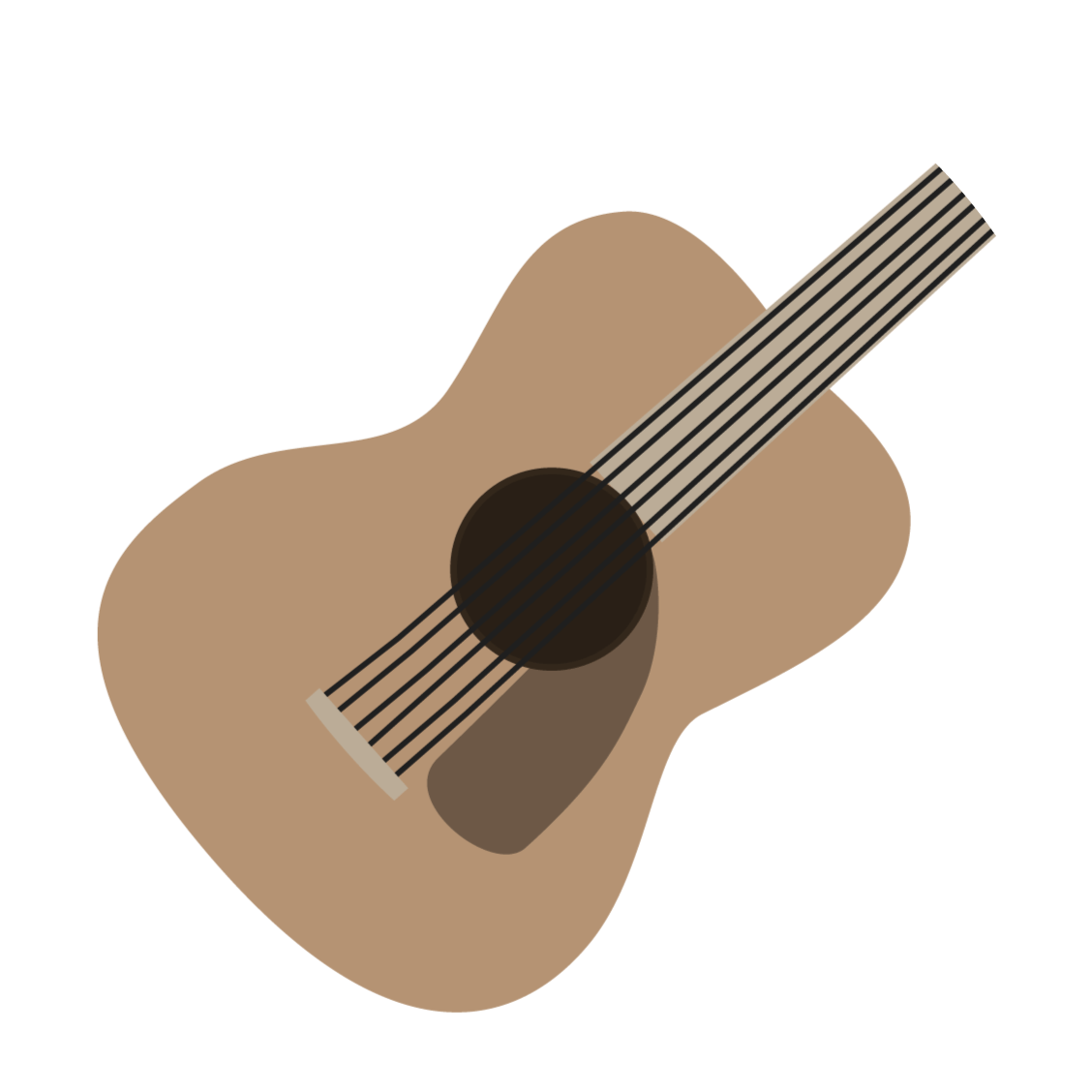 "Keep this up Matt and my family will file a missing persons reports. Your courses are addictive."
- Phil
Frequently Asked Questions
How does the pricing work?
You pay once to enroll in the course and you have lifetime access to this course across all devices – phone, tablet, computer.
When does the course start and finish?
The course starts now and never ends! It is a completely self-paced online course - you decide when you start and when you finish.
What if I am unhappy with the course?
If you are unsatisfied with your purchase, contact Matt by email [email protected] in the first 30 days of your purchase and you will receive a full refund.
Can I download the files for each course?
You can download all PDFs, audio examples, and backing tracks to practice offline. The videos are only viewed on the page.
What if I have a question about the courses or about music?
You can post all questions related to the course in the comments section of any section. I aim to answer all questions within 24 hours of posting. Also, you can use the instant messenger on the bottom right of page to ask questions or you can email me at [email protected].
Do I have to play jazz to use these courses?
No, not at all. Some of the material is presented over jazz chords and songs and you can apply this material to any genre. If you enjoy soloing in different styles, such as blues, rock, funk, fusion, soul, metal, etc., then this material can be used in your playing.
What if I don't know where to start with my playing or which course to start with?
No worries, use our success paths and follow the step-by-step guides to learning what you want to work on – getting started, jazz guitar, blues guitar, guitar technique, lead guitar, rhythm guitar and much more!
What if I want access to multiple courses or MWG eBooks?
This is why we have the Guitar Mastery Membership which includes ALL previous and future courses as well as every single eBook Matt has ever produced. For added bonus the 1st month is only $1 for limited-time.

This course is only available to GMM Members