Jerry Battista, MWG Member
Big band guitarist making huge strides with comping, soloing, and jam session confidence.
Before MWG
55 years playing guitar, 15 years in a jazz big band.
Needed to improve my improvisational skills.
Struggled to comp melodically without a pianist to help.
Over-analyzing and overthinking when soloing. (Performance anxiety)
After MWG
Relaxed and spontaneous comping with better voice leading.
Soloing is much more fluid.
Uninhibited by fear of "breaking rules or "making embarrassing mistakes."
Confidence at jam sessions is greatly improved.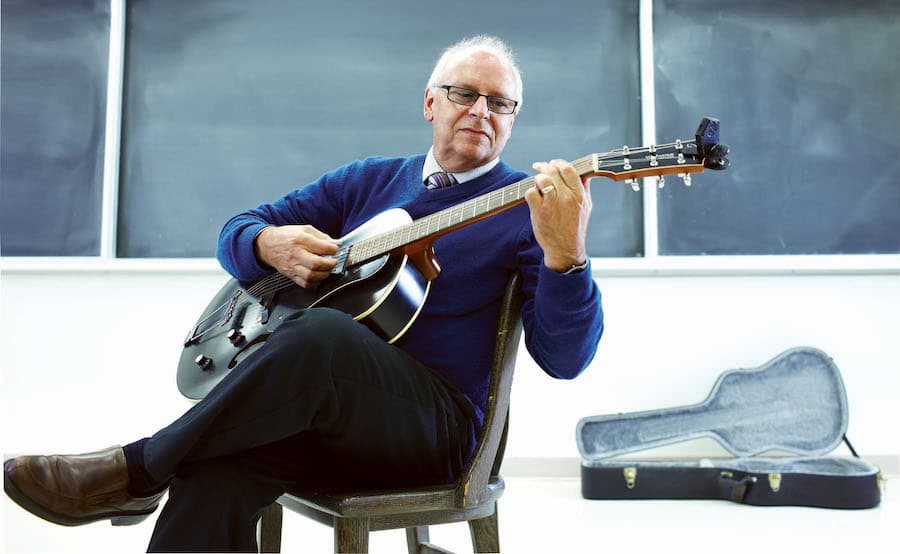 "MWG offers a rich on-line learning resource and organized curriculum for jazz guitarists at all levels and all ages. Matt's courses, camps, workshops, office hours, and daily exercises are extremely helpful. His depth of knowledge on jazz harmony and the guitarist's unique role is exceptional. He teaches material in a relaxed, friendly, and humble manner. He openly exchanges "tricks of the trade" and promptly responds to student questions, sometimes within minutes!" - Jerry Battista - Canada
Is This Course Really Free?
"Why are you giving me a notes on guitar course for free? What's the catch?"
Because I believe that honesty is the best policy, I'm going to tell you exactly why I'm giving you a notes on the neck course for free.
I believe that when you play through these lessons, you can't help but see massive improvements in your guitar playing. And…
As you improve, you enjoy playing guitar more.
The more you enjoy playing guitar, the more you practice, & you see even more improvement on the fretboard.
You find yourself in a feedback loop of positivity and progress in the practice room. Then…
Because you've had a positive experience with this free jazz guitar course, you won't hesitate to purchase another MWG course or membership in future.
That's the honest truth.
That's why I'm giving you this guitar course for free. And…
There's absolutely no catch.
You enjoy lifetime access to this essential notes on guitar course for free. No credit card required.
Even if you never purchase a course or membership, you still keep this course for life to enjoy at any time.
Just sign up for a free account so you can access your courses from any device...and you're all set.
Alright, enough chat.
Grab your Notes on the Neck Course, have fun playing, and I'll see you in the lessons!