In this blues lesson, you:
Learn an essential scale.
Solo right away over chords.
Increase your technique.
Improve your ears.
And more...
FREE Chapter Lesson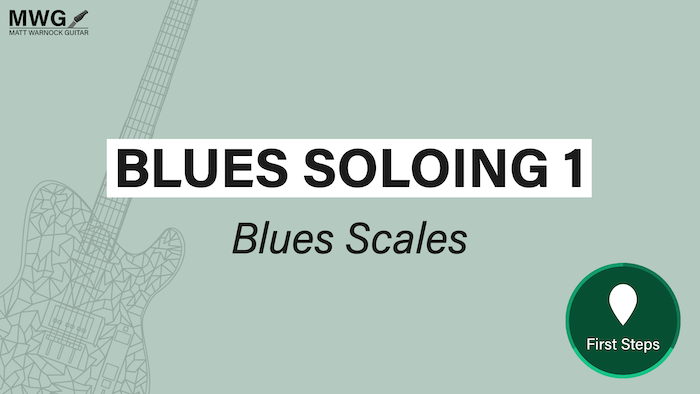 Build your blues foundation as you use creativity to learn essential blues scale fingerings and soloing concepts.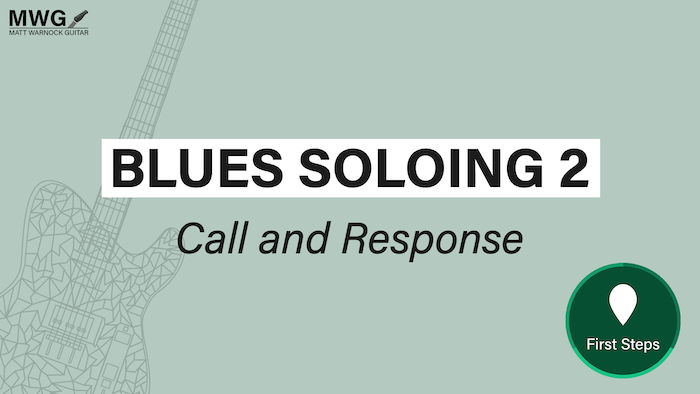 The most essential soloing skill, call and response turns ordinary scales and lines into extraordinary solos and phrases.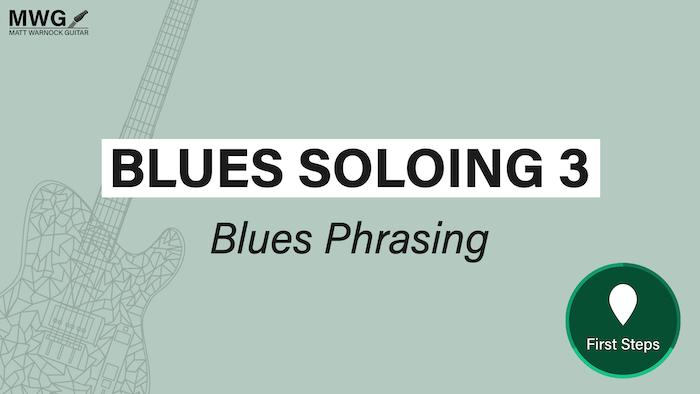 Learn phrasing by jamming, having fun in the practice room, and soloing over real-life blues songs.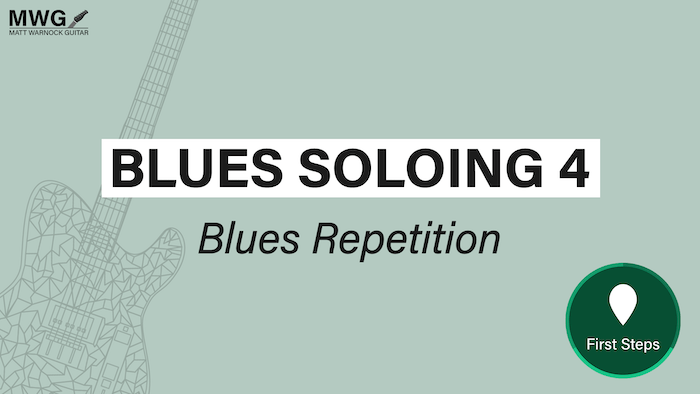 Turn one small, easy to improvise phrase into full, creative, and captivating blues guitar solos in this step-by-step course.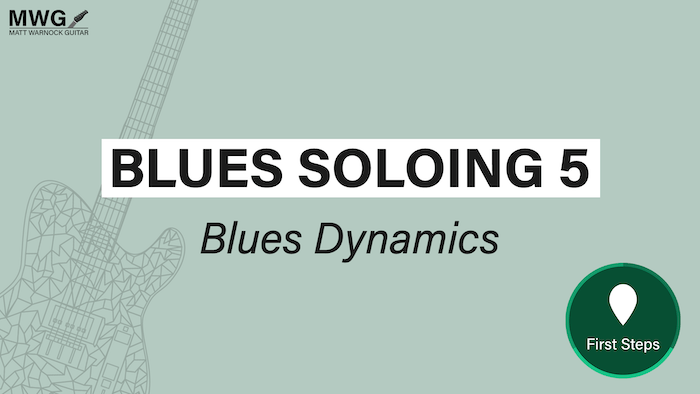 Learn how to make one line sound like 10 by altering and expanding on the dynamic possibilities in your playing.
What You Learn With This Pack
1
Blues Soloing
Build your blues soloing foundation with these creative blues guitar essentials.
Blues scales.
Dynamics
Repetition
Much more…
2
Blues Phrasing
Turn scales into musical conversations as you discover the power of blues phrasing.
Art of silence.
Framing your lines.
Multi-bar phrasing.
Much more…
3
Call & Response
Discover the vocal quality of your blues solos with this must-know soloing concept.
Sing with your guitar.
Vocal style soloing.
B.B. King concepts.
Much more…
Easy-to-Follow Lessons for Every Learning Style
The step-by-step guidance you need, with the personal attention you deserve.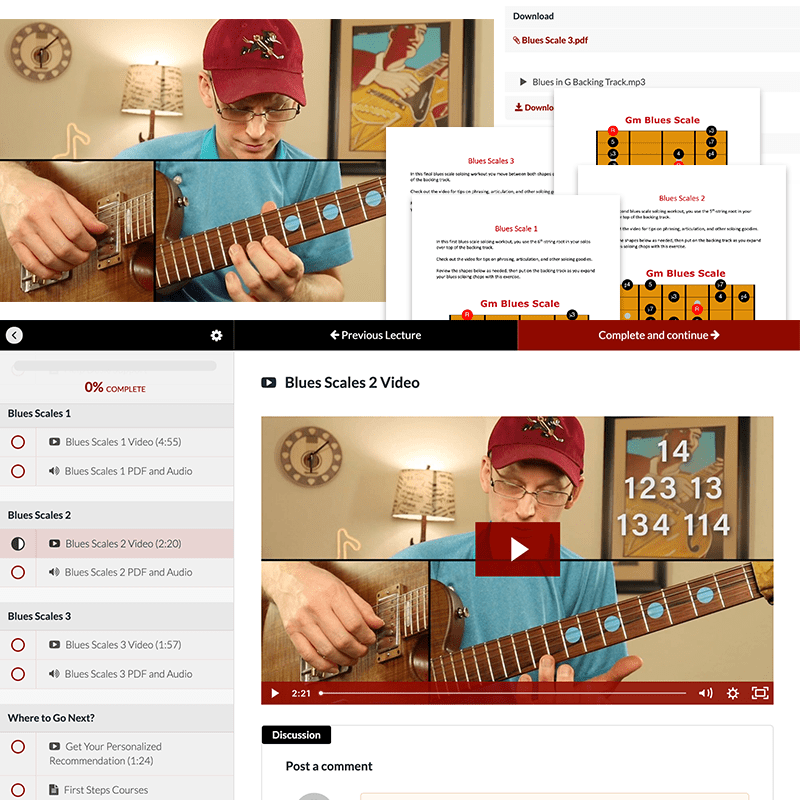 The Blues Soloing Pack is for you if...
1
New to Soloing
...you know chords and riffs but are new to soloing & you need a push in the right direction.
Want to learn soloing skills.
Haven't started yet.
Started learning but are stuck.
Much more…
2
Stuck in a Rut
...you're tired of YT videos, text lessons, and eBooks that are more confusing than helpful.
Tired of aimless YT videos.
Bored of the same old exercises.
Are a creative guitarist.
Much more…
3
Ready for More
...you solo by ear, or by guessing, and are looking for a guided pathway to go forward.
Your solos fall flat.
You're bored of your playing.
Want to be creative every day.
Much more…
Matt on Blues Soloing
I've always loved to learn, play, and solo over blues songs, but I didn't always feel confident in my soloing skills. Far from it.
I used to run scales & patterns for hours, and yet my solos always sound off, like I just wasn't "getting it."
It wasn't until I discovered that if I wanted to get better at blues soloing...I had to practice blues soloing that my playing took off.
This is why I put together the Blues Soloing Pack. To give you that exact same positive learning experience as you take your blues solos to new heights of creativity.
Everything you need to play confident, creative, and authentic blues solos, every time, is in this pack. Grab your guitar and start jamming!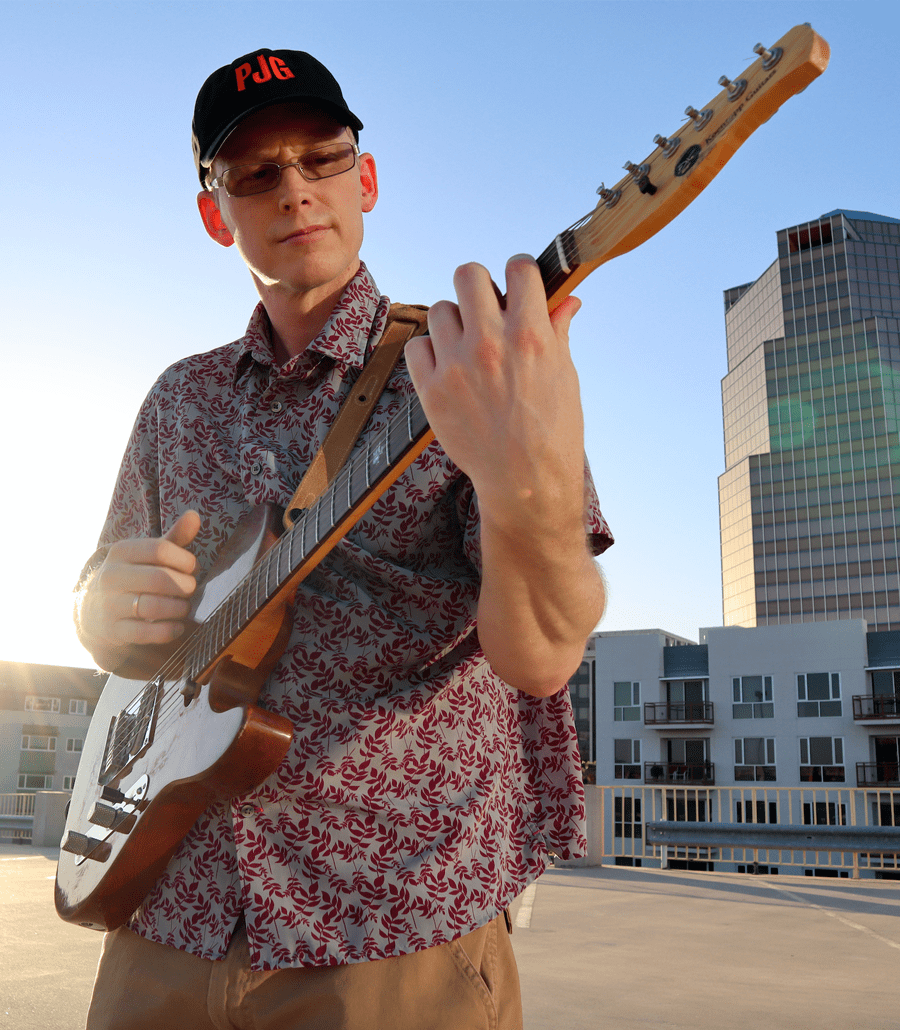 What You Get With The Blues Soloing Pack
1
5 Full Courses
Step-by-step courses that guide you through each concept. Makes learning easy and fun!
5 essential blues soloing courses.
Step-by-step instruction.
Easy to follow and fun to play.
Much more…
2
Multimedia Lessons
No matter how you prefer to learn, video, PDF, audio, these lessons have you covered.
PDFs with diagrams/TAB.
Audio examples and jam tracks.
Videos you can slow down.
Much more…
3
365 Degree Support
With 20+ years of experience, you always have expert advice and guidance to rely on.
Personalized feedback.
7 days per week support.
20+ years teaching experience.
Much more…
What Blues Soloing Pack Students Are Sayin'
"You've done a stellar job building this community of learners and it keeps getter better!! This is the truly the best guitar site I've ever seen, where learners can participate and grow. Thanks for all your excellent lessons, workshops, and resources!"
- Kathleen H.
"Thanks to you and your team Matt. Learning guitar with your materials has got me through difficult times in the last few months. The lessons have allows me to fit guitar around some very busy times and keep learning at a rate I'm happy with."
- Rob J.
"You provide a fantastic environment where everyone can express themselves through music. You always find a way to encourage and motivate us. There is a reason that so many positive people find a home at MWG."
- Harvey W.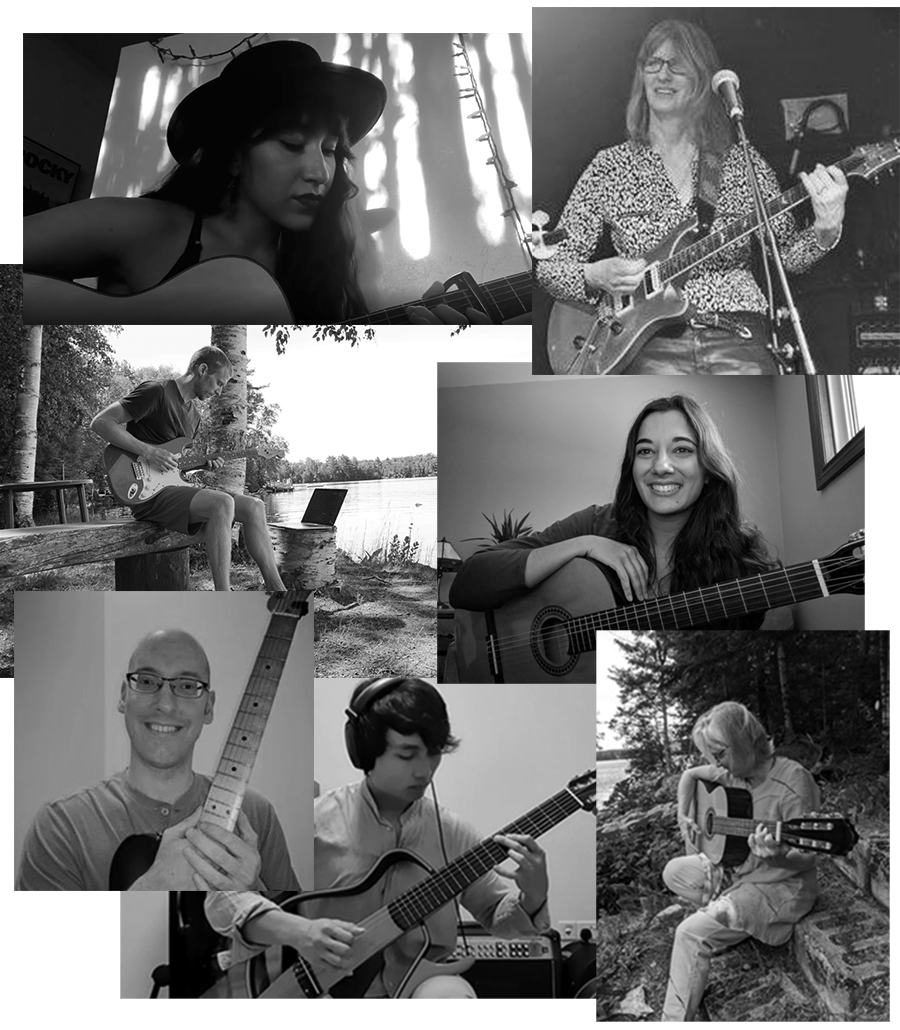 The MWG Experience
1
Expertise
Benefit from Matt's lifetime of studying, performing, and teaching players of all experience levels.
Doctorate in Jazz Performance
25+ Years Teaching Guitar
2000+ Live Performances
8000+ Private Lessons Taught
2500+ Online Lessons Published
2
Community
Discover a welcoming and encouraging community of guitarists just like yourself.
Welcoming Group of Guitarists
Friendly, Global Community
Encouragement From Your Peers
Learn From Fellow Players
Make Guitar Friends For Life
3
Personalized
Reach your maximum potential on your own schedule with expert, personalized guidance.
Personal Learning Pathways
Tailored Ways to Learn
Options for Every Learning Style
Learn by Jamming with Matt
Unique Performance Guidance
Frequently Asked Questions
When does the course start and finish?
Once you sign up, you have lifetime access to the course. Play at your own pace, there's no deadline to finish.
How long do I have access to the course?
You have 24/7/365 lifetime access to the course.
What if I decide the course isn't for me?
I'm happy to give you a refund within the first 30 days after your purchase date, no questions asked.
What skills will this course teach me?
The Blues Soloing Pack gives you the tools you need to be confident and creative in your solos. You learn to create engaging lines and phrases by mixing easy scales with authetnic vocabulary. Everything you need to play blues solos with confidence is in this course pack.
What type of guitar do I need for this course?
You can use a nylon string, electric, or acoustic guitar for this course. Any guitar is cool, so go with what's comfortable for you.
What do I do if I need help?
Contact Matt on the Help Page to receive expert support 7 days a week.
One-Time Purchase
Lifetime Access to Blues Soloing Pack
Video, Audio, PDFs, & Course Support.
5 full blues soloing courses.
Essential chops builders.
Fun soloing workouts for every level.
Build your confidence and skill set.
30-Day 100% Money-Back Guarantee
MWG All Access
Spend Less & Play More
Courses, Libraries, Workshops, Office Hours...
Instant access to 147 courses.
17 full resource libraries .
Live guitar workshops every Thursday.
7-Day expert customer support.
Learn More Here
Best Value - Most Popular