Creative Pentatonics
Step-By-Step Course to Creating Solos Over Any Song That Sound Great and Are Fun to Play.
Secure Payments. Safe and Secure SSL Encryption

1 Payment = Lifetime Access
Course Curriculum
Chapter 1 - Creative Pentatonics Introduction
Available in days
days after you enroll
Chapter 2 - Minor Pentatonic Scales
Available in days
days after you enroll
Chapter 3 - Diatonic Vocabulary and Sidestepping
Available in days
days after you enroll
MEGA BONUS
Enroll and get a FREE bonus copy of Power Pentatonics!
eBook (Printable PDF) 141 pages | TABS, Audio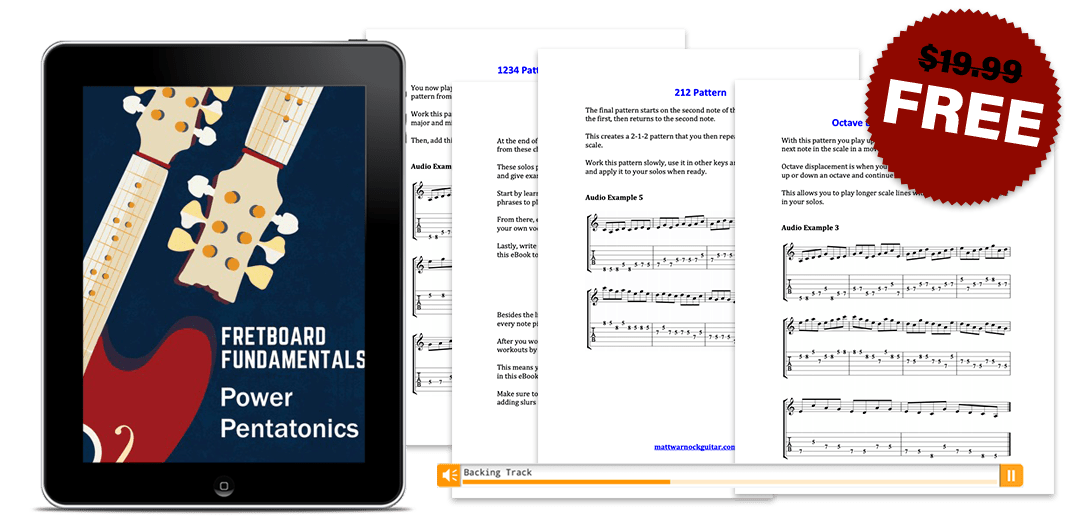 Who is This Courses For?
This course is designed for guitarists looking to increase your soloing skills without having to learn complicated modes, arpeggios, or concepts.
It's for guitarist's who:
Have learned the pentatonic scale but not exploited it fully.
Played the pentatonic scale a few times then moved on.
Have "moved on" to modes and arpeggios, but your solos are falling flat.
Want to solo over every chord you see with one scale.
Want to make soloing much easier than it seems.
Use the pentatonic scale like your favorite, legendary guitarist.
I've been studying, teaching, and playing the pentatonic scale for 25 years and I still find new ways to play and apply this magical scale.
I want to share with you everything I've learned about how to build creative and engaging solos using only the pentatonic scale and its variations.
Back in the mid '90s, when I was first learning to play guitar, I discovered and fell in love with the pentatonic scale.
I loved the way it sat in the box patterns on the fretboard, and it was such a versatile scale, I could solo over anything with those 5-note shapes.
But.
Something happened as I began exploring "more advanced" musical concepts, I left the pentatonic behind.
My beloved pentatonic boxes were replaced by parent scales, modes, arpeggios, upper structure triads, chord subs, and more.
While I felt that the pentatonic scale wasn't "cool" or "hip" and that I needed to leave it behind to grow as a soloist, something funny kept happening.
Whenever I learned solos by ear by legendary players, from Wes Montgomery to Mike Stern to John Abercrombie and John Coltrane, I kept finding these players using the pentatonic scale.
Not only using it, killin'it with the pentatonic scale.
These top professional players were using pentatonics to solo over blues, rhythm changes, 2-5-1's, maj7 chords, m7, 7th, 9th, 7b9, 7alt, m7b5, etc.
I quickly realized that the great players didn't abandon the pentatonic scale in place of "more advanced" concepts, they integrated pentatonics into these concepts.
Wow, what a eureka moment in the practice room, I was blown away.
This meant one thing, I had to go back and dig as deep as I could into pentatonic scales, and so I did.
15 years after first learning the pentatonic scale I decided to learn everything I could about this scale.
What I found opened a ton of new doorways in my playing.
I discovered modal pentatonics, how to use this one scale to outline every chord in my solos, and, most importantly, I was able to sound "complex" and "sophisticated" with just 1 scale.
Going back and studying the pentatonic scale transformed my playing, and it remains a go to sound in my solos to this day.
Because of these discoveries and growth in my own playing, I want you to have that same experience in your practicing and performing.
This is why I created the Creative Pentatonics course.
The material in this course comes from over 300 transcribed solos that I analyzed to understand exactly how the great players used pentatonics in their solos.
Then, those concepts are broken down into small, easy to understand and fun exercises that teach you exactly how to level up your solos with pentatonics.
These are the exact exercises that I used to transform my playing, and now you too can have this positive experience with your own studies.
The next step in your guitar evolution is here, jump aboard.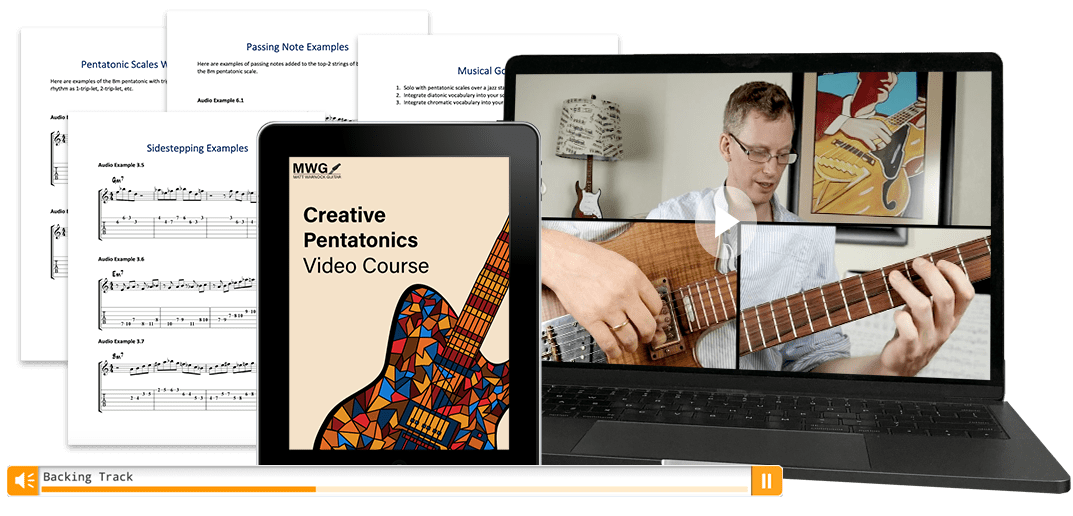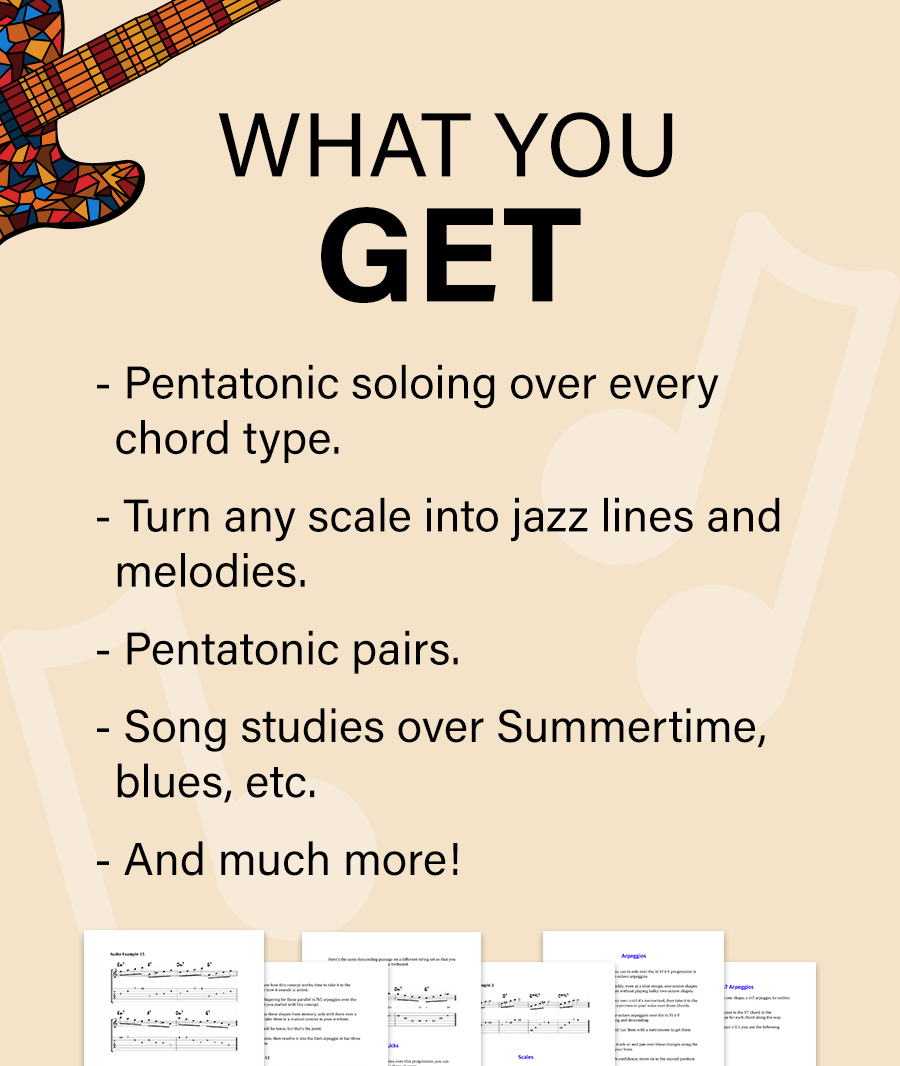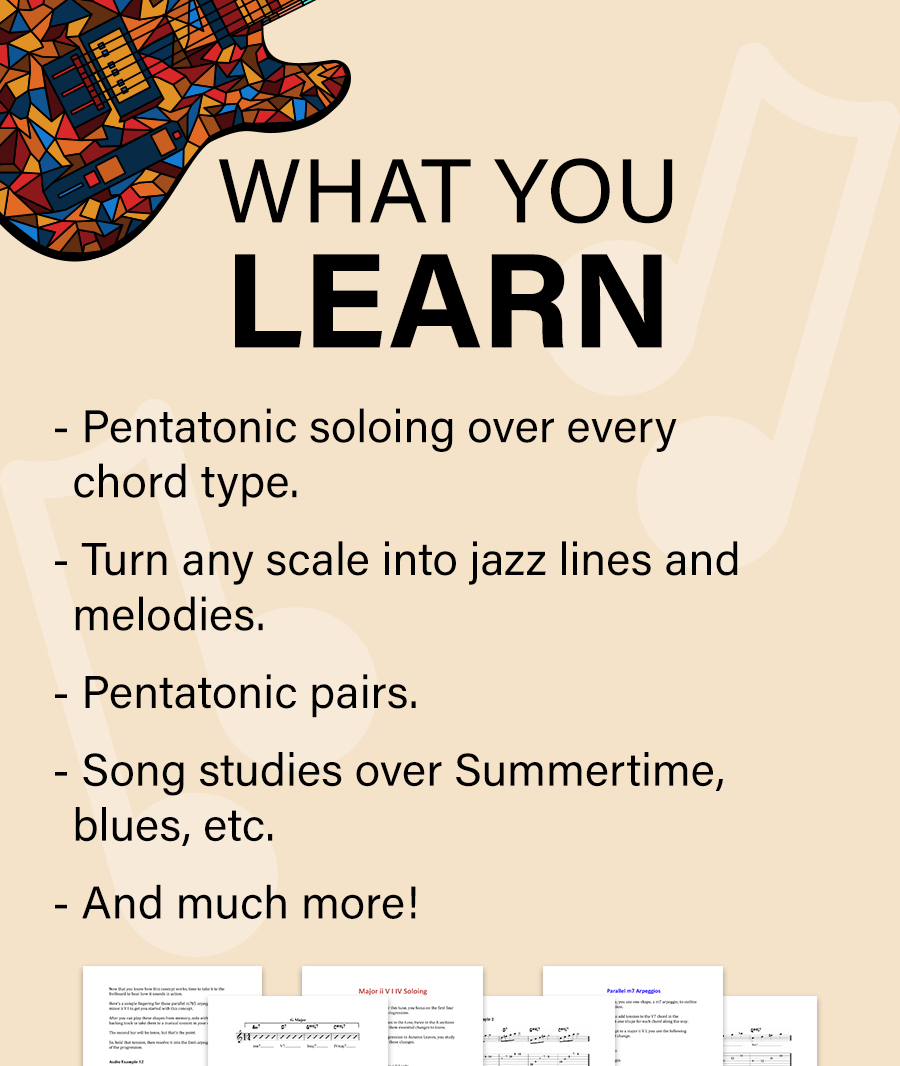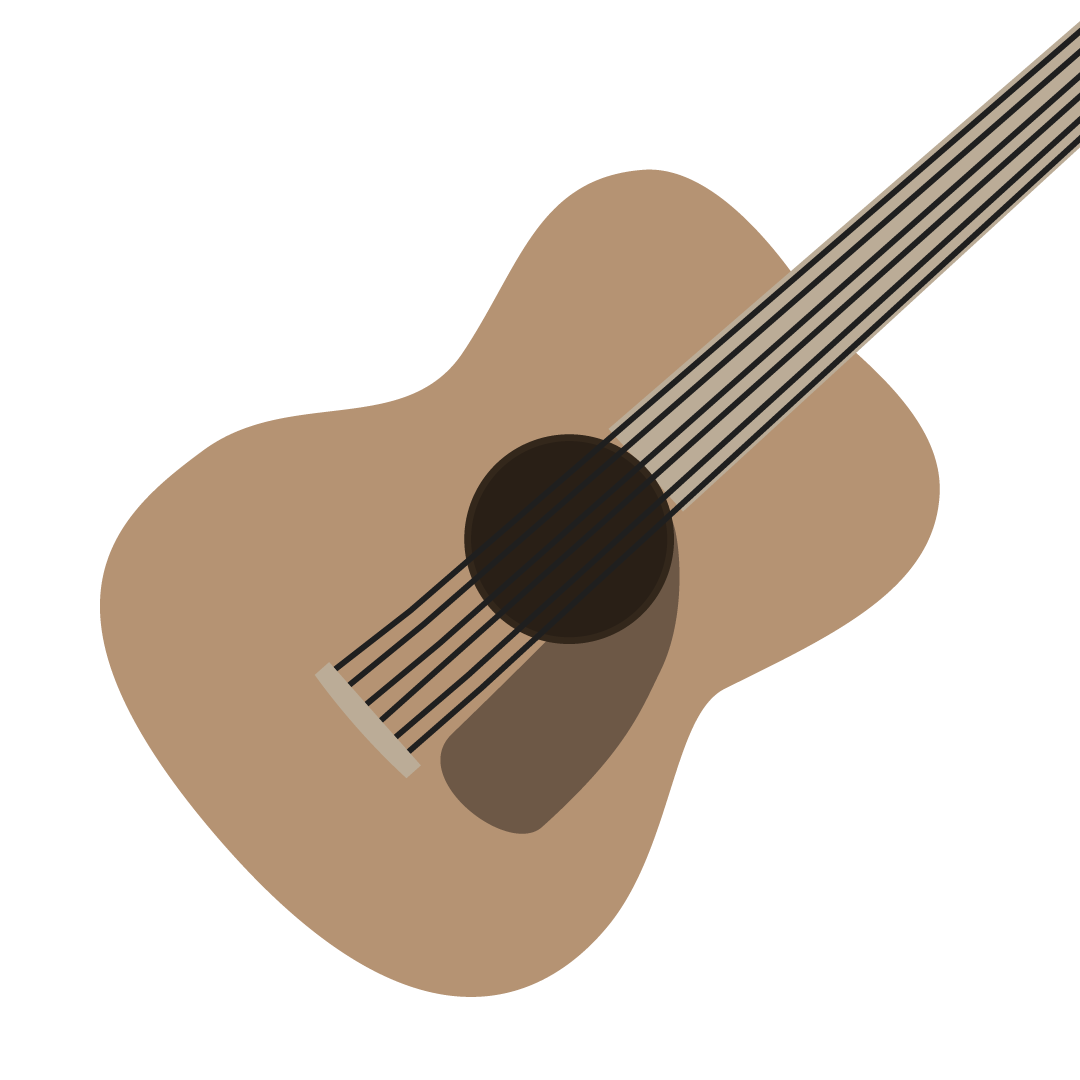 "I Like the step by step approach and love the fact that there are so many backing tracks in different keys and tempos. That helps me to consolidate understanding and reduces my normal urge to do an exercise once or twice and then dash onto the next thing. I know the course will be very beneficial. Most importantly I think this is going to be fun."
- Glynis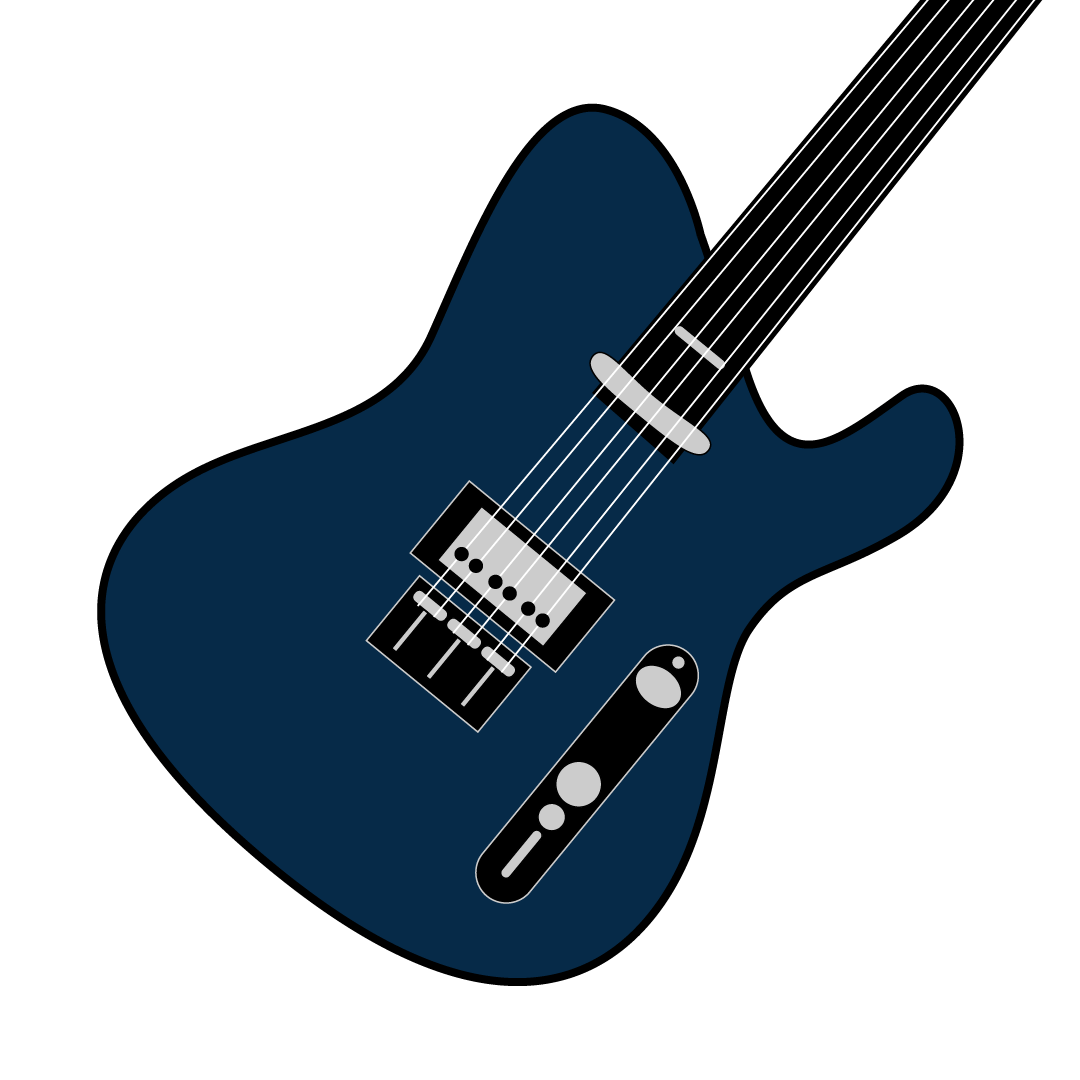 "Matt is just the best I've come across. His lessons are so well organized and can work for folks at a variety of different levels. His style is warm, encouraging and thorough with a good bit of humor thrown in. You just can't go wrong!"
- Dan
Frequently Asked Questions
When does the course start and finish?
The course starts now and never ends! It is a completely self-paced online course - you decide when you start and when you finish.
How long do I have access to the course?
How does lifetime access sound? After enrolling, you have unlimited access to this course for as long as you like - across any and all devices you own.
What if I am unhappy with the course?
We would never want you to be unhappy! If you are unsatisfied with your purchase, contact us in the first 30 days and we will give you a full refund.
Can I download the files for each chapter?
You can download all PDFs, audio examples, and backing tracks to practice offline. The videos are only viewed on the page.
What if I have a question about the course or about music?
You can post all questions related to the course in the comments section of any section. I aim to answer all questions within 24 hours of posting.
How Long Should I Practice Each Chapter?
Work on each chapter for at least 1 week. When you feel comfortable with the material, it's not perfect but you're doing well, you can move on to the next chapter. If you don't feel ready after 1 month on a chapter, move forward anyway and see how you do with that new material.
Do I have to play jazz to use this course?
No, not at all. The material is presented over jazz chords and songs, but you can apply this material to any genre. If you enjoy soloing in different styles, such as blues, rock, funk, fusion, soul, metal, etc., then this material can be used in your playing.
I've never soloed before, is this course for me?
Yes, absolutely! Each chapter contains technical exercises, then you move on to soloing exercises when ready, and finally bonus exercises to take things a step further. You can start by working the technical exercises in each chapter, then when you're ready start to explore the improvising exercises in your practice routine.
Can I slow down the video examples?
Yes! You can slow down any video to get a closer look at technique and to play along at a more comfortable tempo.
Secure Payments. Safe and Secure SSL Encryption

1 Payment = Lifetime Access