Discover the Joys of Jazz Guitar:
Unleash your musicality and tap into new depths of creativity.
1. Awaken Your Musical Senses
Jazz guitar isn't just playing, it's listening, feeling and responding. It sharpens your musical senses, creating a richer musical experience.
---
2. Boost Your Creativity
Jazz is the land of improvisation. It's a creative playground that frees you to explore, innovate and find your unique voice on the guitar.
---
3. Sharpen Your Mind
Jazz guitar isn't just good for your soul, it's good for your brain. It enhances memory, concentration, and problem-solving skills.
---
4. Find Your Zen
Let the stress melt away. Playing jazz guitar can be a relaxing and meditative activity, soothing your mind and soul.
---
5. Connect with Others
Jazz guitar opens the door to a community of fellow musicians. Share your passion, learn together, and form lasting connections.
---
6. Shine on Stage
Jazz guitar is a journey of self-expression. It's a path that leads you from the practice room to the stage, helping you conquer stage fright and shine in the spotlight.
---
7. Broaden Your Musical Horizons
Jazz guitar is a gateway to a world of music. It opens your ears to new styles and genres, expanding your musical horizons and enriching your musical taste.
---
8. Experience Personal Growth
Playing jazz guitar isn't just about the music. It's a journey of self-discovery and personal growth, rewarding you with a sense of accomplishment and satisfaction.




David Williams, Player Profile
Telecaster player who's comping and soloing in that cool Ed Bickert style.
Before MWG
My main problem was jazz, jazz, and jazz.
Struggled with creative comping and soloing.
Understanding, hearing, and following chord changes.
Being comfortable with jazz as it seemed like a mystery to me.
After MWG
Comping melodically over jazz standards.
Following chord changes without sheet music.
Dynamics and phrasing are greatly improved.
Able to transcribe melodies, chords, and solos by ear.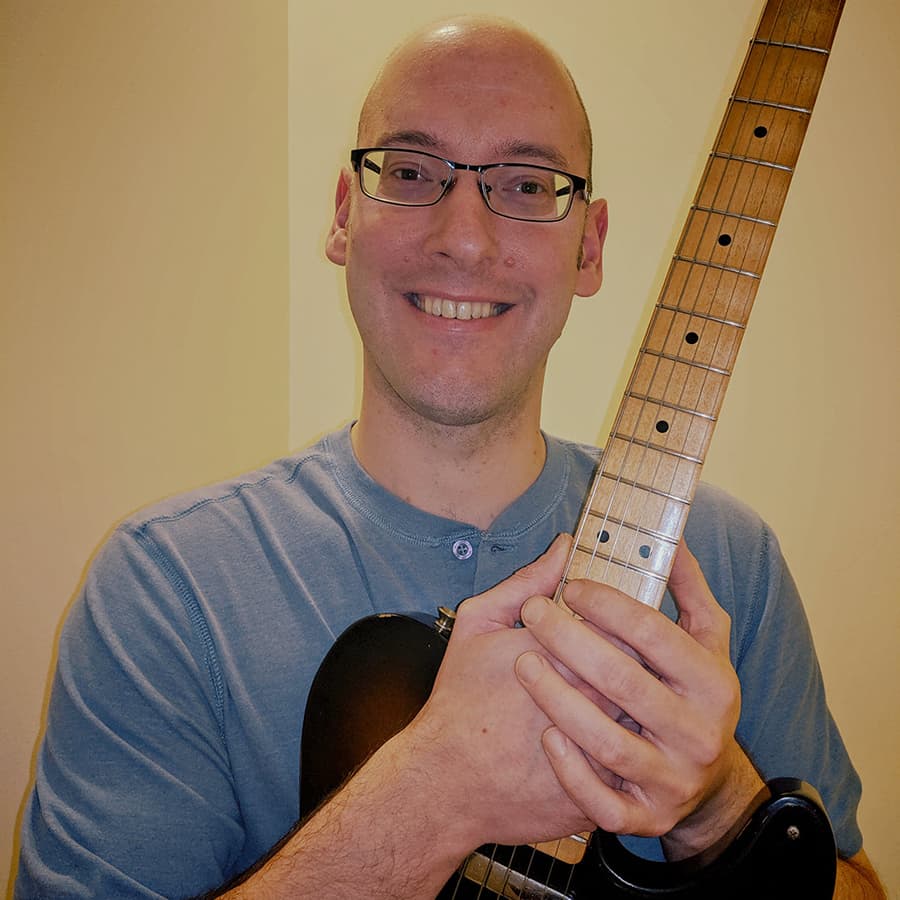 "My MWG experience has been amazing. I love the interaction between students in the studio, workshops and camps. It makes me feel comfortable learning guitar in an encouraging environment. The daily exercises motivate me to keep practicing (even though I don't get to them all). I also appreciate Matt's passion for the guitar, his expertise, and teaching philosophy. He's always encouraging me on my guitar journey! It's also fun to see other students grow as they practice and learn. Thank you, Matt, the MWG team, and fellow MWG members for making this a fantastic place to hang out and learn jazz guitar together!" – David Williams - Canada
Is This Jazz Guitar Course Really Free?
Welcome, future jazz guitarist! Your journey begins here with my free 30 Days to Better Jazz Guitar course.
You might be curious, why is this course free?
It's simple - I want to assist you in enhancing your guitar skills and finding joy in playing jazz guitar.
With the introduction of jazz chords and soloing, you'll see transformative improvements in your playing, making your practice sessions even more delightful.
The more you practice, the more you'll progress on the fretboard, creating a positive cycle of improvement and pleasure.
I'm offering this course for free because we believe in the transformative power of a positive learning experience.
I'm confident that you'll love this course and will be inspired to continue your jazz guitar journey with us.
And the best part? No catch - no credit card required. You'll have lifetime access to this foundational course, even if you don't choose to purchase any other courses or memberships.
To kickstart your journey, all you need to do is sign up for a free account and immerse yourself in learning!
Your course is accessible from any device, so you can learn at your own pace, wherever and whenever you choose.
So, pick up your guitar, access your Beginner's Guide to Jazz Guitar, and let's start this exciting journey.
Have fun exploring the world of jazz, and we'll meet you in the lessons!
FAQs
Q: Can I master jazz guitar?
A: Absolutely! Every jazz guitarist started as a beginner. With practice and dedication, you can gradually master more complex techniques and surprise yourself with your progress.
Q: Is learning jazz guitar worth the time?
A: Yes! Even with a few hours of practice per week, you'll develop unique musical skills and a fulfilling way to express yourself. The more you play, the more you'll love it.
Q: What if I prefer other music genres?
A: Jazz techniques can enhance any genre. Greats like Jimi Hendrix and Eric Clapton were influenced by jazz. You might even develop a new appreciation for jazz as you learn.
Q: Will I receive support after enrolling?
A: Yes! Our customer support team is available 7 days a week via chat or email. We're committed to helping you succeed in your jazz guitar journey.
Q: Does the course accommodate different learning styles?
A: Indeed! This course includes videos, sheet music, and exercises, catering to different learning preferences. Whether you learn by watching, reading, or doing, we've got you covered!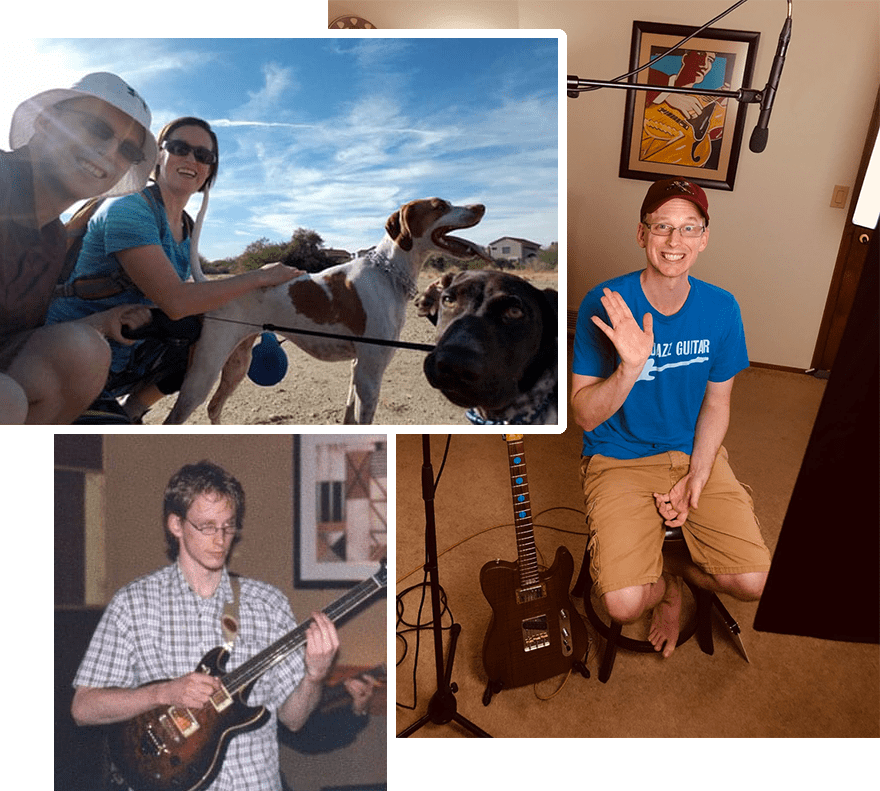 Meet Your Guide: Matt Warnock
Welcome to your jazz guitar journey. I'm Matt Warnock, your guide and fellow student of this beautiful art.
Just like you, I wasn't born a jazz guitar master. I spent years honing my skills and overcoming the challenges that came my way.
My goal? To make learning jazz guitar an enjoyable, accessible experience - because I truly believe that anyone can embrace the magic of jazz guitar.
From playing in various parts of the world to creating a platform that simplifies learning, I've focused on helping students like you discover the joy of jazz guitar, regardless of your background or goals.
Whether you're a beginner, returning to the guitar, or an experienced player looking to expand your skills, you're in the right place.
Welcome to a community that values patience, accessibility, and the shared passion for jazz guitar. There's a unique rhythm waiting for you here at Matt Warnock Guitar.