What You Learn in This Study Guide:
Everything you need to play Stella by Starlight - instantly. No complicated theory required!
1. Essential Progressions
Master the most important jazz chord progressions, unlocking the ability to confidently play Stella & countless other jazz standards.
---
2. Comping Techniques
Learn versatile comping techniques that will enhance your rhythm playing, allowing you to effectively support soloists and blend seamlessly with any ensemble.
---
3. Soloing Strategies
Discover proven strategies for crafting engaging and melodic solos over Stella, elevating your improvisational skills and musical expression.
---
4. Jazz Vocabulary
Develop a rich jazz vocabulary by exploring authentic jazz phrases and licks, enabling you to infuse your playing with the unique sound and feel of the jazz tradition.
---
5. Harmonic Analysis
Gain insights into the underlying harmonic structure of Stella, empowering you to make informed choices when improvising or comping the tune.
---
6. Soloing Concepts
Explore essential improvisation concepts that will help you navigate Stella with ease, fostering creativity and freedom in your jazz guitar playing.
---
7. Ear Training
Develop your listening skills with Stella based ear training exercises, improving your ability to recognize chord progressions and melodies by ear, and enhancing your overall musicianship.
---
8. Chord Melody
Learn both a chord melody and solo guitar arrangement of Stella by Starlight, showcasing your versatility as a jazz guitarist.
Benefits of Stella by Starlight:
How this powerful tune elevates every aspect of your jazz guitar skillset.
1. Boost Musical Creativity
Unlock your creative potential and develop your unique voice as a jazz guitarist, inspiring you to create music that reflects your personality.
---
2. Expand Repertoire
By learning Stella, you gain skills that let you perform a vast array of jazz standards, making you a more versatile and in-demand musician.
---
3. Enhance Listening
Sharpen your ability to actively listen and engage with music, deepening your connection to and appreciation for jazz.
---
4. Foster Growth
Build resilience, perseverance, and a strong sense of accomplishment as you overcome challenges and achieve your musical goals.
---
5. Improve Connections
Confidently play Stella at jam sessions and performances, leading to new friendships, collaborations, and a sense of belonging within the jazz community.
---
6. Express Emotion
Master Stella to convey your feelings and connect with your audience on a deeper emotional level.
---
7. Increase Cognition
Stimulate your brain and develop cognitive skills like pattern recognition and problem-solving, benefiting your daily life and well-being.
---
8. Experience Joy
Immerse yourself in the world of jazz guitar and experience the satisfaction of growth and the happiness that comes from making music you love.
Colin Gardiner, Player Profile
Procrastinating guitarist who now plays jazz every day.
Before MWG
Wanted to learn jazz guitar, but never started.
Had a cancer scare in my family, made me reassess my priorities.
Procrastinated in my jazz learning process.
Jazz seemed too complex, something I would never learn.
After MWG
Removed all personal doubts about playing jazz.
Have a consistent practice routine and seeing growth.
Playing full jazz standards with confidence.
Understand jazz concepts and how to use them in my playing.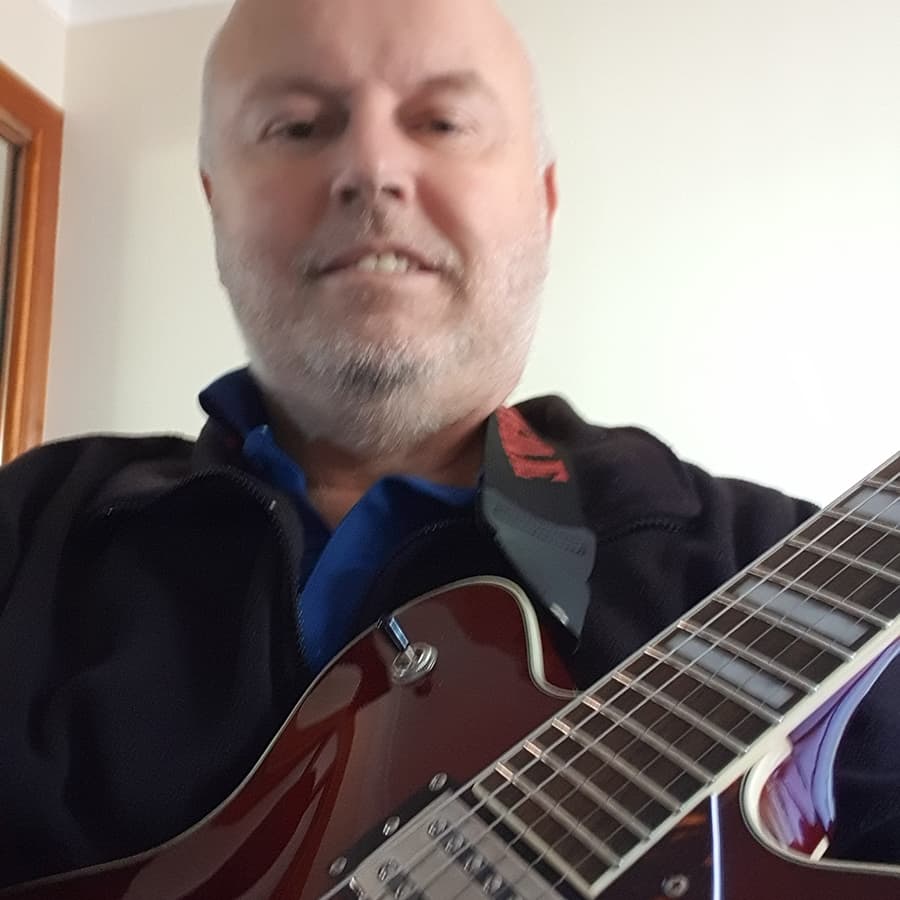 "Matt is a terrific teacher. Very knowledgeable and always available. He works hard to make sure that players of all levels are find their way on their jazz guitar journey. As well, the Studio accelerates your progress and expands your interaction with other jazz guitarists. Between the courses, workshops, and Studio, MWG has all the bases covered. I recommend MWG to everyone wanting to learn jazz guitar and guitar in general." – Colin Gardiner - Australia




MOST POPULAR
Lifetime Access
$100$49.99
Click to Start
Save 50% off the regular price
All future updates FREE!
Dozens of PDF & Video lessons for visual learning
Backing tracks & audio examples for practice
Essential skills - soloing, chords, & rhythms
Scales, arpeggios, & extended chords
Direct guidance for faster learning
Lifetime access to all materials
No membership fees - pay once and own forever
Zero risk with our 30-day money-back guarantee
Flexible Learning
2-Monthly Payments
$25/month for 2 Months
Click to Start
Save 50% off the regular price
2 Easy Monthly Payments
Master skills - soloing, chords, & groove
Learn essentials: scales, arpeggios, & more
Personal guidance for focused learning
All future course updates FREE
Enjoy lifetime access to all resources
No ongoing fees after 2 payments
Full customer support whenever you need
Feel secure with our 30-day money-back guarantee
Frequently Asked Questions
Is this course suitable for my skill level?
Absolutely! Our "Easy Jazz Chords Progressions" course is designed for both beginner and intermediate jazz guitarists. We focus on a hands-on, play-first approach that ensures an enjoyable and effective learning experience for all skill levels.
Do I need to know jazz theory before starting this course?
No prior jazz theory knowledge is required. Our unique approach emphasizes playing first and theory later, allowing you to start making music from day one and enjoy the learning journey.
What if I have questions or need help with the course material?
You'll receive full support from a teacher with 28 years of jazz guitar teaching experience. You can ask questions and get personalized assistance, ensuring a smooth and productive learning experience.
How is the course content delivered?
The course includes 24 chapters, 8+ hours of video workshops, PDFs, audio examples, backing tracks, and more. All materials are accessible online 24/7/365 on any device, allowing you to learn at your own pace and on your own schedule.
What if I'm not satisfied with the course?
We offer a 30-day, no-questions-asked, money-back guarantee. If you're not satisfied with the course for any reason, simply let us know, and we'll refund your purchase in full.
Do I get lifetime access to the course materials?
Yes! When you sign up for the course, you'll receive lifetime access to all materials, as well as any future updates. This ensures that you'll always have the most up-to-date information and resources available.
How do I know this course will actually help me improve my jazz guitar skills?
Our course is based on proven methods and techniques that have helped countless students master jazz progressions and elevate their playing. We're confident that you'll see significant improvement by following our comprehensive and structured program.
Can I really get this full Stella by Starlight guide for one low payment?
Yes! My goal is to make high-quality jazz guitar education accessible and affordable for everyone. By offering the course at this unbeatable price, we're confident that you'll receive immense value and see a significant impact on your playing.
Do I need any special equipment or software to access the course materials?
No special equipment or software is required. All course materials are accessible online, so you can view and download them on any device with an internet connection.
Is there a deadline to complete the course?
There's no deadline for completing the course. You'll have lifetime access to all materials, allowing you to learn at your own pace and revisit the content whenever you need to.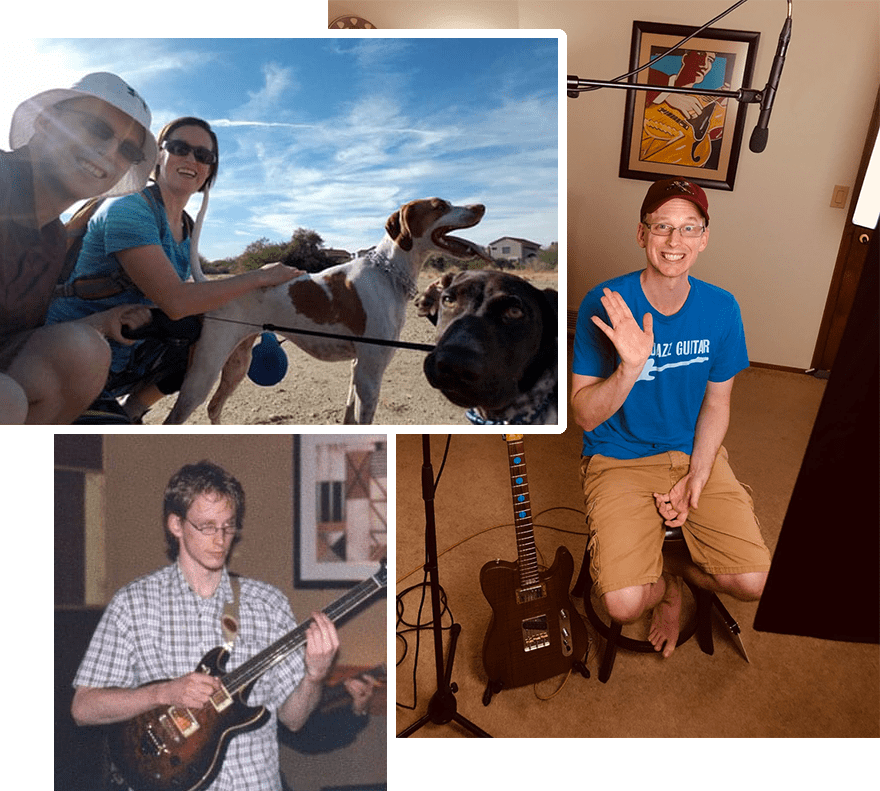 Meet Your Teacher: Matt Warnock
Hello, fellow jazz guitarist! I'm thrilled to welcome you to my "Easy Jazz Chords Progressions" course.
As a fellow guitarist and your teacher, I understand that your musical journey is unique, and I'm here to help you achieve your musical goals, no matter where you're starting from.
This course is designed with you in mind, catering to jazz guitarists of all ages who are eager to improve their comping and soloing skills.
My teaching approach is all about making learning enjoyable and hands-on, prioritizing playing over theory. This way, you play music right from day one, and I'll be right by your side, guiding and encouraging you every step of the way.
So, let's dive into the exciting world of jazz guitar together, and remember – you've got this, and I'm here to support you on this incredible journey!