As an MWG member, you get total access to:
The Studio, Live Workshops, Courses, Libraries, Masterclasses, and more!
The MWG Studio is an online, private forum where you connect with other members, participate in daily lessons, post your playing for feedback, and learn like never before.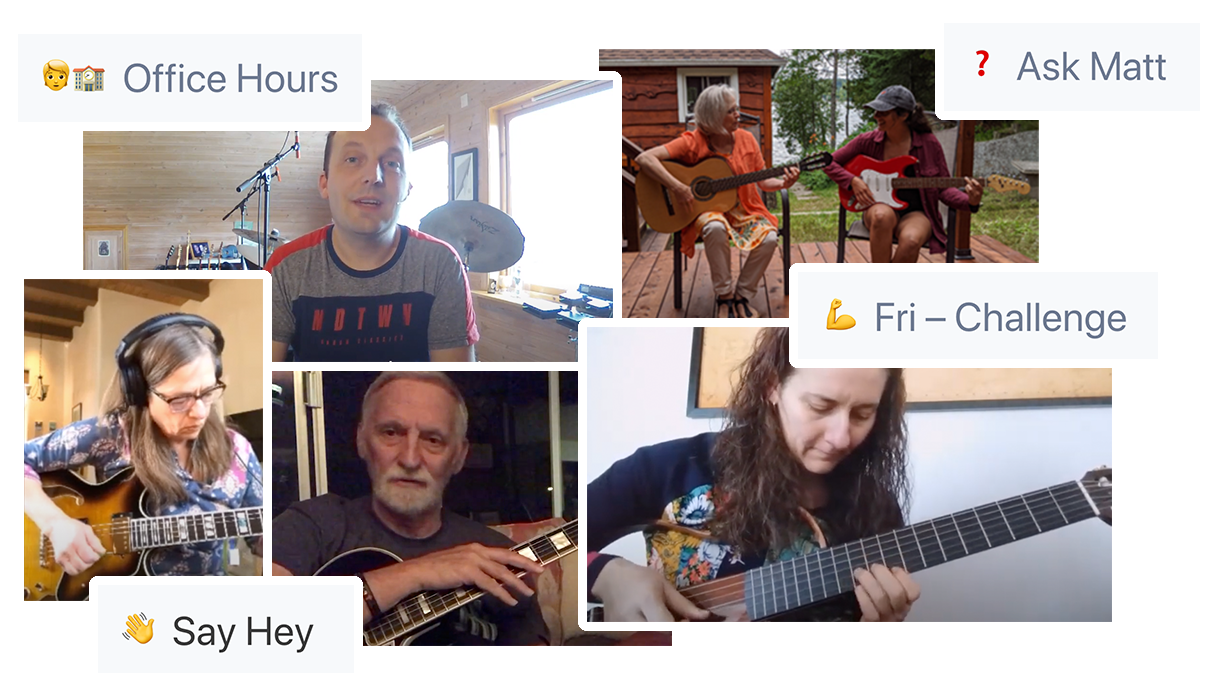 Try Free for 30 Days Here
---
---
---
---
The Studio
Feedback & Community
Daily Lessons
Personal Feedback
Encouraging Peers
Interactive Workouts
Studio Jams
Tune of the Month
One-On-One Guidance
Active Listening Sessions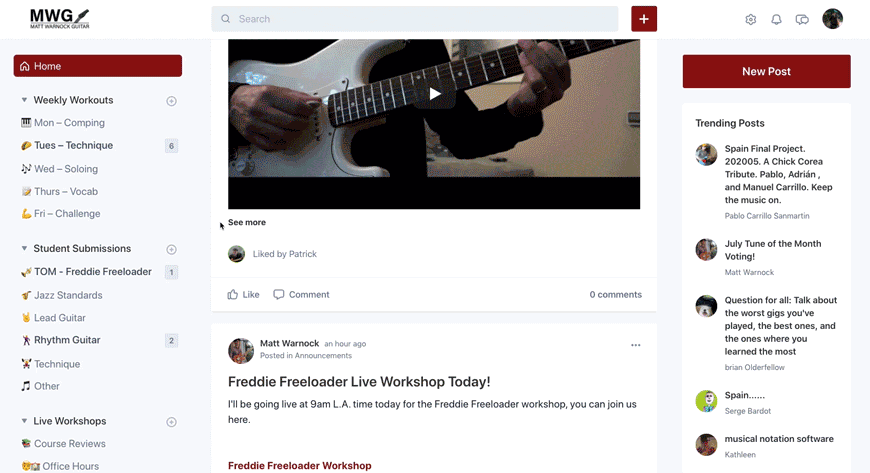 "Matt truly cares about each student and their progress; answering questions and providing feedback along the way. He takes complex concepts and makes them simple to understand and apply. I've learned more usable concepts in the last 4 years than in 35+ years of playing, and best of all, I'm having fun!" - Rich Petrucci
Live Workshops
Interactive & Engaging
Live Q & A's
Concept Deep Dives
Course Reviews
2 Workshops Every Week
Interact with Community
All Levels of Experience
Open Office Hours
Expert Instruction
Expand Your Creativity
Start Your Free Trial Now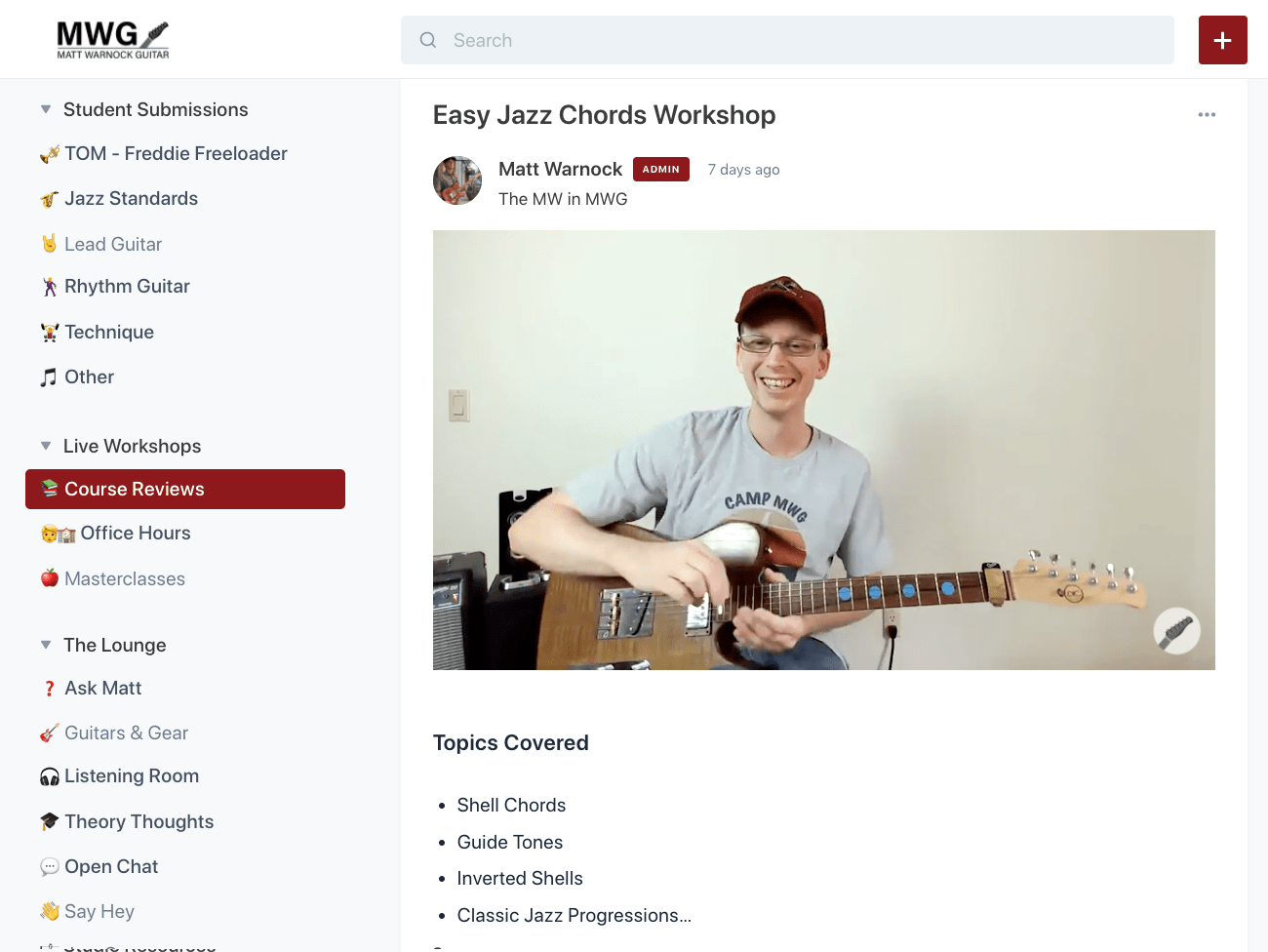 "Matt, you're a PURE GENIUS because you've summarized a whole concept in a few little words! Mille fois BRAVO!!!" - Ramy Ghabri
Masterclasses
Unique & Personal
Private Lesson Videos
Watch Replays Anytime
Skill Breakdowns
Instant Feedback
Progress in Minutes
All Levels of Players
Every Genre & Style
25+ Years of Experience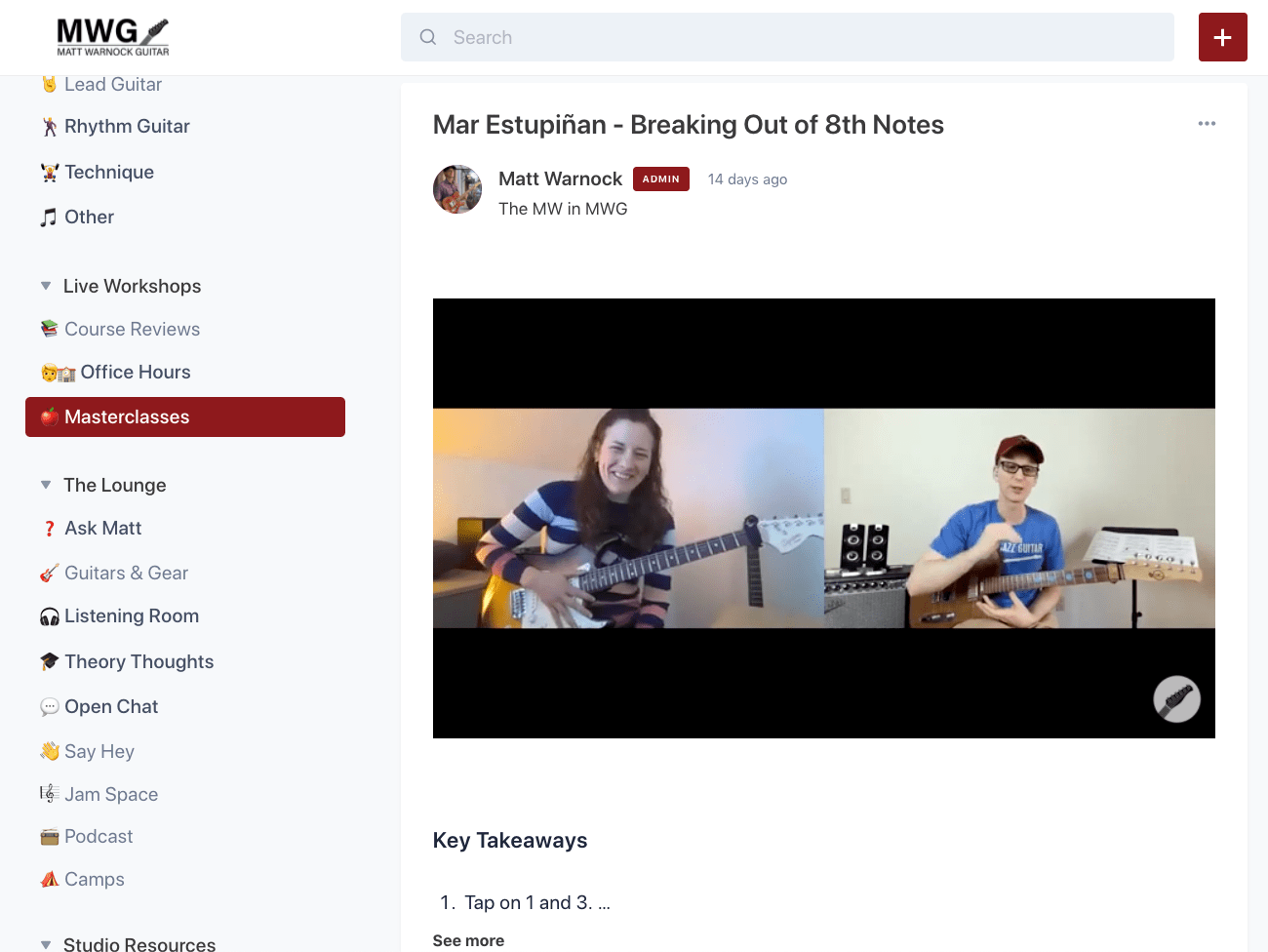 "Getting back to the basics and really knuckling down is another great milestone in my musical journey. Sometimes we lose ourselves in our own musically. Matt, you've brought me down to earth. Thank you." - Michael W
Courses
Levels & Catagories
20 Ordered Levels
Skill Categories
Track Your Progress
Guidance From Matt
Video, PDF, & Mp3s
Jazz, Blues, Rock, & More
Weekly New Releases
Tailored to Every Level
Play at YOUR Pace
Try MWG for Free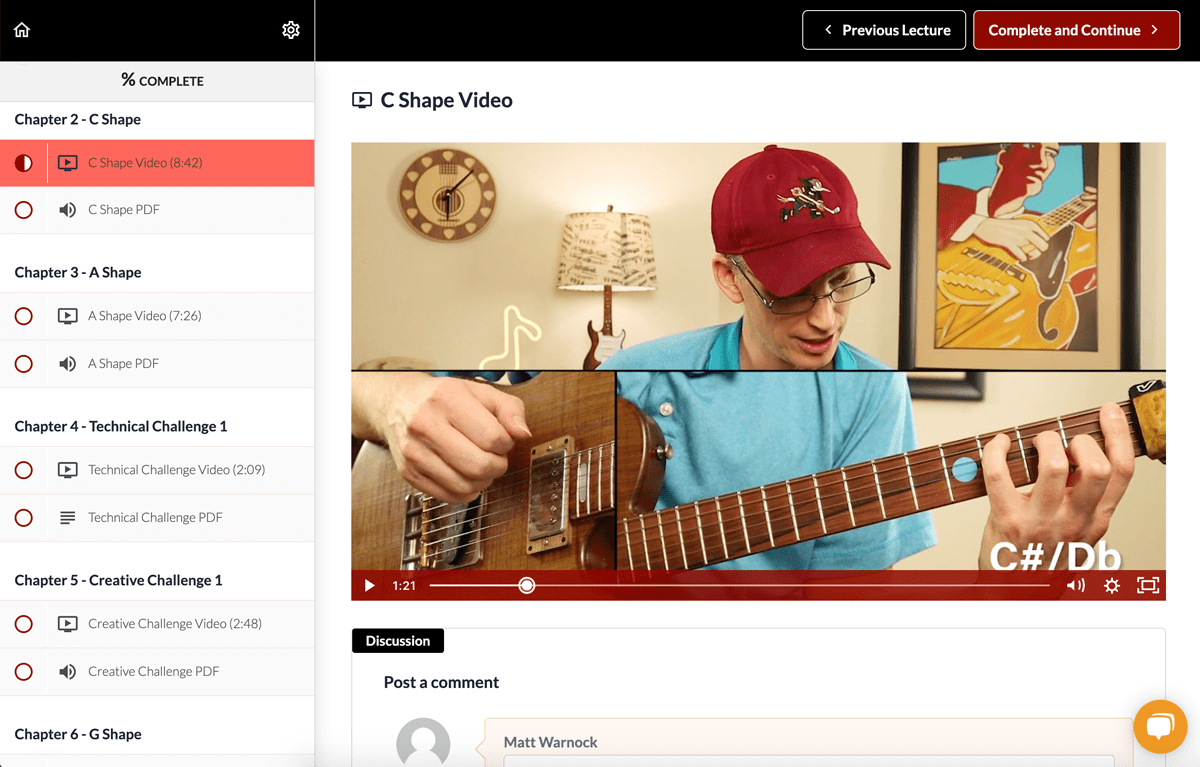 "You're like a wizard Matt! I just posted that comment and you've already replied with great advice to the questions I was still forming in my head to ask you offline! Man, I have no idea how you do it, but I'm so glad I found your lessons and using them. Thanks for that advice!" - David Michaels
Libraries
Resources & Fundamentals
Quick & Concise Lessons
Chords, Scales, & Arpeggios
Jams, Licks, & Warm-Ups
Technique Workouts
Video, PDF, Mp3, & Jam Tracks
Instantly Improve Your Playing
All Levels & Styles
New Libraries Weekly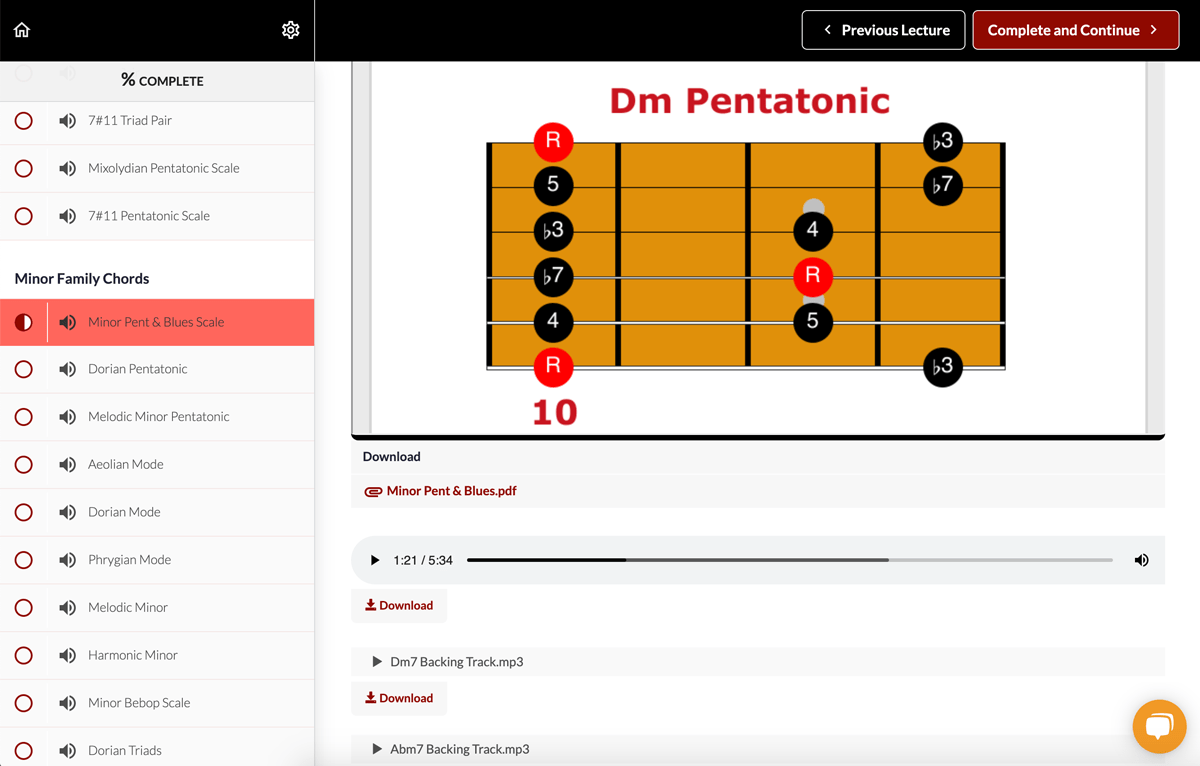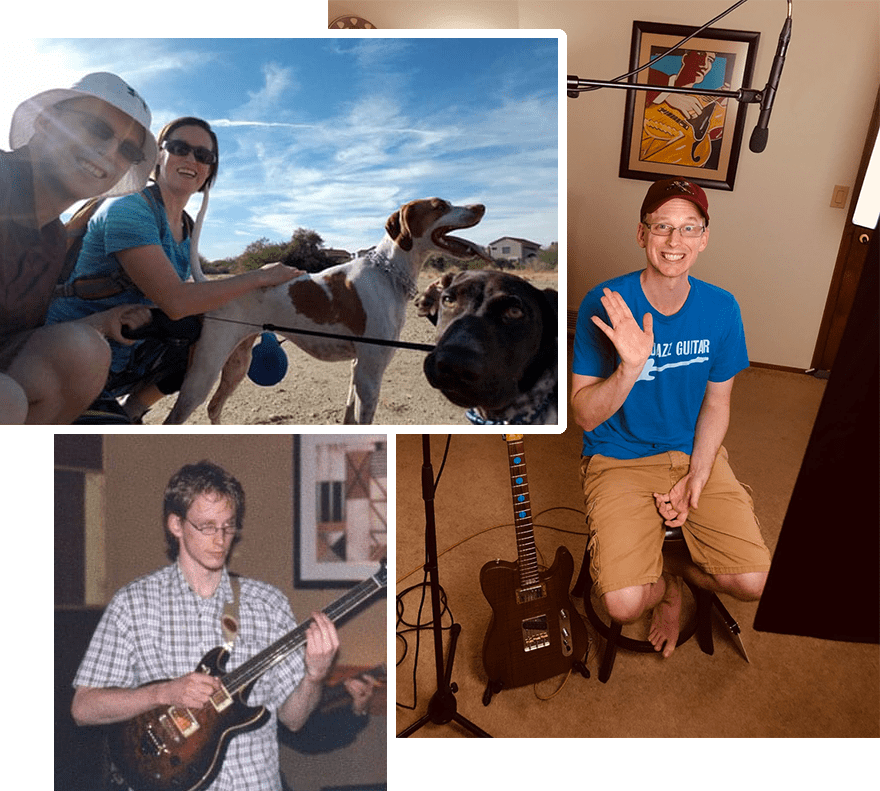 Meet Your Teacher: Matt Warnock
Hey! I'm Matt, the MW in MWG and the site's resident guitar teacher. After travelling the world teaching & performing for over 25 years, I now run MWG full time with my awesome team.
Having taught over 8,000 private lessons, given 600+ live workshops, and played over 2,000 live gigs, you benefit directly from my 25+ years of guitar playing and teaching experience.
When I'm not hanging out with members in the Studio and live workshops, you'll find me hiking around Tucson with my wife Holly and two Pointers Carmen and Stevie.

All musical journeys are unique, and they can all benefit from:
Cutting Edge Education
Supportive Community
Expert Teacher
Personalized Feedback
Interactive Workshops
Collaborative Jams
Organized Lessons
Flexible Schedule
Growing from these experiences is only possible when you have an expert teacher to guide and support you along the way.
Benefit from my 25 years of teaching experience with guided lessons, live workshops, and the Studio.
Join Free for a Month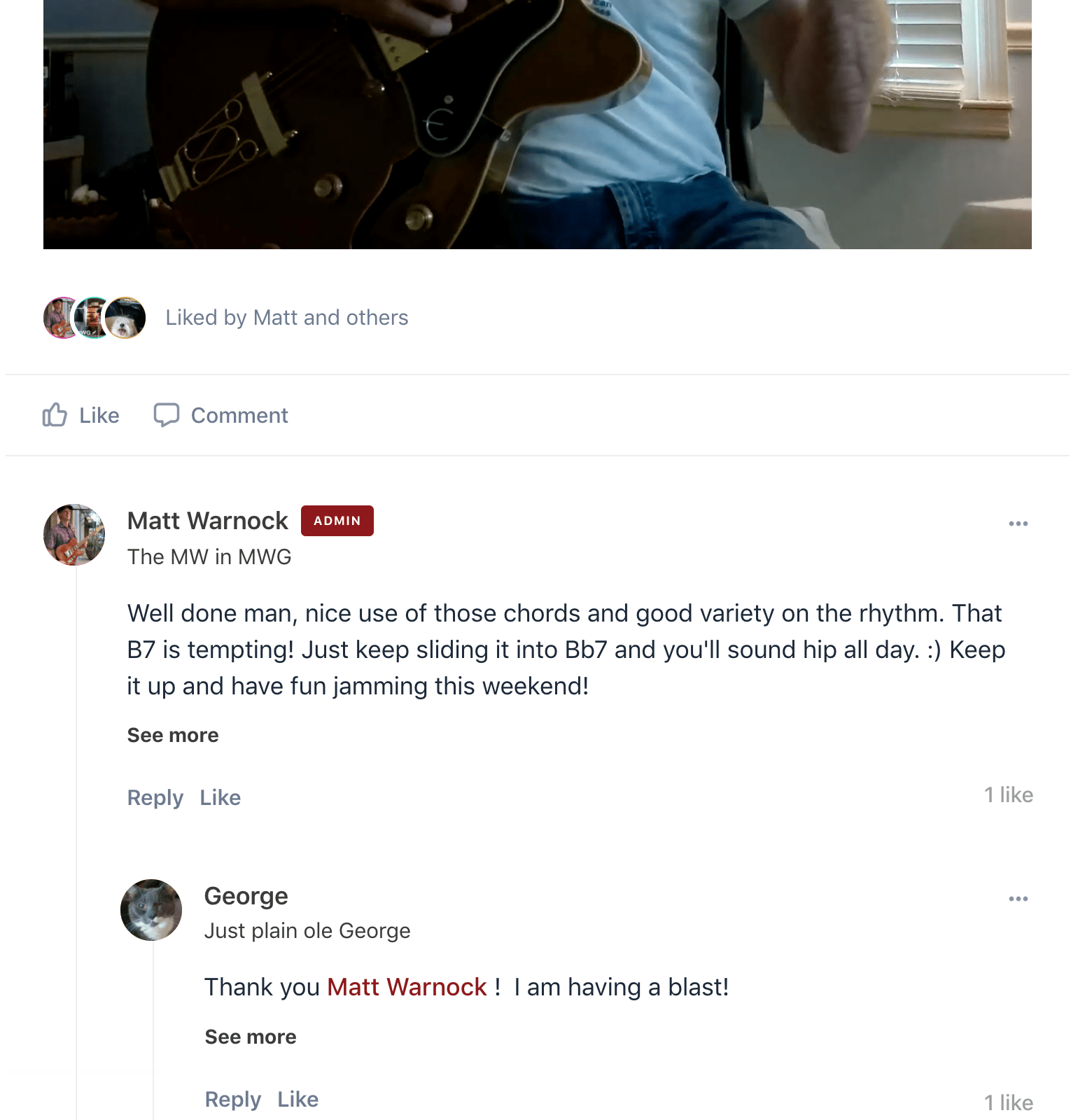 "After teaching thousands of students over the past 25 years, I honestly believe that with the right guidance, creative workouts, and a supportive community, every guitarist will reach their full musical potention and have tons of fun along the way." - Matt Warnock Founder MWG
Want to see MWG in action?
Start your 30-day free trial.
Start Today for Free
MWG is a Safe Space to:
Ask questions.
Post your music.
Experiment with concepts.
Tackle new challenges head on.
Grow as a musician.
Express yourself on guitar.
MWG is a positive, inclusive, and encouraing community where every guitarist is welcome to learn, share, and feel comfortable and confident in your playing.
No Trolls
No Negativity
No Judgment
No Rejection
When you feel encouragement from your peers, supported by your teacher, and welcomed into a community, your confidence grows and you reach new levels of creativity on the fretboard.
At MWG, you're more than another player, you're a valuable & appreciated member of our community.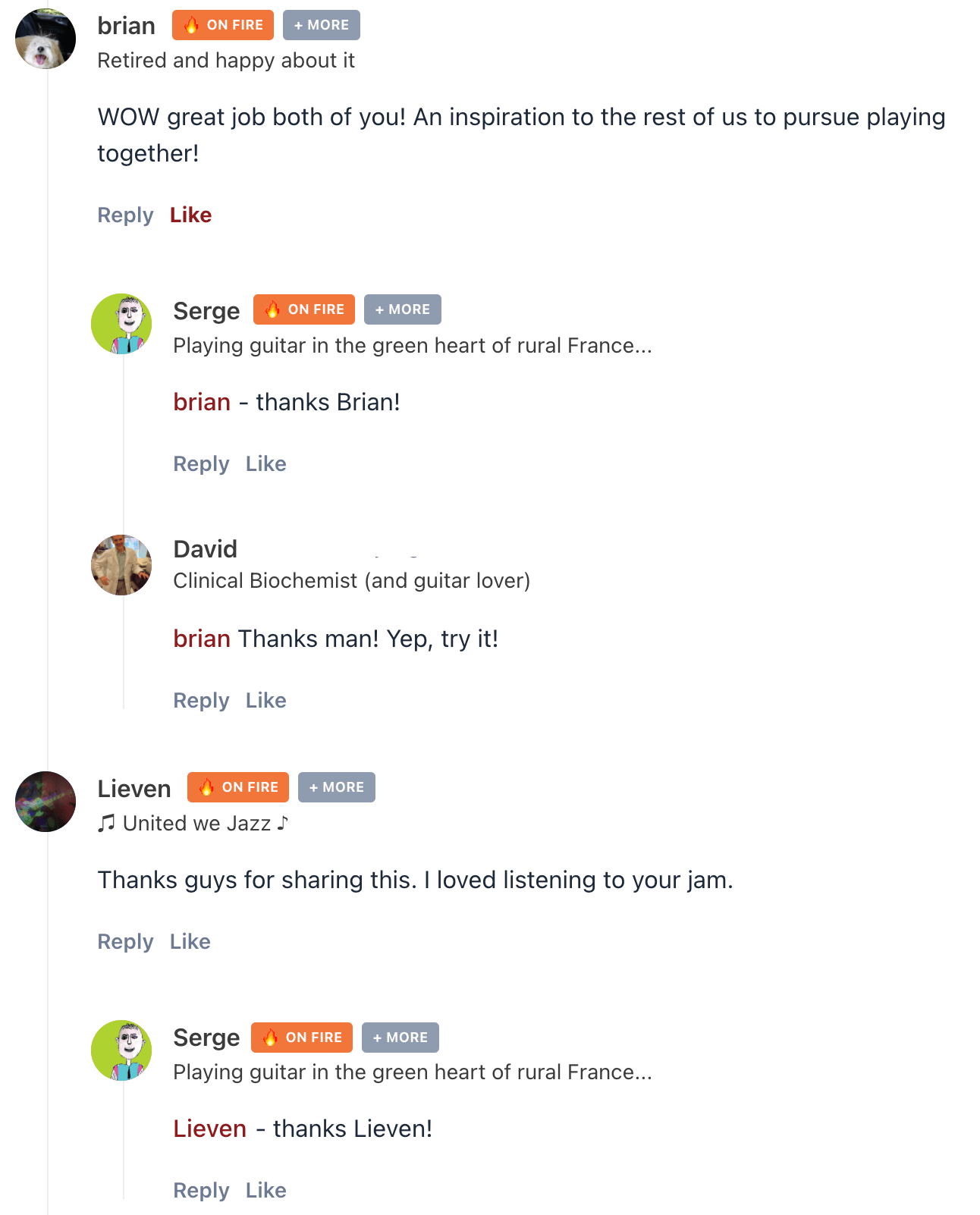 ---
MWG is for guitarists who:
Love listening to solos and are ready to play your own.
Dig exploring new & creative concepts on guitar.
Want an organized approach to learning.
Need an interactive, personal, learning experience.
MWG is NOT for guitarists who:
Expect to master guitar "overnight."
Avoid exploring new ideas on guitar.
Don't like supporting others and building community.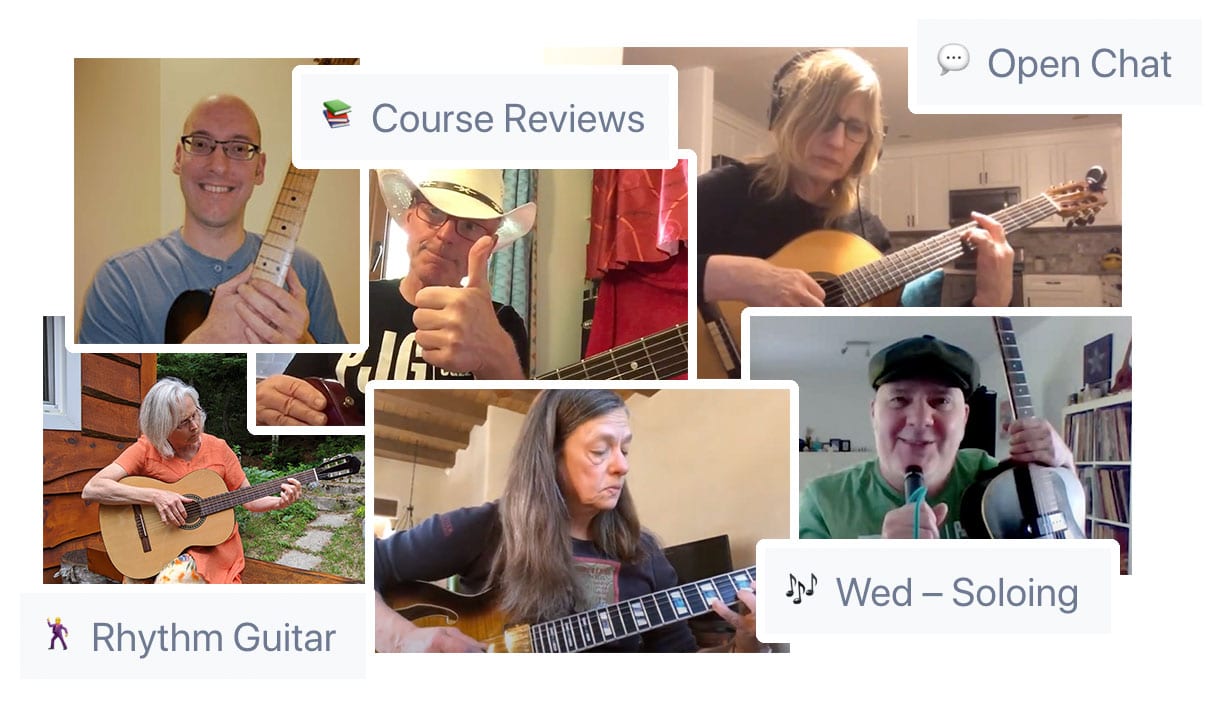 Ready to Get Started?
1. SIGN UP
Safe and secure checkout makes it easy to get started with MWG at no risk to you.
Try for 30 Days Free
2. START PLAYING
We work together to find the perfect lessons, courses, & workshops for your guitar needs.
Personlaized Learning
3. IMPROVE & ENJOY
If you dig MWG, keep playing and having fun. If it's not for you, cancel any time.
Zero Risk to You!
"Growing on guitar and reaching your maximum musical potential is totally achievable when you have a dedicated teacher who cares about you as a person, player, and community member." - Matt Warnock
Join MWG Here - Zero Risk!
Guitarists are Reaching Their Goals with MWG




Lifetime Access
$1,499/one-time payment
Instant Total Access
1-to-1 Private Lesson with Matt
MWG Camps (4/year)
New Lessons Daily
184 Courses
275 Live Workshops
24 Libraries
Studio Access
7-Day Customer Support
30-Day Money Back Guarantee
MOST POPULAR
Yearly Access
$299/year
Start Your Free Trial
Save $49 a Year vs. Monthly
New Lessons Daily
184 Courses
275 Live Workshops
24 Libraries
Studio Access
7-Day Customer Support
Don't Pay for 30 Full Days
Monthly Access
$29/month
Get 30-Days Free
New Lessons Daily
184 Courses
275 Live Workshops
24 Libraries
Studio Access
7-Day Customer Support
Don't Pay for 30 Full Days
Monthly Access
$29/month
Get 30-Days Free
New Lessons Daily
184 Courses
274 Live Workshops
24 Libraries
Studio Access
7-Day Customer Support
Don't Pay for 30 Full Days
Safe and secure methods of payment

Frequently Asked Questions
1. Any contracts or commitments?
None! You sign up, use the membership for as long as you like, and cancel any time. There are ZERO contracts or commitments.
2. Are the courses downloadable?
All PDF, audio examples, and backing tracks are downloadable. Videos are streamed online.
3. What style do the lessons focus on?
I'm a professional jazz guitarist, so we focus a lot on improvisation. And…lessons cover skills and concepts needed to play all creative genres, such as blues, rock, folk, country, and other modern musical styles.
4. What's available to me when I sign up?
Everything! As soon as you sign up, you get full access to every course, library, workshop, and the Studio.
5. Can non-US residents sign up?
Yes! MWG has members from all over the world, age levels, experience levels, and players who speak many languages.
6. Can I ask you questions directly?
Of course! You can contact me through the comments, instant messenge, email, and in the studio for a super fast response.
7. What if I fall behind?
You can't fall behind! Every lesson is built so that you work at your own pace and on your schedule. You can even keep track of completed lessons to pick up where you left off after any time away.
8. What does it cost to be an MWG member?
There are three options. Monthly - $29. Yearly - $299. Lifetime - $1,499. Safe and secure payments are available for Mastercard, Visa, American Express, and Discover cards.
9. Is it too advanced for me?
Absolutely not. MWG has courses that range from learning notes and open chords to advanced jazz concepts. MWG is your one-stop guitar-learning destination.
10. How often do you release new lessons?
There are new lessons every day at MWG.
MWG Guitarist Reviews