How Does MWG Work? Easy Peasy...
This is how MWG elevates your jazz guitar creativity, skills, and confidence.
Jump on Board
Sign up for the annual or monthly MWG plan and start your 7-day free trial. Both options come with a 30-day money back guarantee. Click here to get started.
---
Say Hello
Reply to the welcome email and let me know your current guitar goals and skill level. You can give as much or as little detail as you have or are comfortable with right now.
---
Personalized Practice Routine
I will send you back an individualized practice routine aimed at nailing your current guitar goals. The routine comes with direct links to MWG lessons to practice.
---
Play & See Progress
Start in on your personal practice routine. Keep me updated as needed with any hurdles, wins, or questions you have for quick & direct help along your journey.
---
Get Direct Feedback
Post unlimited video or audio in the MWG Studio to get direct feedback from me on your playing as well as encouragement from other MWG members and guitarists.
---
Take a Guided Tour
All members get a 15-minute orientation of MWG. When ready, book your call, and we'll meet on Zoom as I show you around MWG and how the website helps you reach your guitar goals.
---
Real World Jazz Experiences
Join in on the interactive daily jams and weekly workshops, listening sessions, and full jam sessions as you learn by playing with me directly in a fun & stress-free environment.
---
Report, Adjust, & Grow
Send me a short update each month on how you are progressing with the current practice routine and I'll send back an updated routine with new material and lessons to match your progress.
---
Why MWG Is Perfect for Your Jazz Guitar Journey?
Join MWG and fast-track your journey from jazz guitar enthusiast to confident jazz guitarist.
Direct, Expert Instruction
Direct access to a single expert jazz guitar educator, armed with a Doctoral degree and extensive international playing experience. This gives you a deeper knowledge base, continuity in learning, and rapid response to your queries.
---
Cost-Effective Learning
Experience valuable learning at a fraction of the cost of private lessons. For just $30/month or $180/year, enjoy unlimited access and personalized insights compared to limited interaction at $80/hour for private lessons.
---
Time-Efficient Learning
Steer clear of fragmented learning from disjointed lesson snippets. MWG promotes a streamlined, cohesive educational experience, saving you from the inefficiency and confusion of aimless YouTube surfing.
---
Guided & Organized Content
Over 275 self-paced courses with notation, Mp3s, video, & TAB. Organized by topic & experience level. Subtitles in English, French, Italian, German, Portuguese, Spanish, and Czech.
---
Customized Learning
Experience personalized learning tailored to your progress history, complete with goal setting and updates through direct interaction with the instructor, offering truly bespoke guidance on your musical journey.
---
Engaging MWG Studio
Post your videos, audios, and graphics on our 'MWG Studio' platform. Benefit from 24/7 feedback from our international community of over 700 members and direct insights from the instructor, fostering your growth and development.
---
Daily Lessons and Workshops
Participate in daily workouts, including jam sessions, jazz standard studies, listening sessions, guest classes, and more. It's a unique blend of activities designed to complement your learning and bring diversity to your study routine.
---
Real World Preparation
Join in on daily jam sessions and prepare for real-life scenarios. We guide you through session etiquette and repertoire choices, equipping you for the dynamic world of jazz performances.
Transform Your Jazz Guitar Skills with MWG
Unlock Your Jazz Guitarist Potential with Our Comprehensive Tools and Resources.
Repertoire Building
Boost your repertoire with our 'Tune of the Month' feature. We provide refreshers to ensure retention and progression to advanced comping and improvisation.
---
Comprehensive Workshop Access
Take advantage of workshops and expert advice on guitar maintenance from an experienced technician, included with your membership at no extra cost.
---
Exclusive Jazz Events
Immerse yourself in our annual 7-day online jazz guitar summer camp, a unique experience only available to our valued community members.
---
Custom Progress Tracking
Track your growth and visualize your progress with our interactive tool designed for jazz guitarists.
---
Personalized Practice Routines
Unlock your potential with our unique 'Individualized Lesson Plans'. We'll provide tailor-made practice routines to guide your learning journey and maximize your progression.
---
Guitar Tone & Effects Workshops
Boost your sonic palette with exclusive access to workshops and advice on guitar tone, amps, and effects from an experienced guitarist, included in your membership at no extra cost.
---
Enjoy the Journey
We make learning jazz fun, so you can't wait to play every day. Our interactive daily lessons, jams, and workshops deepen your understanding and fine-tune your techniques.
---
Music Fundamentals Study Groups
Build a solid foundation with free access to our music fundamentals study groups. Dive into music reading, ear training, music theory, and technique.
Ready to Transform Your Jazz Guitar Skills? Choose Your Plan
MOST POPULAR
12-Month Transformation Plan
$360$299/year
Begin Your Free Trial Today
2 Months Free Every Year
Embark on your journey with a 30-Day Free Trial
Access every MWG workshop, course, and lesson
Billed annually for your convenience
In the Style of Wes Montgomery Pack $150 FREE!
Unlimited access to all courses & workshops
Unlimited submissions for personalized feedback
Direct guidance from experienced jazz guitarists
Dependable customer support available 7 days a week
Zero risk with MWG's 30-day money-back guarantee
Flexible Learning
1-Month Discovery Plan
$29.99/month
Begin Your Free Trial Today
Only $29.99/month
Begin with a 7-Day Free Trial
Unlock access to 660+ MWG workshops and 216 guitar courses
Explore 22 unique guitar skill libraries
Discover a new Tune of the Month, every month
Participate in daily jazz practice sessions
Join 4 engaging weekly workshops
Learn from guest artists in exclusive sessions
Enjoy unlimited video submissions for feedback
Receive personal guidance from seasoned jazz guitarists
Count on customer support every day of the year
Feel secure with our 30-day money-back guarantee
Both plans ensure reliable and secure payment methods for your confidence. Embark on your journey towards mastering jazz guitar with us today.

Frequently Asked Questions
1. What makes MWG unique compared to other online guitar courses?
MWG is special because we provide a very personalized experience similar to private lessons, but cheaper. We give direct help in daily lessons, live workshops, and through email or chat. Your goal to improve in jazz guitar is our main focus.
2. Do I have to commit for a long time?
No. You can cancel your subscription at any time, giving you the flexibility you need.
3. What will I be able to use when I sign up?
Everything. As soon as you sign up, you can use every course, library, workshop, and the Studio. You can start learning jazz guitar right away.
4. Can I ask Matt my questions directly?
Yes! You can send your questions via comments, instant message, email, or in the studio. We aim to provide quick answers every day of the week.
5. What if I can't keep up with the lessons?
With MWG, you can't fall behind. Every lesson is designed for you to learn at your own speed and time. You can keep track of completed lessons and easily continue where you left off, no matter how long you've been away.
6. Is the course too hard for beginners?
No. MWG caters to all skill levels, from beginners just starting with notes and open chords, to more advanced players looking to dive into deeper jazz concepts. MWG is your complete guide to learning guitar, no matter where you start.
7. What does the 30-day money-back guarantee mean?
We are confident in our program's quality, so we offer a 30-day money-back guarantee. If you're not happy within the first 30 days, we'll return your money. No questions asked.
8. Can I try it out before I buy?
Yes, you can! We offer a 7-day free trial for you to explore MWG and see if it's the right fit for you. You'll have access to all the features and resources during your trial.
Listen to Matt: Homecoming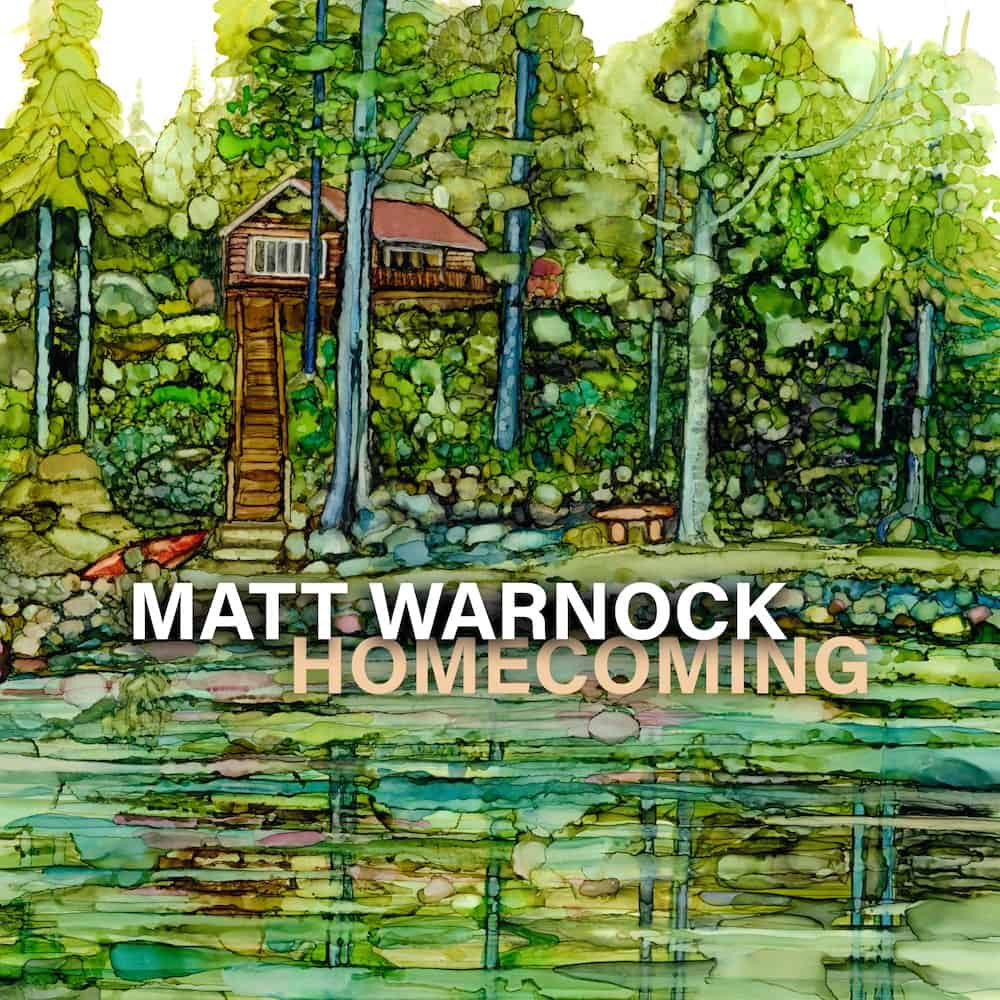 I am thrilled to announce the launch of my debut solo jazz guitar album called Homecoming.
This album is very personal to me, as it tells the story of my return to my hometown in Northern Ontario after being away for 25 years.
The songs on this album are inspired by my experiences of reconnecting with my roots, my family, and my community.
Northern Ontario is a unique and special place, with its vast wilderness, rugged landscapes, and friendly people.
These themes are reflected in the music, which ranges from soulful ballads to upbeat swing numbers.
I have poured my heart and soul into this project, and I hope that you will enjoy listening to it as much as I enjoyed creating it.
Homecoming is now available for streaming and download on all major digital platforms, including:
I would be honored if you would take the time to listen to the album.
Thank you for your support, and I hope that you enjoy Homecoming.