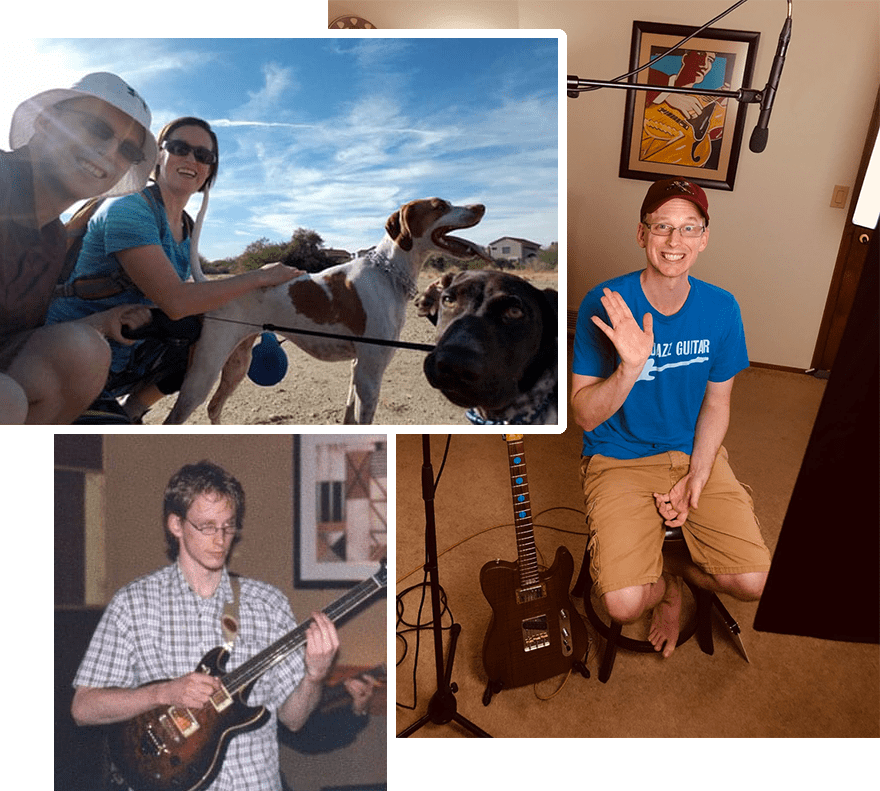 Meet Your Teacher: Matt Warnock
Matt Warnock Guitar (MWG) started from my desire to share jazz guitar with as many people as possible.
As a jazz guitarist, I understood the struggle of not being a "natural born" talent and spent years perfecting my craft before finding success as a jazz musician and instructor.
I've always wanted to help make learning jazz guitar as easy and accessible as possible - because anyone and everyone can be a jazz guitar player.
I've travelled and played all over the world, all the while focusing on building an accurate and accessible platform for students to learn jazz guitar, no matter their ability, previous experience, or goals.
Matt Warnock Guitar is for beginners, people returning to the guitar, and experienced players.
By building an inclusive community that prizes patience and accessibility, there is something for everyone at Matt Warnock Guitar.

MWG All Access Includes:
Everything you need to play better jazz guitar in a supportive community.
1. The Studio
Private forum where you meet fellow players, play daily lessons, get feedback from Matt, and learn like jazz guitar never before.
---
2. Tune of the Month
From soloing to comping to chord melody, everything you need to play jazz standards with confidence is in the TOM.
---
3. Live Workshops
Live, interactive workshops every Tues, Wed, Fri, plus 2 Saturday's per month. Ask questions, play along, and enjoy hanging with fellow jazz guitarists.
---
4. Masterclasses
The ONLY one-on-on lessons I teach. Every All Access member is eligible to participate in this unique learning experience.
---
5. Courses
20 levels of courses full of essential jazz skills and concepts. Learn at your pace and on the perfect schedule for your needs.
---
6. Libraries
Chords, scales, arpeggios, patterns, rhythms...you name it, there's a library for every jazz guitar need imaginable.
---
7. Camps/Deep Dives
Interactive jazz guitar lessons with in-depth focus on topics, players, and styles. The ultimate jazz guitar learning experience.
---
8. Open Practice Sessions
Weekly sessions where you work directly with me to solve every practice problem in real time.
All jazz guitar journeys are unique, and they can all benefit from:
Cutting Edge Education
Supportive Community
Inclusive Environment
Personalized Feedback
Interactive Workshops
Expert Jazz Guitar Teacher
Organized Lessons
Flexible Schedule
My mission is to bring Jazz Guitar to anyone and everyone who has ever wanted to learn how to play.
If someone's been told they can't play, or faced a barrier in learning - my mission is to make it easy and accessible for them to learn and enjoy playing jazz guitar
Click Here to Play Jazz Guitar Today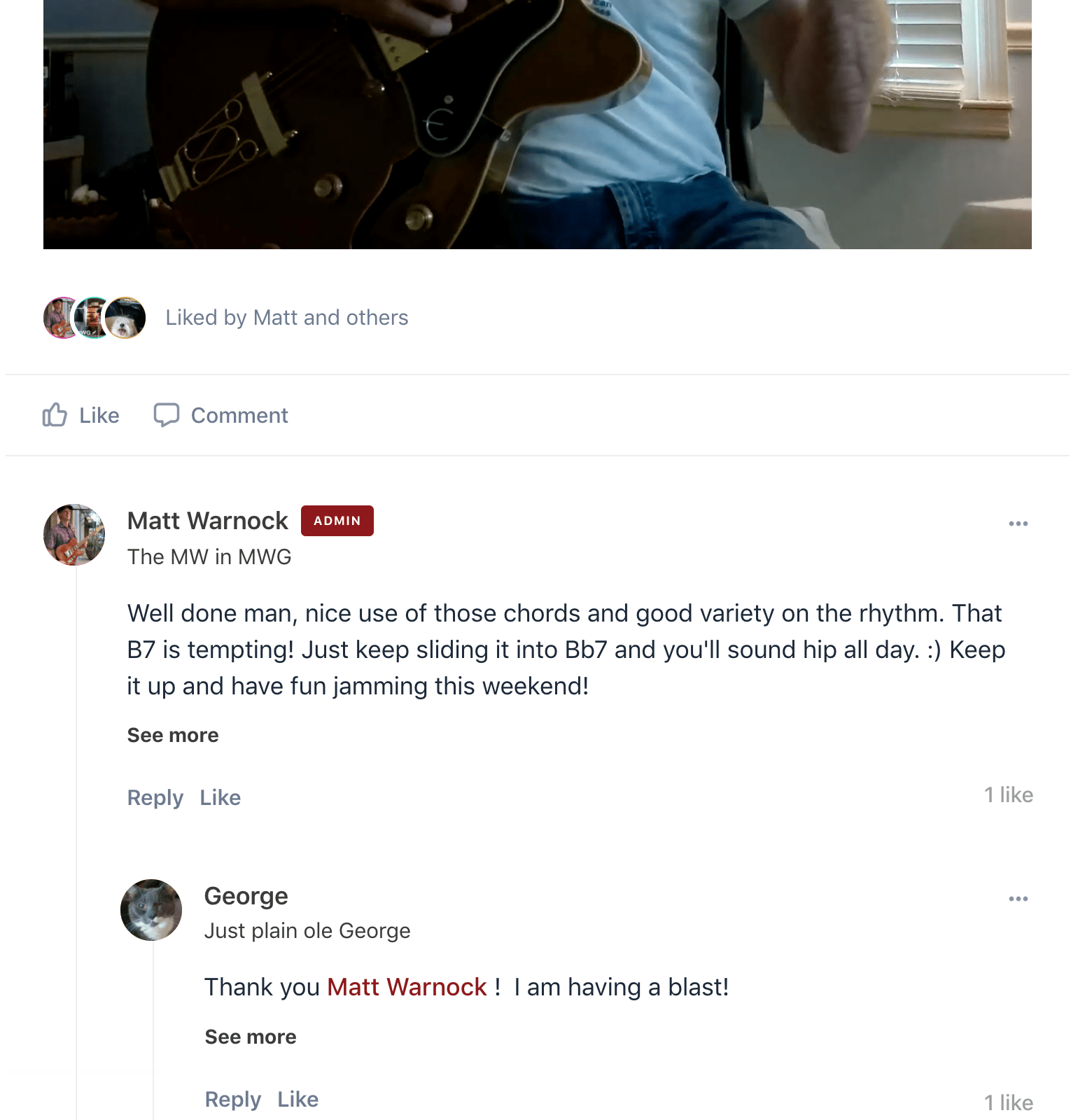 "After teaching thousands of students over the past 25 years, I honestly believe that with the right guidance, creative workouts, and a supportive community, every guitarist can learn to play jazz and have tons of fun along the way." - Matt Warnock Founder MWG
Ready to take the next step in your jazz guitar journey?
Grab your guitar and let's go!
CLick Here Get MWG All Access
---
MWG is a Safe Space to:
Ask questions.
Post your music.
Experiment with jazz concepts.
Tackle new challenges head on.
Grow as a jazz musician.
Express yourself on guitar.
MWG is a positive, inclusive, and encouraing community where every guitarist is welcome to learn, share, and feel comfortable and confident in your playing.
No Trolls
No Negativity
No Judgment
No Rejection
When you feel encouragement from your peers, supported by your teacher, and welcomed into a community, your confidence grows and you reach new levels of creativity on the fretboard.
At MWG, you're more than another player, you're a valuable & appreciated member of our community.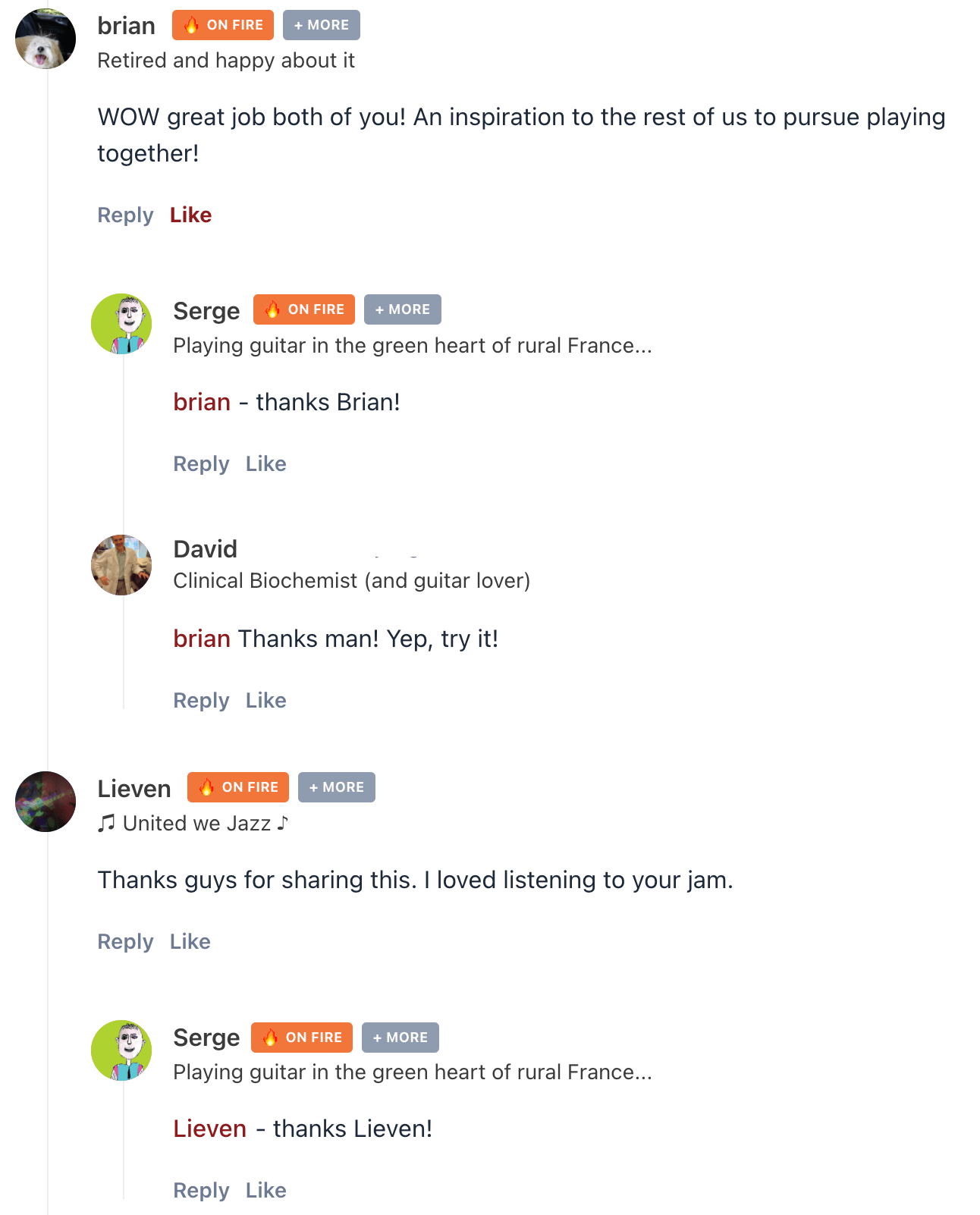 MWG is for guitarists who:
Love listening to jazz and are ready to play.
Have tried to learn jazz before and didn't get far.
Want an organized approach to learning jazz.
Need a personalized jazz learning experience.
MWG is NOT for guitarists who:
Expect to master jazz guitar "overnight."
Avoid exploring new ideas on guitar.
Don't like supporting others and building community.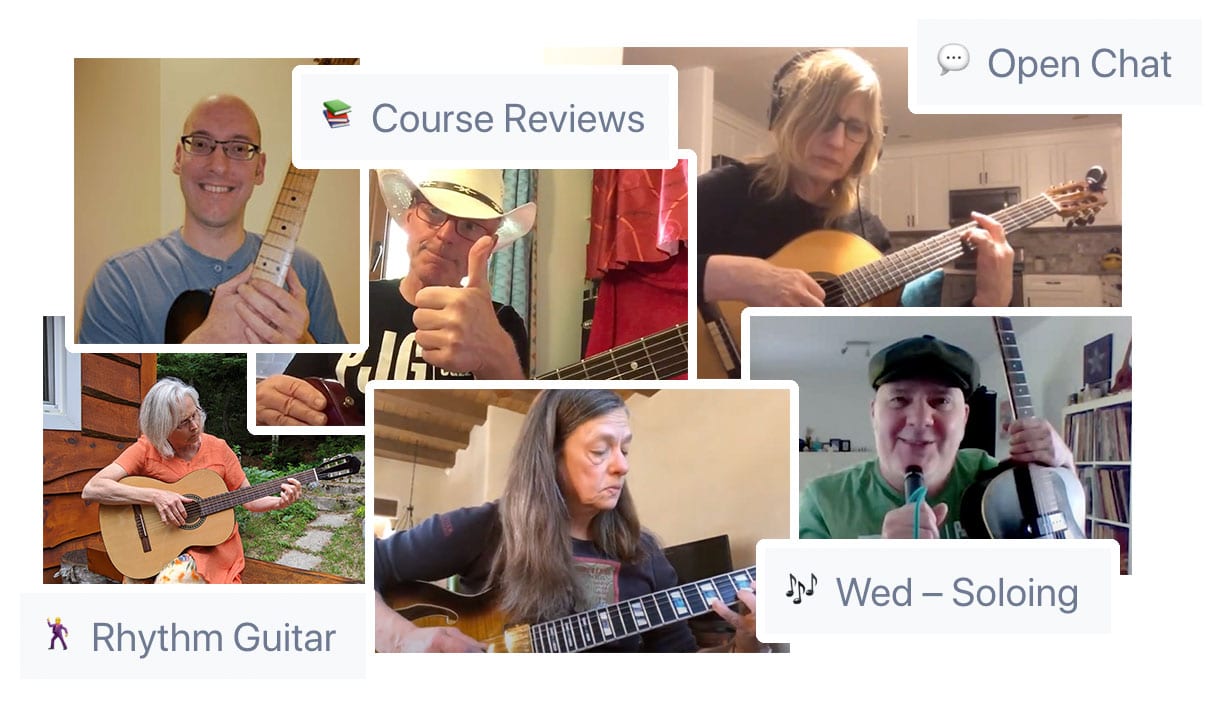 Ready to Get Started?
1. SIGN UP
Safe and secure checkout makes it easy to get started with MWG at no risk to you.
30 Day Money Back Guarantee
2. START PLAYING
We work together to find the perfect lessons, courses, & workshops for your guitar needs.
Personlaized Learning
3. IMPROVE & ENJOY
If you dig MWG, keep playing and having fun. If it's not for you, cancel any time.
Zero Risk to You!
"Playing jazz guitar and reaching your maximum musical potential is totally achievable when you have a dedicated teacher who cares about you as a person, player, and community member." - Matt Warnock
Click Here to Join MWG - Zero Risk!
Ready to Play? Enroll Here
MOST POPULAR
12-Month Plan
$15/month
Get Started Here
660 MWG Workshops
216 Guitar Courses
22 Guitar Skill Libraries
Tune of the Month
6 Months Free
Billed Annually
Unlimited Access to Lessons
Daily Practice Sessions
Weekly Jazz Workshops
Guest Artists
Unlimited Video Submissions for Feedback
Personal Guidance from Matt
7-Day Customer Support
30 Day Money Back Guarantee
1-Month Plan
$29/month
Enroll Now Here
Every MWG Course, Library, & Workshop
Tune of the Month
Daily Jazz Practice Sessions
Weekly Workshops
Guest Artists
Unlimited Video Submissions for Feedback
Personal Guidance from Matt
7-Day Customer Support
30 Day Money Back Guarantee
Safe and secure methods of payment

Frequently Asked Questions
1. How is MWG different from other sites?
At MWG, I work directly with you as we pursue your jazz guitar goals. I'm there for the daily lesson, in the live workshops giving you feedback on your playing, and answering your questions by email and chat. With MWG you get a private lesson experience without the private lesson price tag.
2. Any contracts or commitments?
None. After you sign up you can cancel any time.
3. What's available to me when I sign up?
Absolutely everything. As soon as you sign up, you get full access to every course, library, workshop, and the Studio.
4. Can I ask you questions directly?
You sure can. You can contact me through the comments, instant messenge, email, and in the studio for a super fast response 7 days a week.
5. What if I fall behind?
You can't. Every lesson is built so that you work at your own pace and on your schedule. You can even keep track of completed lessons to pick up where you left off after any time away.
6. Is it too advanced for me?
No way. MWG has courses that range from learning notes and open chords to advanced jazz concepts. MWG is your one-stop guitar-learning destination.