Learn a new device or concept.
Internalize on the fretboard.
Apply to a real-life, jam situation.
Most importantly, have fun playing!
Matt's Solo Guitar Story
I've always loved listening to solo guitar. Whether it's Martin Taylor, Joe Pass, or Michael Hedges, I dig the sound of solo performances.
But, playing solo guitar is a different story. For a long time I couldn't figure out where to start with solos guitar. What I heard on records seemed impossible to replicate on my fretboard.
It wasn't until I broke down the elements of solo guitar into small, easy to play chunks, that I fell in love with solo guitar improvisation...and enjoyed my playing.
The Solo Blues Guitar Workshop gives you that same postive experience in your playing as you turn 2 chords and 1 scale into full solo performances.
So, grab your guitar, dial in your favorite tone, and have fun jamming solo blues!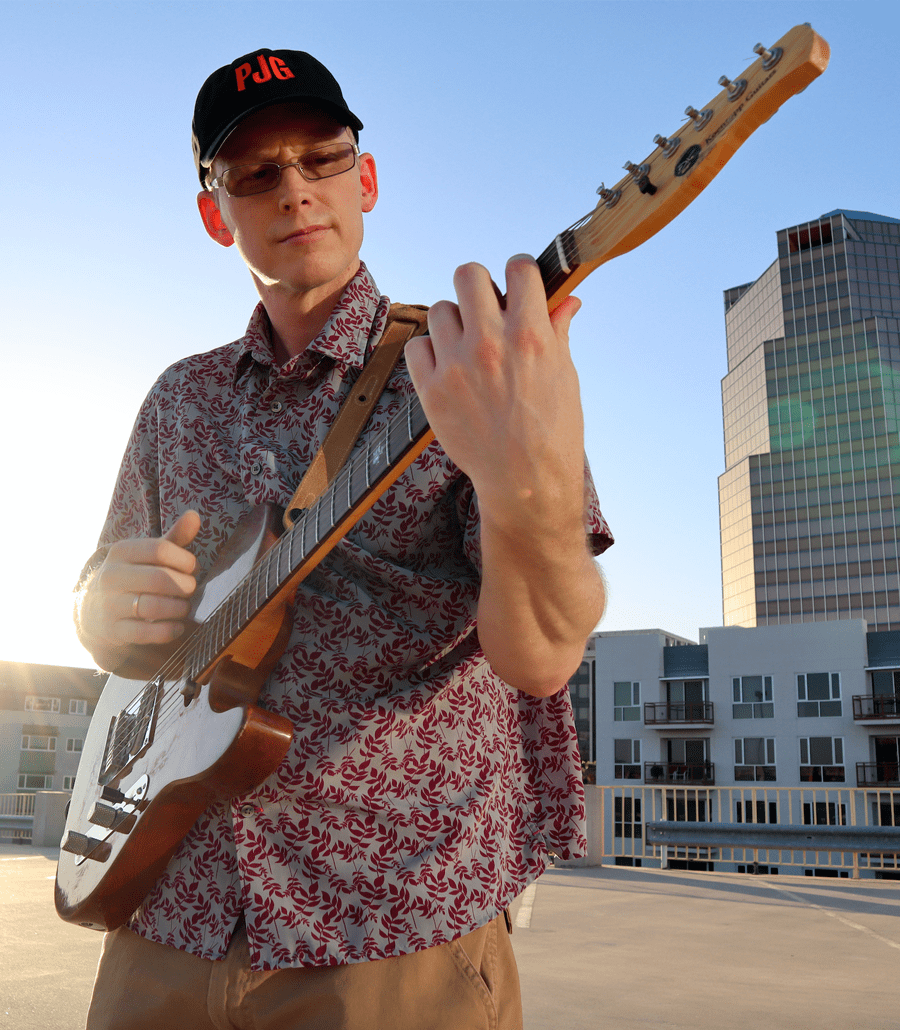 What You Learn With Solo Blues Guitar
1
Solo Blues Guitar
Turn 2 chord shapes and 1 scale shape into endless creativity.
Solo guitar made easy.
2 chords + 1 scale = solo guitar.
Jam & never repeat yourself.
Much more…
2
New Blues Chords
Expand your vocab with essential shapes for every player.
9th chords.
13th chords.
Rootless chords.
Much more…
3
Soloing Concepts
Squeeze maximum creativity out of minimum material on guitar.
Phrasing concepts.
Call & response.
Piano style soloing.
Much more…
Easy-to-Follow Lessons for Every Learning Style
The step-by-step guidance you need, with the personal attention you deserve.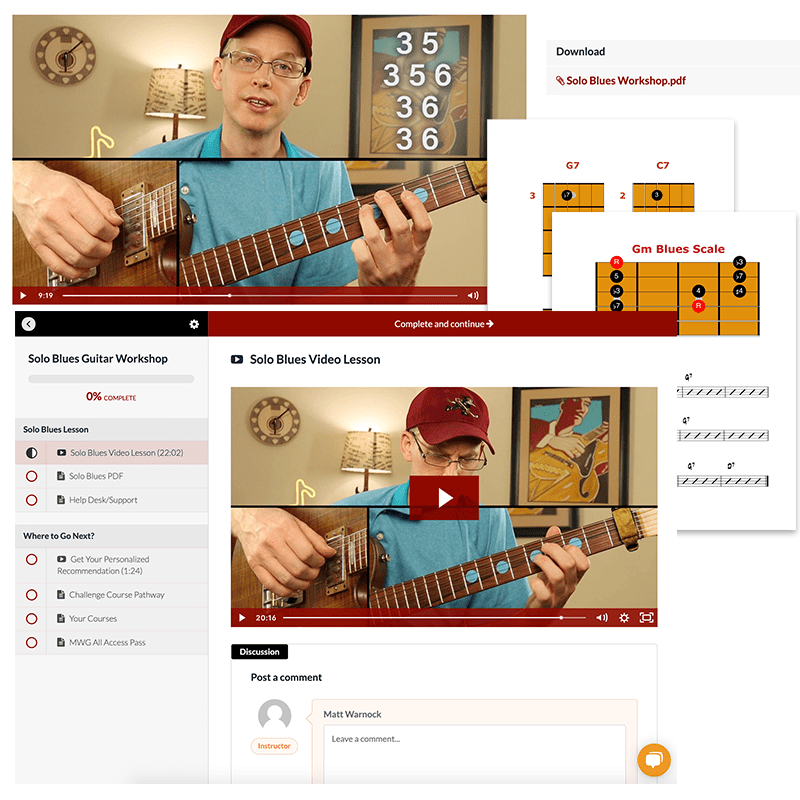 What You Get with Solo Blues Guitar
1
Video Lesson
Exclusive workshop that you can access 24/7 to fit your schedule.
22 minute workshop.
Slow down video.
24/7/365 access.
Much more…
2
Supplementary Material
Work online or off with this easy to follow and downloadable PDF.
Downloadable PDF.
Chord diagrams.
Scale charts.
Much more…
3
Support
Get expert support for all your solo blues guitar needs.
Feedback on your playing.
7 days a week support.
IM, FB chat, and email.
Much more…
What Solo Blues Guitar Students Are Sayin'
"Wow, this is awesome. One of your best lessons to date."
- Marc S.
"This. Was. Awesome! Cheers!"
- Jean Francois P.
"Matt, you are making this easy because I can't believe how fast I got this down. This is insane! Thank yous so much."
- Mef E.
"I'm blown away by your course."
- Doug M.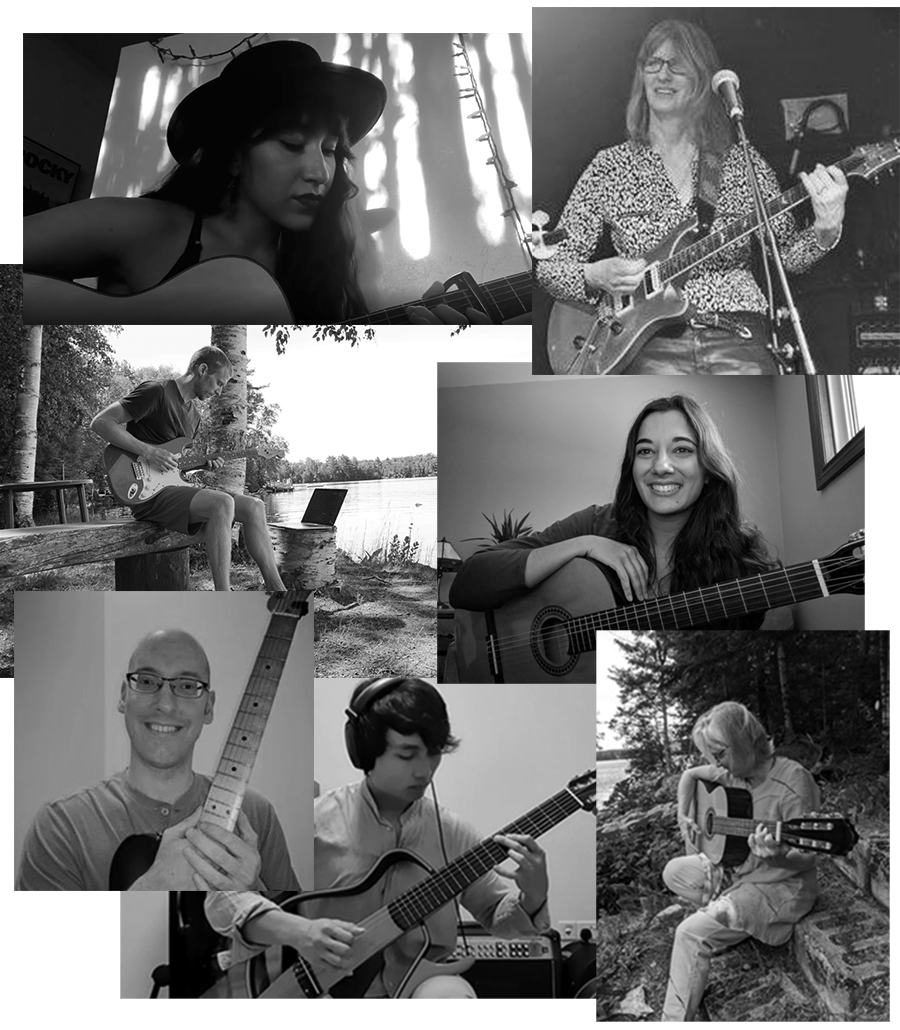 The MWG Experience
1
Expertise
Benefit from Matt's lifetime of studying, performing, and teaching players of all experience levels.
Doctorate in Jazz Performance
25+ Years Teaching Guitar
2000+ Live Performances
8000+ Private Lessons Taught
2500+ Online Lessons Published
2
Community
Discover a welcoming and encouraging community of guitarists just like yourself.
Welcoming Group of Guitarists
Friendly, Global Community
Encouragement From Your Peers
Learn From Fellow Players
Make Guitar Friends For Life
3
Personalized
Reach your maximum potential on your own schedule with expert, personalized guidance.
Personal Learning Pathways
Tailored Ways to Learn
Options for Every Learning Style
Learn by Jamming with Matt
Unique Performance Guidance
Frequently Asked Questions
When does the course start and finish?
Once you sign up, you have lifetime access to the course. Play at your own pace, there's no deadline to finish.
How long do I have access to the course?
You have 24/7/365 lifetime access to the course.
What if I decide the course isn't for me?
I'm happy to give you a refund within the first 30 days after your purchase date, no questions asked.
What skills will this course teach me?
Solo Blues Guitar gives you the tools you need to play solo performances no matter what your level of experince. You learn to turn easy chords and small scale shapes into endless improvisations. Everything you need to improvise solo blues guitar with confidence is in this course.
What type of guitar do I need for this course?
You can use a nylon string, electric, or acoustic guitar for this course. Any guitar is cool, so go with what's comfortable for you.
What do I do if I need help?
Contact Matt on the Help Page to receive expert support 7 days a week.
Sign Up Free
Lifetime Access to Solo Blues Guitar
Video, Audio, PDFs, & Course Support.
22-minute video lesson.
Easy-to-play chords.
Essential soloing devices for all levels.
Build confidence and solo guitar skills.
Sign Up Here FREE
Instant Lifetime Access - No Cost
MWG All Access
Spend Less & Play More
Courses, Libraries, Workshops, Office Hours...
Instant access to 129 courses.
17 full resource libraries .
Live guitar workshops every Thursday.
7-Day expert customer support.
Learn More Here
Best Value - Most Popular
This course was made with care by the MWG Team.

Every course purchase helps fund MWG Guitar Scholarship programs.