Master Rhythm Changes with this Study Guide:
Dive deep into rhythm change essentials, mastering core techniques & devices for this essential standard.
1. Rhythm Changes Chords
Multiple levels of rhythm changes chords to explore, from Freddie Green to Wes Montgomery, it's all here..
---
2. Rhythm Changes Soloing
Embark on a journey of melodic exploration, refining your soloing techniques and getting jam session ready.
---
3. Rhythm Changes Melodies
Discover iconic rhythm changes melodies, enriching your repertoire and musical vocabulary.
---
4. Chord Soloing
Improvise full chord solos over rhythm changes, crafting a harmonically rich solo or combo performance.
---
5. Group Interaction
Go beyond the notes as you learn how to interact with other jazz musicians and elevate every jam you play.
---
6. Rhythm Changes Language
Explore classic bebop vocabulary, integrating classic licks and phrases into your performance.
---
7. Jazz Ear Training
Hone your aural skills, recognizing and reproducing rhythm changes phrases, chords, and progressions with precision.
---
8. Jam Session Skills
Prepare yourself to shine in jam sessions, confidently expressing your rhythm changes expertise.
David Williams, Player Profile
Telecaster player who's comping and soloing in that cool Ed Bickert style.
Before MWG
My main problem was jazz, jazz, and jazz.
Struggled with creative comping and soloing.
Understanding, hearing, and following chord changes.
Being comfortable with jazz as it seemed like a mystery to me.
After MWG
Comping melodically over jazz standards.
Following chord changes without sheet music.
Dynamics and phrasing are greatly improved.
Able to transcribe melodies, chords, and solos by ear.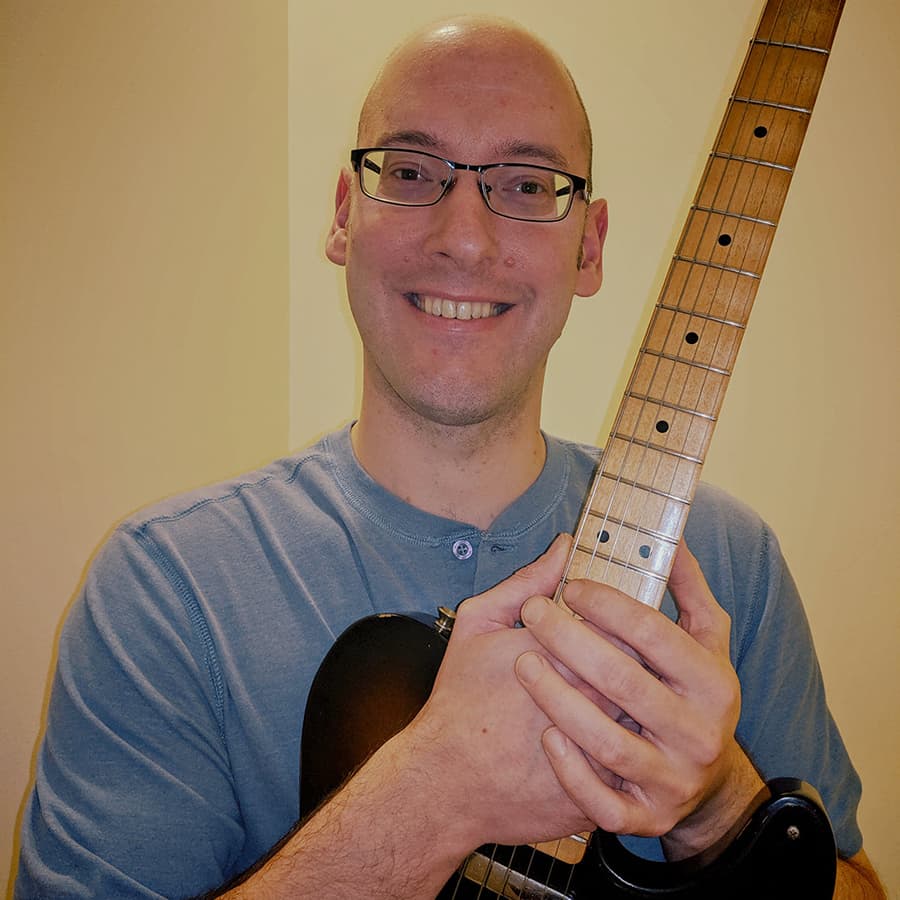 "My MWG experience has been amazing. I love the interaction between students in the studio, workshops and camps. It makes me feel comfortable learning guitar in an encouraging environment. The daily exercises motivate me to keep practicing (even though I don't get to them all). I also appreciate Matt's passion for the guitar, his expertise, and teaching philosophy. He's always encouraging me on my guitar journey! It's also fun to see other students grow as they practice and learn. Thank you, Matt, the MWG team, and fellow MWG members for making this a fantastic place to hang out and learn jazz guitar together!" – David Williams - Canada




MOST POPULAR
Lifetime Access
$100$49.99
Click to Start
Save 50% off the regular price
Get all future updates FREE!
Dozens of PDF & Video lessons for visual learning
Backing tracks & audio examples for practice
Essential skills - soloing, chords, & rhythms
Scales, arpeggios, & extended chords
Direct guidance for faster learning
Lifetime access to all materials
No membership fees - pay once and own forever
Zero risk with our 30-day money-back guarantee
Flexible Learning
2-Monthly Payments
$25/month for 2 Months
Click to Start
Save 50% off the regular price
2 Easy Monthly Payments
Master skills - soloing, chords, & groove
Learn ssentials: scales, arpeggios, & more
Personal guidance for focused learning
Audio examples & backing tracks for practice
Enjoy lifetime access to all resources
No ongoing fees after 2 payments
Full customer support whenever you need
Feel secure with our 30-day money-back guarantee
Frequently Asked Questions
1. Any contracts or commitments?
None. You sign up for the course and get instant lifetime access.
2. Are the lessons downloadable?
All PDF, audio examples, and backing tracks are downloadable. Videos are streamed online.
3. What's available to me when I sign up?
Everything. As soon as you sign up, you get full access to every lesson, video, PDF, and backing track.
4. Can I ask you questions directly?
For sure. You can contact me through the comments, instant messenge, email, or carrier pigeon for a super fast response 7 days a week.
5. What if I fall behind?
You can't fall behind. Every lesson is built so that you work at your own pace and on your schedule. You can even keep track of completed lessons to pick up where you left off after any time away.
6. What if I buy the course and it's not for me?
Not a problem. Let me know within 30 days for a full refund no questions asked.