Pent Up House Premium Study Guide
A Step-By-Step Course to Master ii-V-I Soloing and Chord Skills That Last a Lifetime.
This course is only available to GMM Members
Course Curriculum
How This Course Works - Start Here
Available in days
days after you enroll
Chapter 2 - Lydian Dominant Scale
Available in days
days after you enroll
Who is This Courses For?
This course is designed for guitarists looking to build authentic ii-V-I skills and add a must-know jazz tune to your repertoire.
It's for guitarist's who:
Need a ii-V-I boot camp experience.
Have struggled to learn full jazz songs.
Are stuck in a rut with your jazz soloing and/or comping.
Have explored ii-V-I's before and don't know where to go next.
Love this tune, and Sonny Rollins, and are ready to dig into it in the woodshed.
I've been playing Pent Up House for over 20 years on jams, in the practice room, and on stages all over the world.
I want to share with you everything I've learned about how to perform this essential jazz tune with confidence.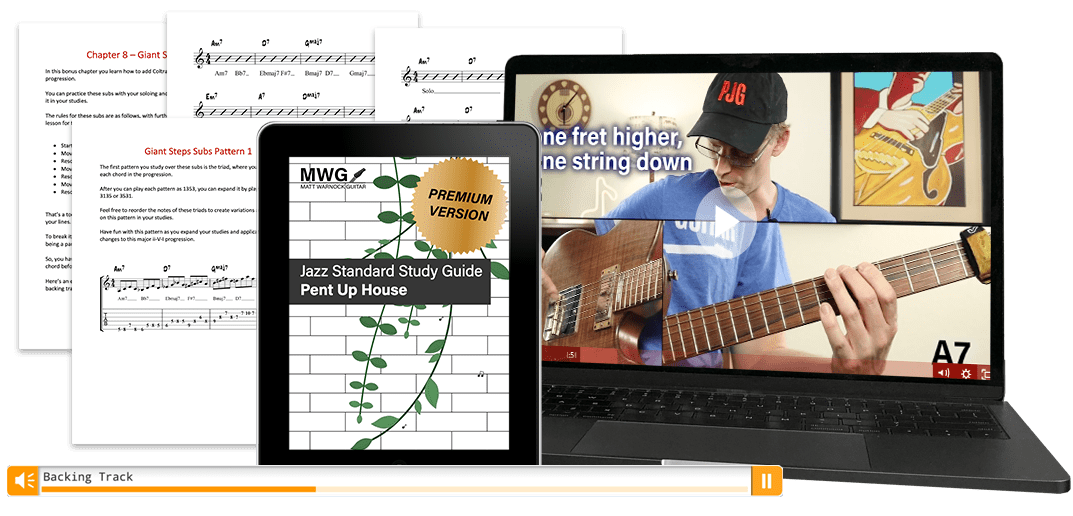 I think you'll agree that there are two essential items that every jazz guitarist should always be working on in your studies, ii-V-I chords and jazz standards.
ii-V-I's are found in almost every jazz standard in one shape or another, and therefore these 3 chords are essential for any jazz guitarist to have under their fingers, soloing and comping.
As well, the best way to learn new jazz concepts is to apply them to full jazz tunes.
This way you learn new material and apply concepts directly to real songs at the same time.
When combined, studying ii-V-I's and jazz tunes will skyrocket your jazz skill set and make every moment playing jazz guitar fun and rewarding.
This is where Pent Up House fits into your development as a jazz guitarist.
Not only will you add a new tune to your repertoire by learning this Sonny Rollins classic, you get a deep dive into ii-V-I comping and soloing concepts in this tune.
That's a huge win-win in the practice room.
Pent Up House Study Guide Contents
Harmonic Analysis

Guide Tones

Guide Tones with 1 Color Note

Guitar Tones with 2 Color Notes

Walking Basslines

Walking Basslines with Chords

Essential Comping Rhythms

Must Know Chromatic Notes

Pentatonic Scales for Soloing

Scales and Modes for Soloing

2nd Choice Scales and Modes

Arpeggios for Soloing

Expanded Arpeggios

Sonny Rollins Soloing Study

4th Chord Comping Study

Transcription

Lydian Dominant Soloing

Tritone Subs

Mike Stern Subs

Phrasing Workout

Rhythmic Soloing

Giant Steps Subs

And more!
Pent Up House is an essential tune for any jazz guitarist to learn.
Not only will it add to your skill set and repertoire, studying this tune allows you to play countless other jazz standards with confidence.
Can't go wrong there in the practice room.
Your next step to ii-V-I mastery is in this course, let's work together to make you the best jazz guitarist you can be.

This course is only available to GMM Members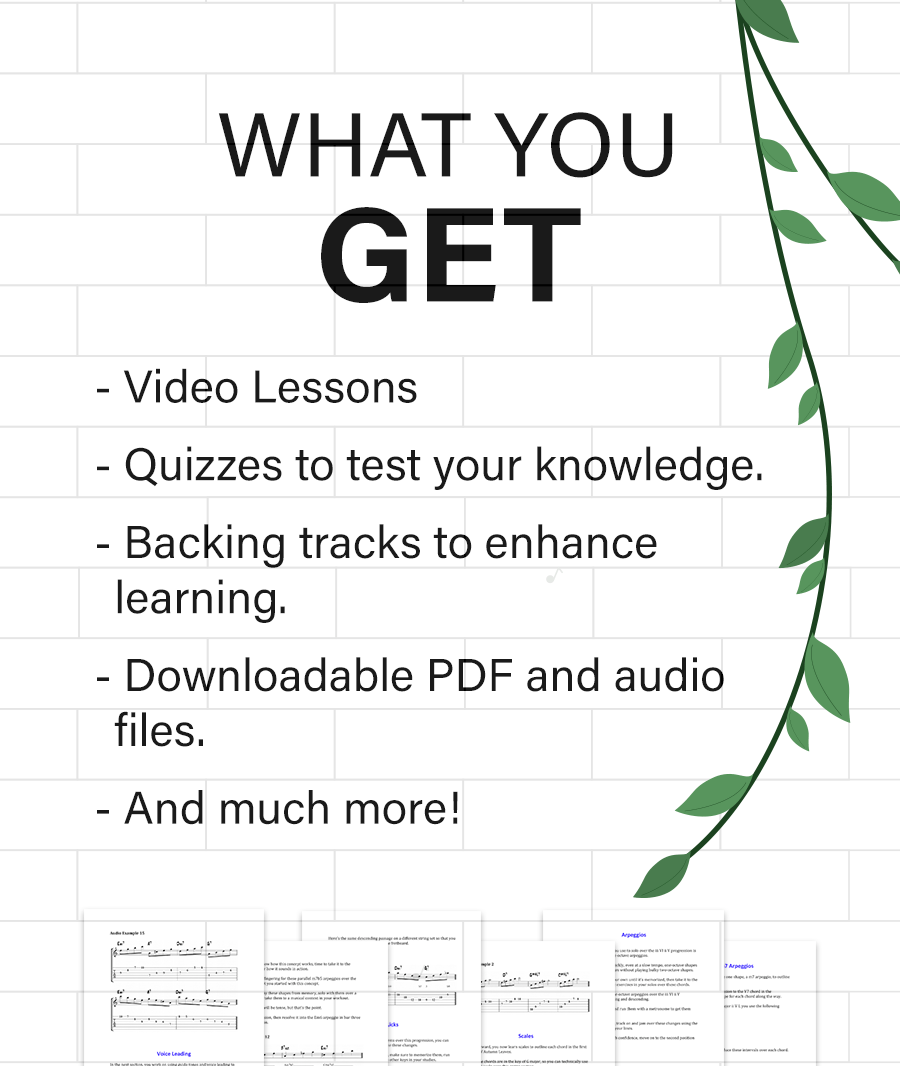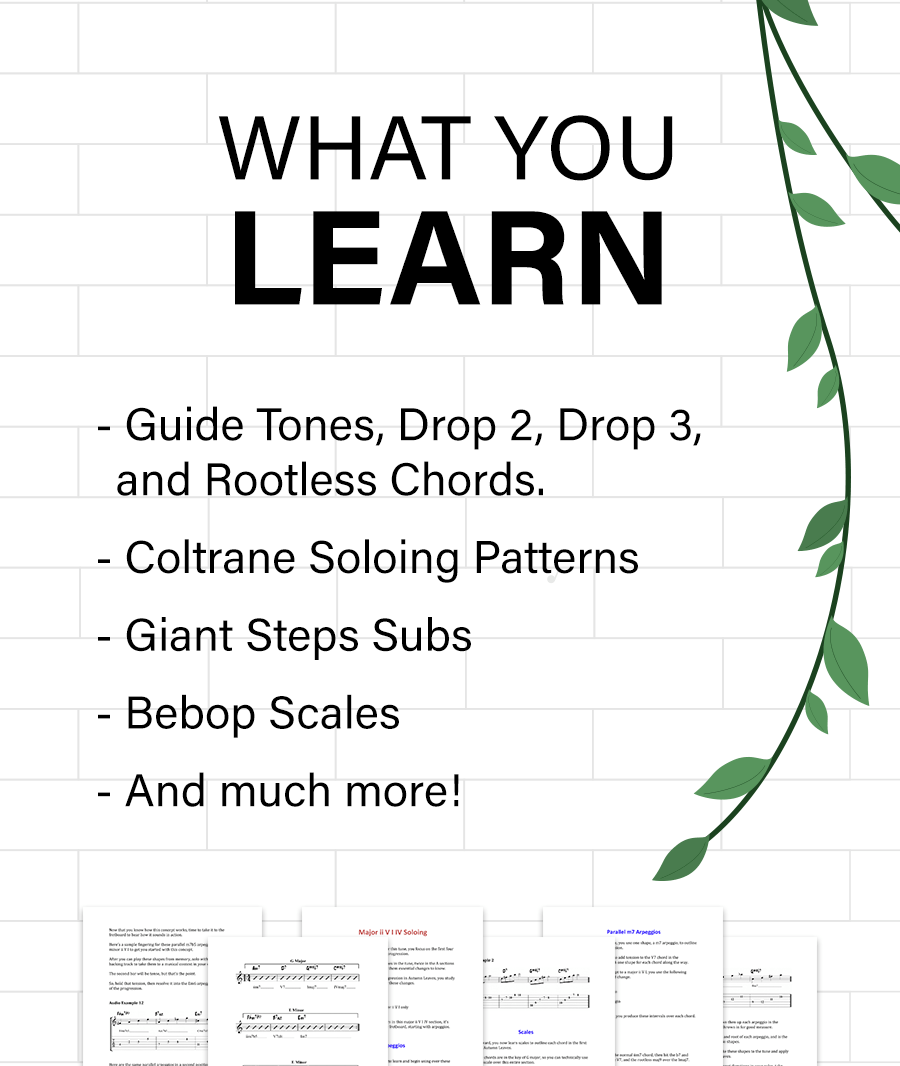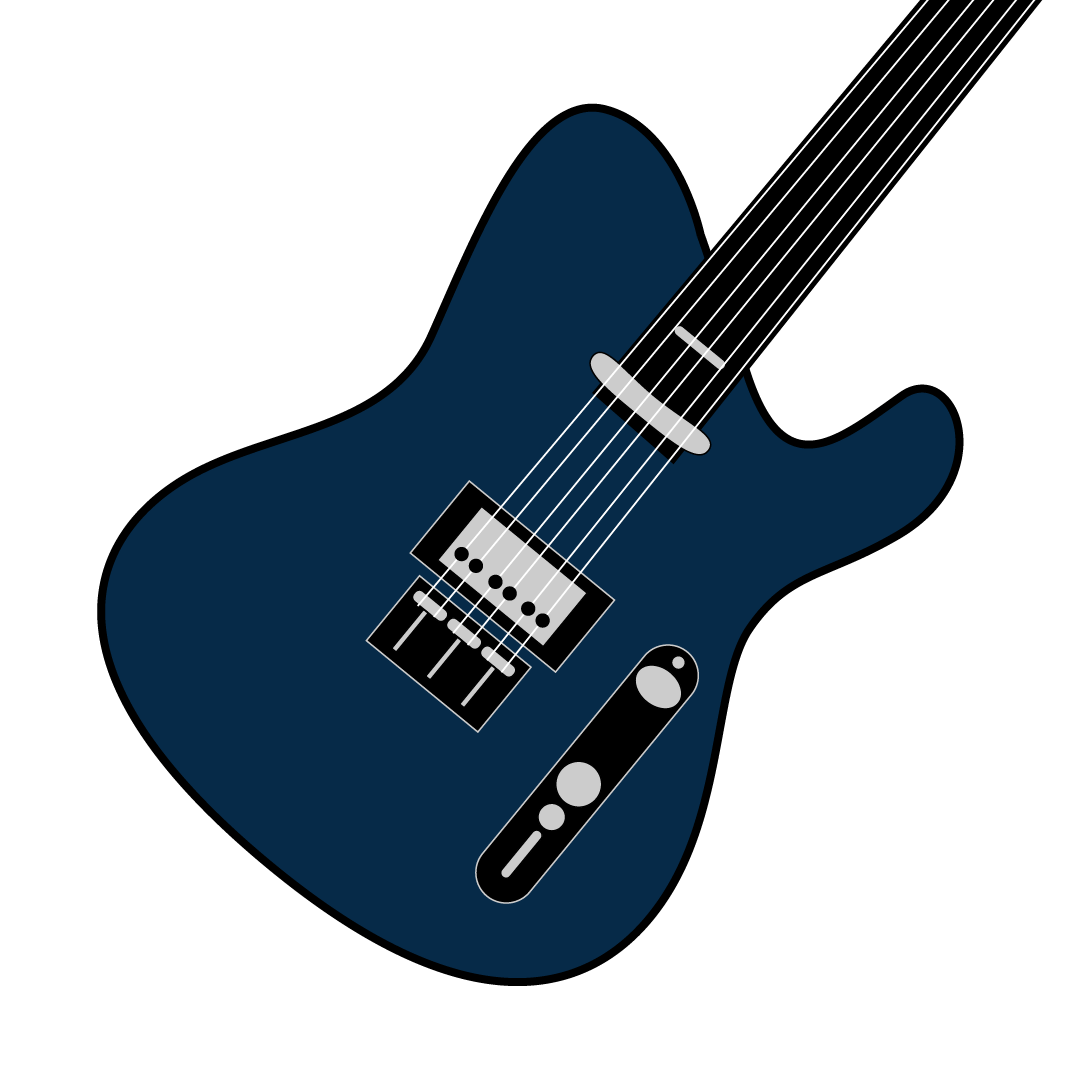 "Hi Matt, I like to thank you for the lessons I received so far. They're very helpful, and though I'm a slow student, I enjoyed them a lot!"
- Bokke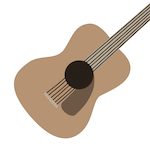 "I already feel as if I have achieved something, easy to learn at own pace."
- Stuart
Frequently Asked Questions
How does the pricing work?
You pay once to enroll in the course and you have lifetime access to this course across all devices – phone, tablet, computer.
When does the course start and finish?
The course starts now and never ends! It is a completely self-paced online course - you decide when you start and when you finish.
What if I am unhappy with the course?
If you are unsatisfied with your purchase, contact Matt by email [email protected] in the first 30 days of your purchase and you will receive a full refund.
Can I download the files for each course?
You can download all PDFs, audio examples, and backing tracks to practice offline. The videos are only viewed on the page.
What if I have a question about the courses or about music?
You can post all questions related to the course in the comments section of any section. I aim to answer all questions within 24 hours of posting. Also, you can use the instant messenger on the bottom right of page to ask questions or you can email me at [email protected].
Do I have to play jazz to use these courses?
No, not at all. Some of the material is presented over jazz chords and songs and you can apply this material to any genre. If you enjoy soloing in different styles, such as blues, rock, funk, fusion, soul, metal, etc., then this material can be used in your playing.
What if I don't know where to start with my playing or which course to start with?
No worries, use our success paths and follow the step-by-step guides to learning what you want to work on – getting started, jazz guitar, blues guitar, guitar technique, lead guitar, rhythm guitar and much more!
What if I want access to multiple courses or MWG eBooks?
This is why we have the Guitar Mastery Membership which includes ALL previous and future courses as well as every single eBook Matt has ever produced. For added bonus the 1st month is only $1 for limited-time.

This course is only available to GMM Members