Master Minor Blues with this Study Guide:
Dive deep into minor blues essentials, mastering the core techniques and approaches for this vibrant genre.
1. Minor Blues Chords
Grasp the harmonic richness of jazz blues, laying a robust foundation for advanced expressions.
---
2. Minor Blues Soloing
Embark on a journey of melodic exploration, refining your soloing techniques for a soulful expression.
---
3. Minor Blues Melodies
Discover the iconic melodies of minor blues, enriching your repertoire and musical vocabulary.
---
4. Chord Soloing
Integrate chords and melodies seamlessly, crafting a harmonically rich solo performance.
---
5. Chord Melody
Delve into the realm of chord melodies, intertwining harmony and melody for a captivating sound.
---
6. Mino Blues Language
Acquire the linguistic nuances of minor blues, integrating classic licks and phrases into your performance.
---
7. Jazz Ear Training
Hone your aural skills, recognizing and reproducing minor blues phrases, chords, and progressions with precision.
---
8. Jam Session Skills
Prepare yourself to shine in jam sessions, confidently expressing your minor blues expertise.
Rich Petrucci, Player Profile
Talented guitarist who leveled up his jazz skill set and took his playing to new heights of creativity.
Before MWG
Struggled to play "over the bar line."
Didn't know how to build or play chord melodies.
Voice leading wasn't there yet, needed a lot of work.
After MWG
Locked in chord + scale relationships.
Can easily analyze chord progressions.
Build and play chord melodies on any standard.
Secure using turnarounds and subs when comping/soloing.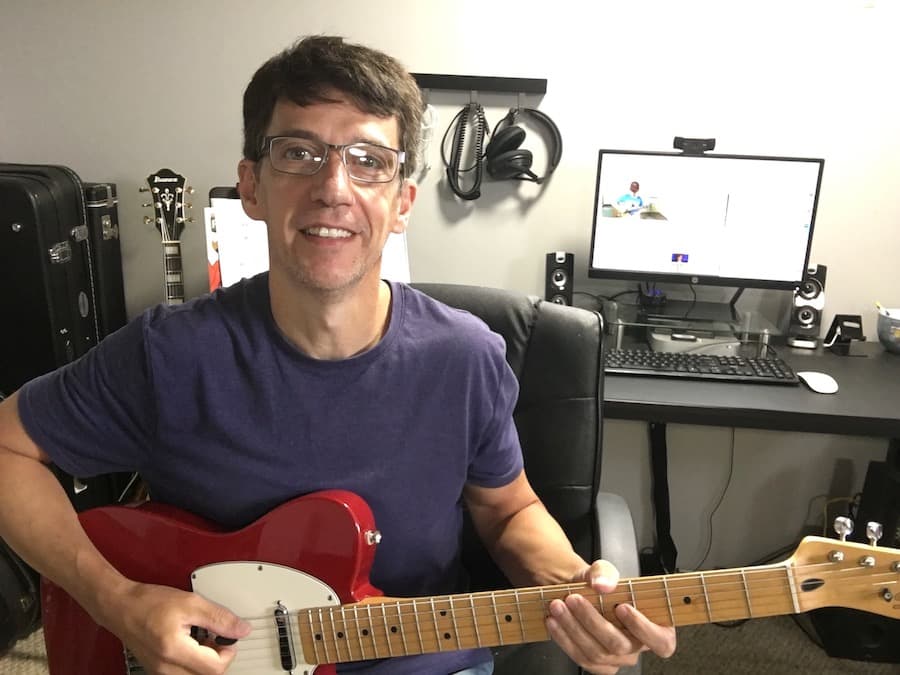 "MWG is a friendly and supportive community of like-minded jazz guitarists. Matt is an enthusiastic instructor who inspires and cares about the progress of each student. He's always eager to share tips and shortcuts with members to make jazz more accessible. Matt is always available for feedback and to answer questions about anything jazz or guitar related. I've made more progress with MWG compared to any prior private jazz instruction." – Rich Petrucci - USA




MOST POPULAR
Lifetime Access
$100$49.99
Click to Start
Save 50% off the regular price
Get all future updates FREE!
Dozens of PDF & Video lessons for visual learning
Backing tracks & audio examples for practice
Essential skills - soloing, chords, & rhythms
Scales, arpeggios, & extended chords
Direct guidance for faster learning
Lifetime access to all materials
No membership fees - pay once and own forever
Zero risk with our 30-day money-back guarantee
Flexible Learning
2-Monthly Payments
$25/month for 2 Months
Click to Start
Save 50% off the regular price
2 Easy Monthly Payments
Master skills - soloing, chords, & groove
Learn essentials: scales, arpeggios, & more
Personal guidance for focused learning
Audio examples & backing tracks for practice
Enjoy lifetime access to all resources
No ongoing fees after 2 payments
Full customer support whenever you need
Feel secure with our 30-day money-back guarantee
Frequently Asked Questions
1. Any contracts or commitments?
None. You sign up for the course and get instant lifetime access.
2. Are the lessons downloadable?
All PDF, audio examples, and backing tracks are downloadable. Videos are streamed online.
3. What's available to me when I sign up?
Everything. As soon as you sign up, you get full access to every lesson, video, PDF, and backing track.
4. Can I ask you questions directly?
For sure. You can contact me through the comments, instant messenge, email, or carrier pigeon for a super fast response 7 days a week.
5. What if I fall behind?
You can't fall behind. Every lesson is built so that you work at your own pace and on your schedule. You can even keep track of completed lessons to pick up where you left off after any time away.
6. What if I buy the course and it's not for me?
Not a problem. Let me know within 30 days for a full refund no questions asked.