In this rolle lesson, you learn:
Barring skills made easy.
Two-hand cooridnation.
Fretboard dexterity.
Creative approach to barring.
And more...
FREE Chapter Lesson
What You Learn With This Pack
1
Essential Techniques
Play notes and chords with relaxed, accurate, and smooth fretboard technique.
Hammer Ons.
Trills.
Pull Offs.
Much more…
2
Fretboard Movement
Fly across the fretboard without any string noise using these essential workouts.
Shifting.
Smooth Transitions.
Slides.
Much more…
3
Soloing Material
Level up your chops and soloing skills with these creative, engaging, & fun exercises.
Improvising workouts.
Creative metronome exercises.
Jazz & Blues styles.
Much more…
Included Courses
Never play another out of rhythm or weak sounding hammer on again. These fun exercises build rock-solid hammer technique across the entire guitar fretboard.
Pull-offs are a must-know guitar technique. Learn how to do a proper "pull-down" with my proven method of pulling off on guitar.
Essential technique workouts that combine hammer-ons and pulls in different combinations across the fretboard.
Learn how to slide into and between notes with proper technique, making every slide you play sound good and easy on your hands.
Moving around the fretboard makes your playing sound choppy and disjointed. But, with the material in this course, you fly across the fretboard smoothly and easily.
What note is on the 9th fret of the 3rd string……? If you can't answer that question right away, then this course is for you. Use my simple formula to learn every note on the neck now.
Make barring, mini-barres, and string skips a breeze with this fun and essential fretboard technique.
Learn the fretboard inside and out with these easy to follow and fun to play workouts.
Love playing guitar but hate learning theory? Not to worry, these easy to follow exercises teach you essential guitar theory the fun way.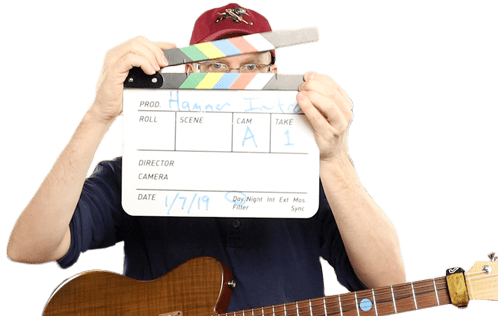 Easy-to-Follow Lessons for Every Learning Style
The step-by-step guidance you need, with the personal attention you deserve.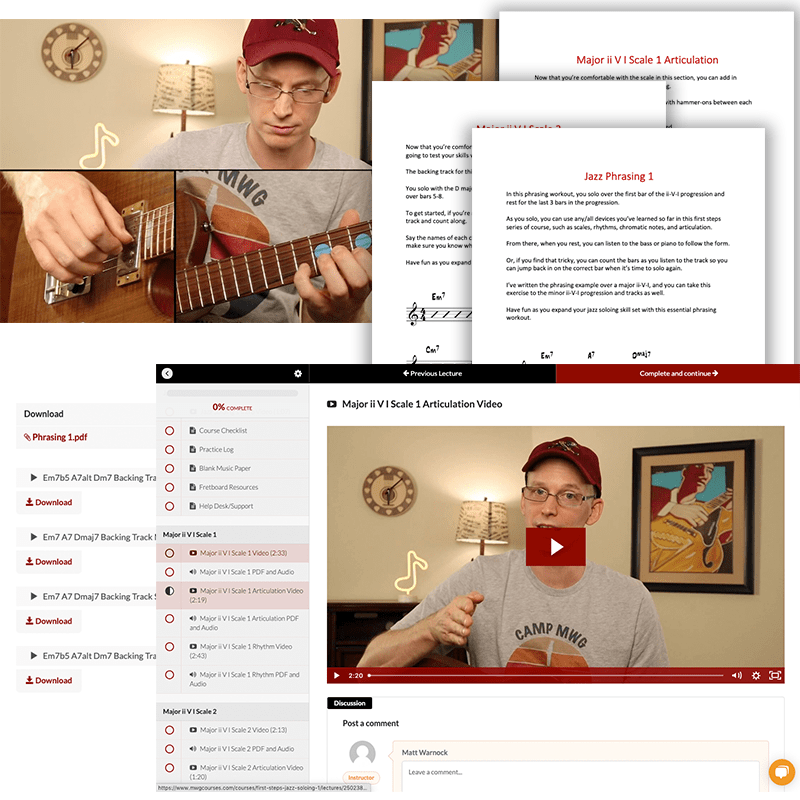 The Fretboard Mastery Pack is for you if...
1
New to Guitar
...you're ready to build strong guitar technique and you need a push in the right direction.
Want to learn articulation.
Haven't started yet.
Started learning but got stuck.
Much more…
2
Stuck in a Rut
...you're tired of YT videos, text lessons, and eBooks that are more confusing than helpful.
Tired of aimless YT videos.
Bored of the same old exercises.
Are a creative guitarist.
Much more…
3
Technique Issues
...your playing is holding you back as your hands can't keep up to your ears.
You miss notes when riffing.
Your chords have "dead" notes.
Want to be creative every day.
Much more…
Matt's Fretboard Mastery Story
Over the past 25 years, I've spent a lot of focus & energy developing my own technique, and my unique approach to teaching technique to other players.
I use creativity, improvisation, and musical games to keep technique workouts engaging and interesting, as we all know how boring this types of exercises can be if we're not careful.
This is why I put together the Fretboard Mastery Pack. To give you that exact same positive learning experience as you learn accurate & relaxed technique.
Everything you need to play wiht confident technique, in every musical situation is in this pack. Grab your guitar and start jamming!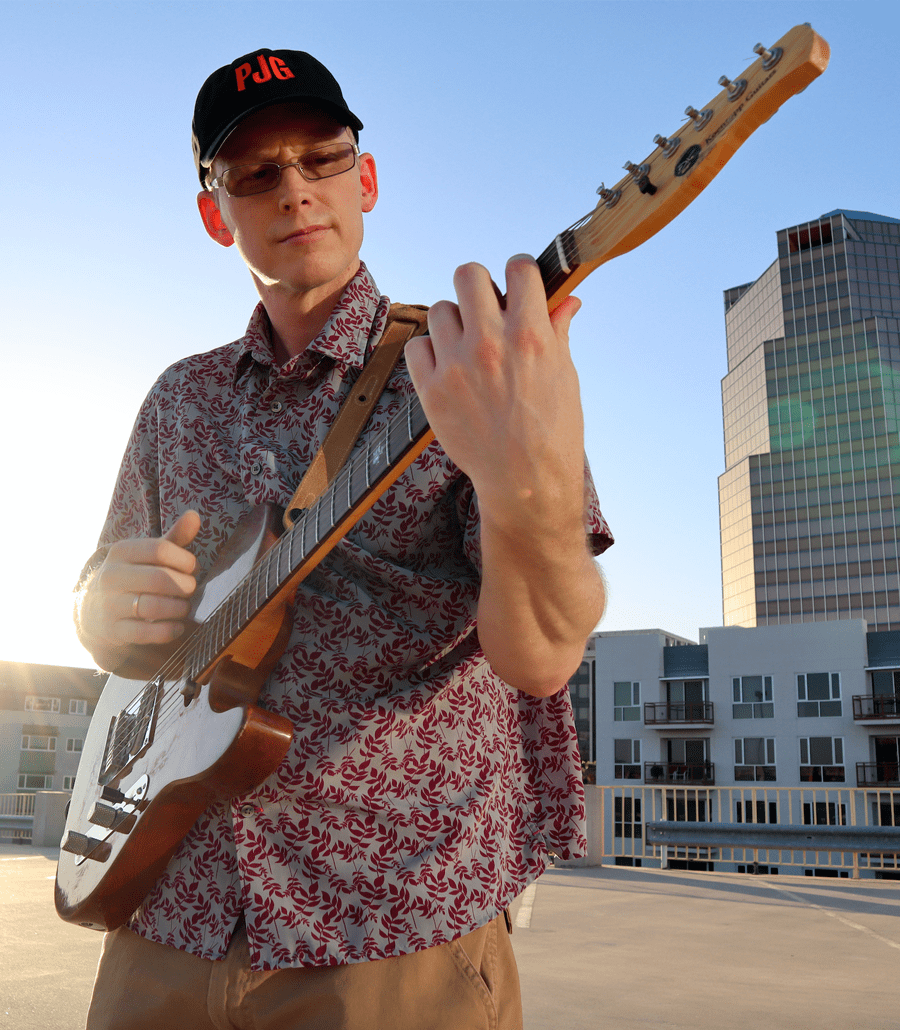 What You Get With The Fretboard Mastery Pack
1
7 Full Technique Courses
Step-by-step courses that guide you through each concept. Makes learning easy and fun!
7 chops building courses.
Step-by-step instruction.
Easy to follow and fun to play.
Much more…
2
Multimedia Lessons
No matter how you prefer to learn, video, PDF, audio, these lessons have you covered.
PDFs with diagrams/TAB.
Audio examples and jam tracks.
Videos you can slow down.
Much more…
3
365 Degree Support
With 20+ years of experience, you always have expert advice and guidance to rely on.
Personalized feedback.
7 days per week support.
20+ years teaching experience.
Much more…
What Fretboard Mastery Students Are Sayin'
"You've done a stellar job building this community of learners and it keeps getter better!! This is the truly the best guitar site I've ever seen, where learners can participate and grow. Thanks for all your excellent lessons, workshops, and resources!"
- Kathleen H.
"Thanks to you and your team Matt. Learning guitar with your materials has got me through difficult times in the last few months. The lessons have allows me to fit guitar around some very busy times and keep learning at a rate I'm happy with."
- Rob J.
"You provide a fantastic environment where everyone can express themselves through music. You always find a way to encourage and motivate us. There is a reason that so many positive people find a home at MWG."
- Harvey W.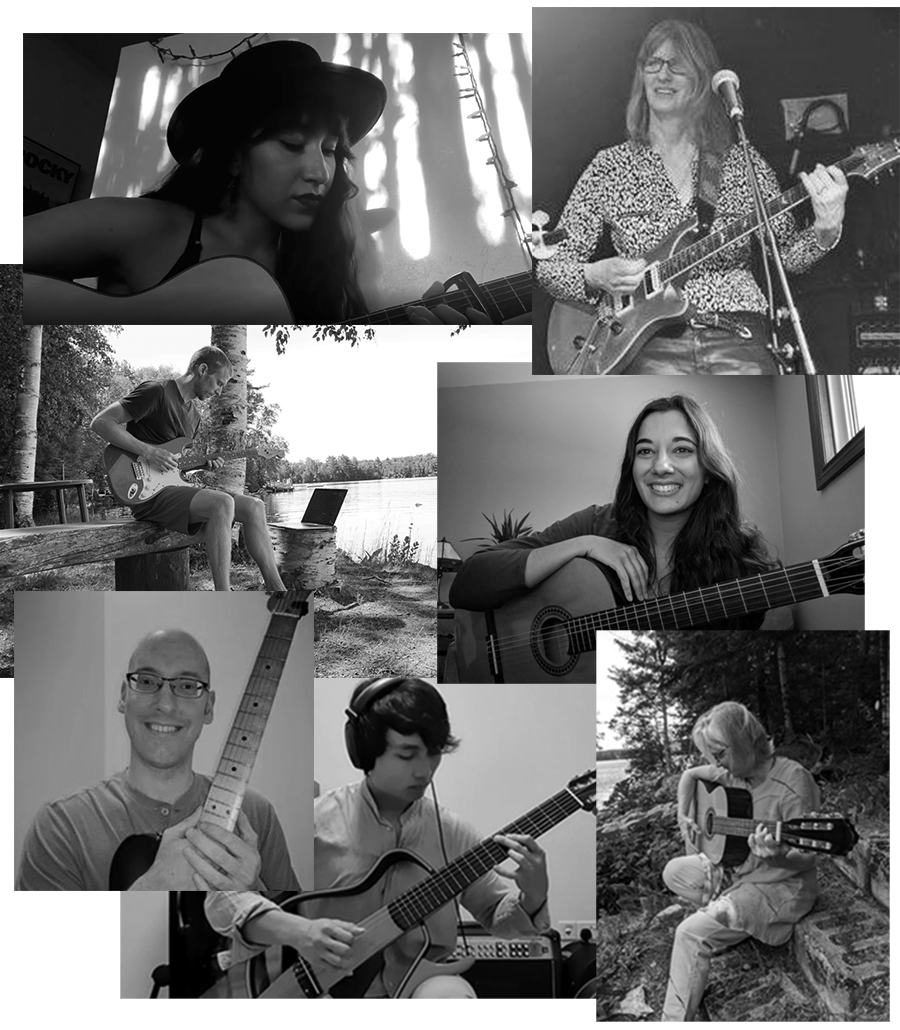 The MWG Experience
1
Expertise
Benefit from Matt's lifetime of studying, performing, and teaching players of all experience levels.
Doctorate in Jazz Performance
25+ Years Teaching Guitar
2000+ Live Performances
8000+ Private Lessons Taught
2500+ Online Lessons Published
2
Community
Discover a welcoming and encouraging community of guitarists just like yourself.
Welcoming Group of Guitarists
Friendly, Global Community
Encouragement From Your Peers
Learn From Fellow Players
Make Guitar Friends For Life
3
Personalized
Reach your maximum potential on your own schedule with expert, personalized guidance.
Personal Learning Pathways
Tailored Ways to Learn
Options for Every Learning Style
Learn by Jamming with Matt
Unique Performance Guidance
Frequently Asked Questions
When does the course start and finish?
Once you sign up, you have lifetime access to the course. Play at your own pace, there's no deadline to finish.
How long do I have access to the course?
You have 24/7/365 lifetime access to the course.
What if I decide the course isn't for me?
This is a free pack, with coupon FMB25, so if it's not for you, just leave it, all good.
What skills will this course teach me?
The Fretboard Mastery Pack gives you the tools you need to play with relaxed, effortless, and accurate technique anywhere on the fretboard. Everything you need to play guitar with confidence is in this course pack.
What type of guitar do I need for this course?
You can use a nylon string, electric, or acoustic guitar for this course. Any guitar is cool, so go with what's comfortable for you.
What do I do if I need help?
Contact Matt on the Help Page to receive expert support 7 days a week.
One-Time Purchase
Lifetime Access to Fretboard Mastery Pack
Video, Audio, PDFs, & Course Support.
7 full technique courses.
Easy-to-play shifting workouts.
Guitar soloing devices for every level.
Build your confidence and skill set.
FREE Lifetime Access - Code FMB25
MWG All Access
Spend Less & Play More
Courses, Libraries, Workshops, Office Hours...
Instant access to 134 courses.
17 full resource libraries .
Live guitar workshops every Thursday.
7-Day expert customer support.
Learn More Here
Best Value - Most Popular