In this Arpeggio lesson, you:
Learn an essential arpeggio shape.
Increase your technique.
Have fun soloing over tracks.
Express yourself on guitar.
And more...
FREE Chapter Lesson
What You Learn
1
Important Shapes
Learn the absolute most important arpeggio shapes for guitarists of all styles and backgrounds.
Easy-to-play arpeggio shapes.
Solo over the entire fretboard.
Remove fretboard blank spots.
Much more…
2
Soloing Skills
Discover the secrets to turning arpeggios into killer solos in any style of modern music.
Articulation essentials.
Phrasing workouts.
Smooth, silent shifting.
Much more…
3
Guitar Techniques
Level up your guitar technique as you increase your soloing skills with fun and creative workouts.
Picking variations.
Rhythm patterns.
Articulation workouts.
Much more…
Easy-to-Follow Lessons for Every Learning Style
The step-by-step guidance you need, with the personal attention you deserve.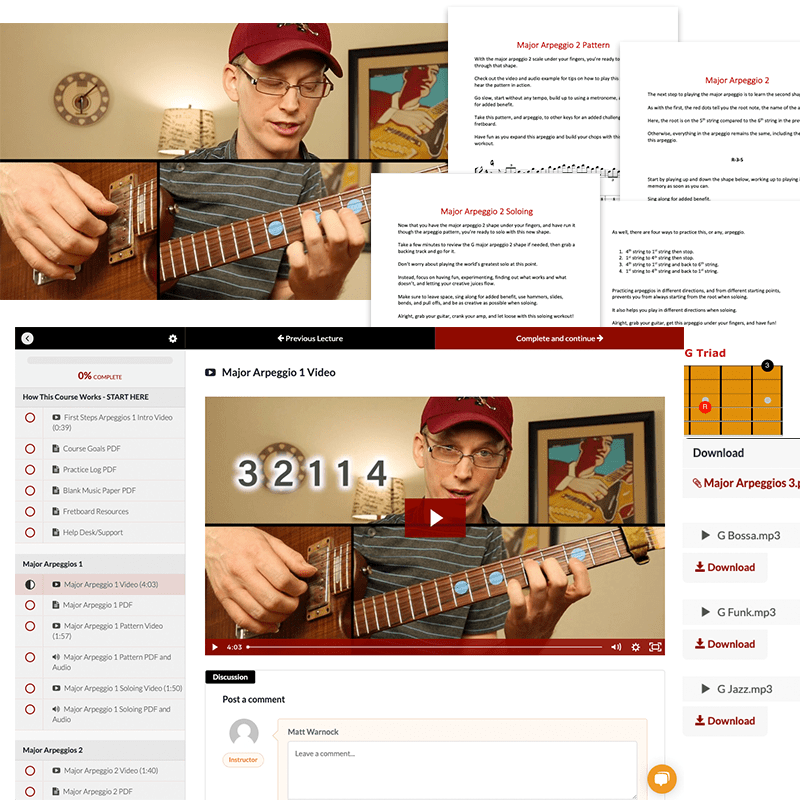 Who is This For?
1
New to Arpeggios
If you've heard of arpeggios, but never played one before, you're in the right place.
Easy to play shapes.
Learn by soloing.
Most important arpeggios.
Much more…
2
Ready to Solo
You've learned solos by other players and are ready to create your own improvisations.
Have a need to create.
Express yourself through guitar.
Want step-by-step lessons.
Much more…
3
Expand Your Fretboard
You're stuck in open position and ready to move around neck with fretboard expanding workouts.
Know open chords/scales.
New to moveable shapes.
Ready to branch out on the neck.
Much more…
Frequently Asked Questions
When does the course start and finish?
Play at your own pace, there's no deadline to finish.
How long do I have access to the course?
Once you sign up for lifetime access you can use the course 24/7/365, no limitations.
What if I decide this course isn't for me?
I'm happy to give you a refund within the first 30 days after your enrollment date, no questions asked.
What type of guitar do I need for this course?
You can use a nylon string, electric, or acoustic guitar for this course. Any guitar is cool, so go with what's comfortable for you.
What do I do if I need help?
Contact Matt on the Help Page to receive expert support 7 days a week.
The MWG Difference
1
Expertise
Benefit from Matt's lifetime of studying, performing, and teaching players of all experience levels.
Doctorate in Jazz Performance
25+ Years Teaching Guitar
2000+ Live Performances
8000+ Private Lessons Taught
2500+ Online Lessons Published
2
Community
Discover a welcoming and encouraging community of guitarists just like yourself.
Welcoming group of guitarists.
Friendly, global community
Encouragement from your peers.
Learn from fellow players.
Make guitar friends for life.
3
Personalized
Reach your maximum potential on your own schedule with expert, personalized guidance.
Personal learning pathways.
Tailored ways to learn.
Options for every learning style.
Learn by jamming with Matt.
Unique performance guidance.