Blues Guitar 101 - Mode Foundations
An Interactive Video-Based Course That Teaches You STEP-BY-STEP How to Create Authentic Blues Solos With Modes.
Secure Payments. Safe and Secure SSL Encryption

1 Payment = Lifetime Access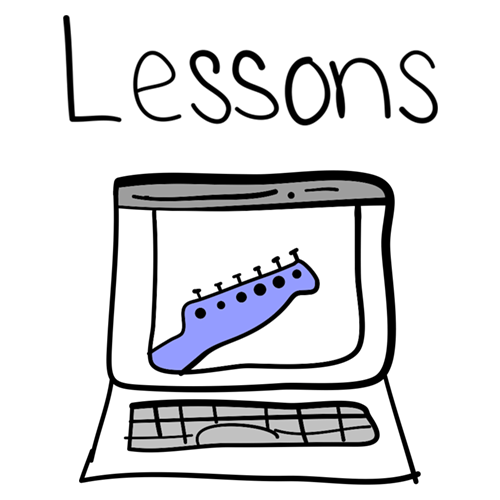 Fully engaging multimedia lessons provide endless learning & enjoyment.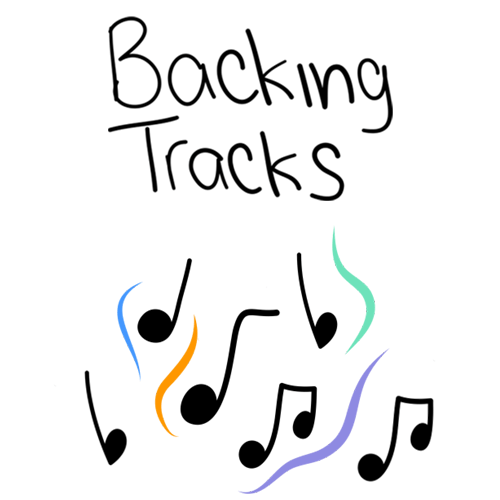 Download and jam to all the audio examples and backing tracks for each course.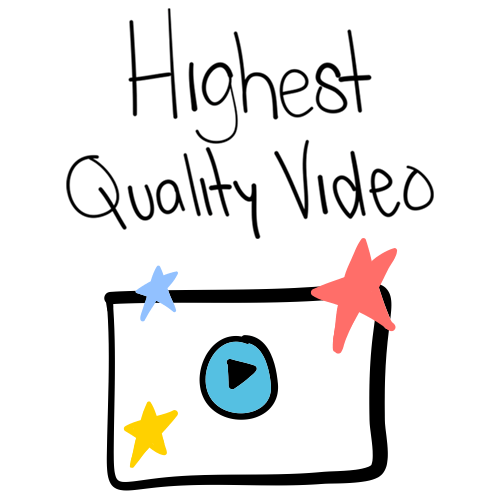 Courses are filmed to give you the best experience in the practice room.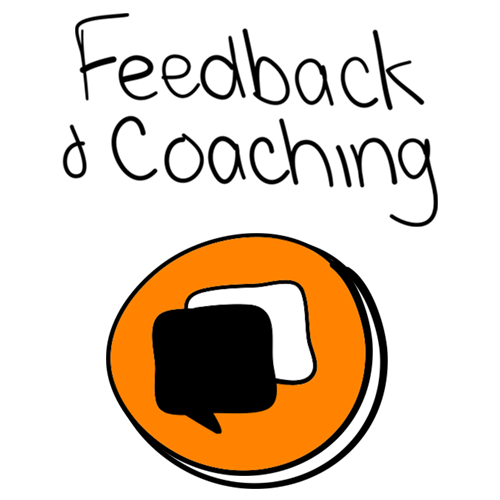 Have a question or need help? Matt will provide feedback to you 7 days a week.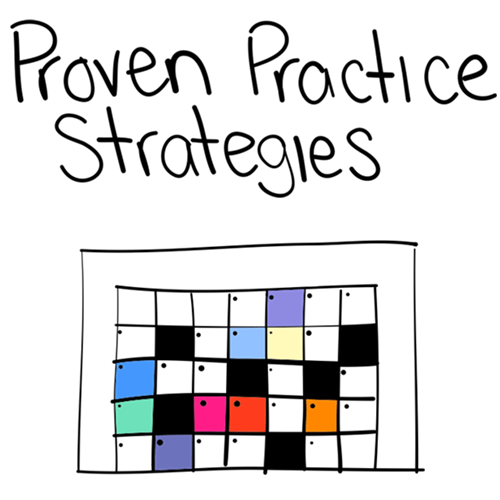 Matt's proven practice strategies are guaranteed to increase the level of your playing.
Course Curriculum
How This Course Works - Start Here
Available in days
days after you enroll
Chapter 1 - Intro
Available in days
days after you enroll
Chapter 2 - What Are Modes?
Available in days
days after you enroll
MEGA BONUS
Enroll and get a FREE bonus copy of Blues Guitar 101 – Arpeggios!

eBook (Printable PDF) 125 pages | TABS, Audio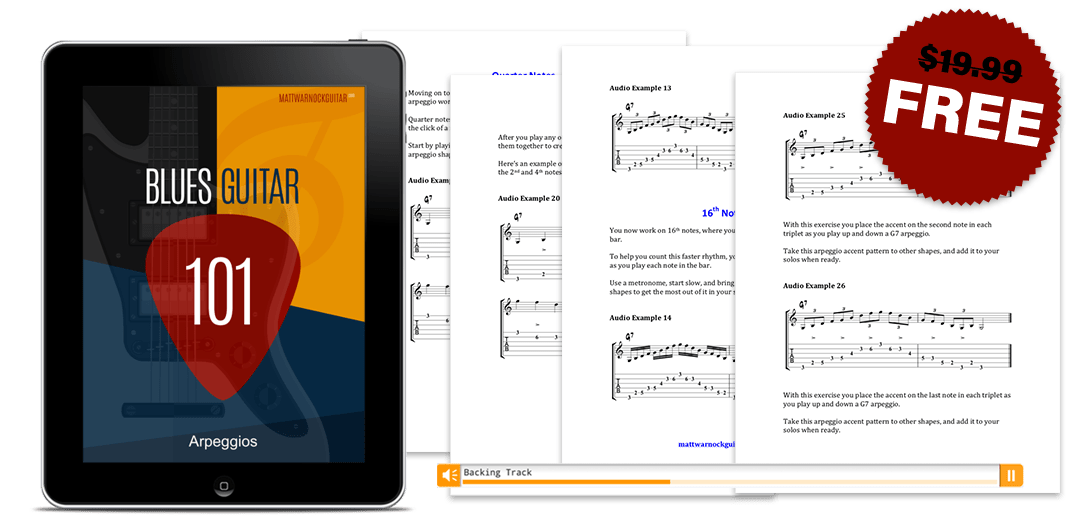 Who is This Course For?
This course is designed for guitarists looking to move past blues boxes in their solos and expand their knowledge of modes.
It's for guitarist's who:
Know blues boxes and are ready to expand your soloing skills.
Are ready to explore new colors in your blues solos.
Have heard of modes but don't know where to start.
Learned mode fingerings but don't know how to use them in solos.
Want to know how legendary guitarists turn heads with their blues solos.
Are ready to level up your blues solos and become the best blues guitarist you can be.
I've been playing blues guitar and jazz blues for 25 years in clubs and concert halls all over the world.
I want to share with you everything I've learned about how to build creative and engaging blues solos using essential modes on guitar.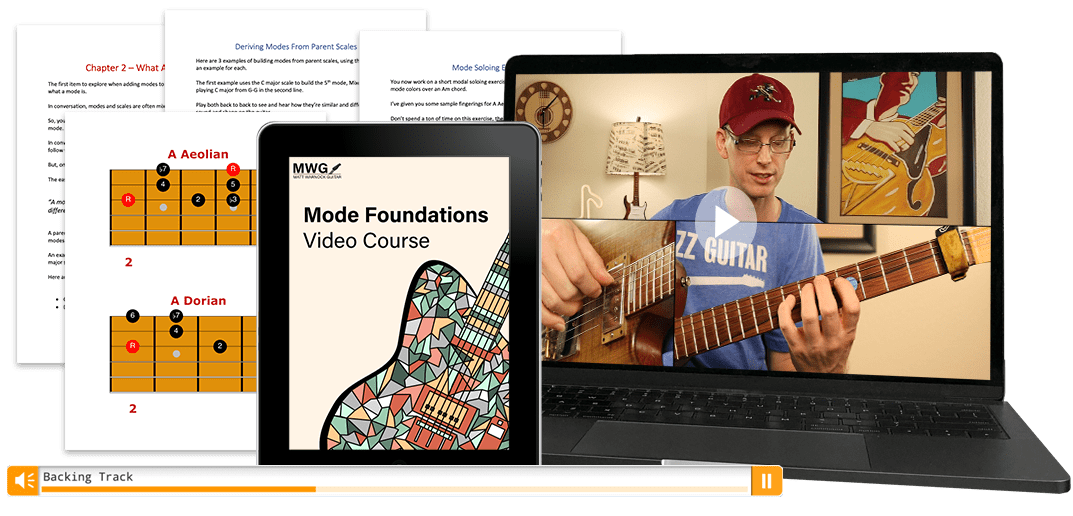 When I was learning how to solo, way back in the mid 90's, I began like most guitarists, by digging deep into the pentatonic and blues scales.
I learned all the box patterns, I learned shifting blues scales, even stole some 3-note per string blues shapes from Paul Gilbert.
I devoured everything I could find on the blues scale and I put it to work in my solos.
And I sounded good.
I went to blues jams, to rock jams, and when I soloed, I sounded like a solid blues guitarist.
But.
There was something missing.
I was hearing sounds beyond the blues scales I knew in the solos of my favorite players, and yet I couldn't figure out what those cool sounds were.
It wasn't until I started learning solos by ear from Robben Ford, Larry Carlton, Albert Lee, and others that I realized what I was missing, modes.
These players, and many others, were using modes such as Mixolydian and Dorian to break up their blues lines and create head turning moments in their solos.
I wanted to turn heads in my solos, and so I dove into modes with the same intensity as I did back when I learned blues scales.
And the results transformed my playing.
From being stuck in box patterns to flying across the fretboard and with a whole new palette of mode colors, my solos took off.
Oh, and I began turning heads at every gig as I applied the mode lessons I learned from transcribing legendary solos into my playing.
Now, many years and gigs later, I want to show you the exact exercises I used to learn modes in my own playing.
These exercises have been the core of my teaching over the past 20 years, and I've watched thousands of students thrive in their playing with these work outs.
I want you to have these same breakthroughs in your blues solos, and so I put together Blues Guitar 101 – Mode Foundations.
This course teaches you Mixolydian, Dorian, and Phrygian dominant, as well as how to apply these modes and essential mode workouts on the fretboard.
Not only do you learn how to play and use these modes with this course, you have fun in the practice room every day.
Can't go wrong there.
As well, you can come from any musical background or play in any musical genre and get a ton out of these lessons in your practice routine.
The beauty of learning modes when soloing is that you can make them personal, you can adapt them to your musical personality in your solos.
If you're a blues/rock guitarist, this course will expand your solos beyond box patterns.
If you're a jazz guitarist, this course will teach you essential mode sounds for jazz blues.
If you're a country guitarist, this course will show you how to get those chicken pickin' lines into your playing.
If you've never seen a mode before, this course will build solid soloing foundations.
Blues modes expand your soloing skills, open new pathways to explore in the blues, and bring new colors to any improvisation you play.
Oh, and they're just plain fun to explore and add to any blues solo. Can't go wrong there.
Everything you need to take your blues solos to the next level is in this course. Let's work together to make you the best blues guitarist you can be.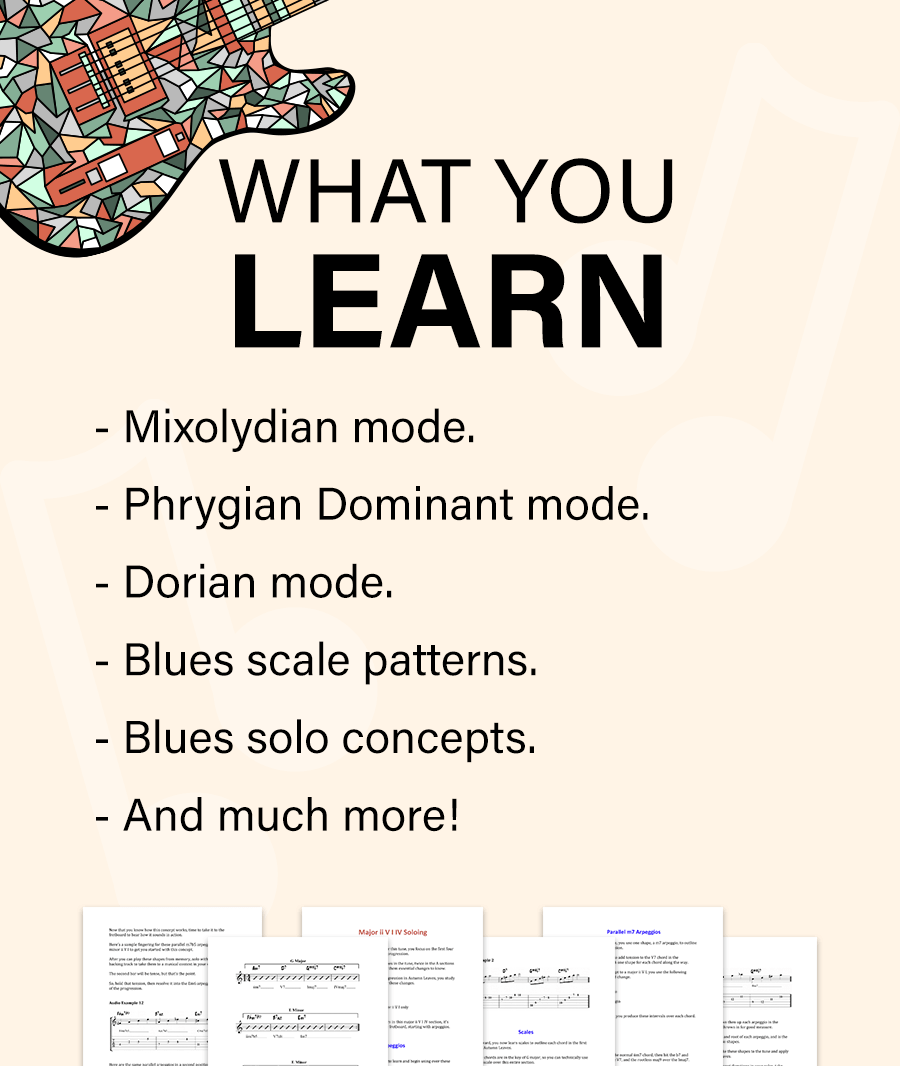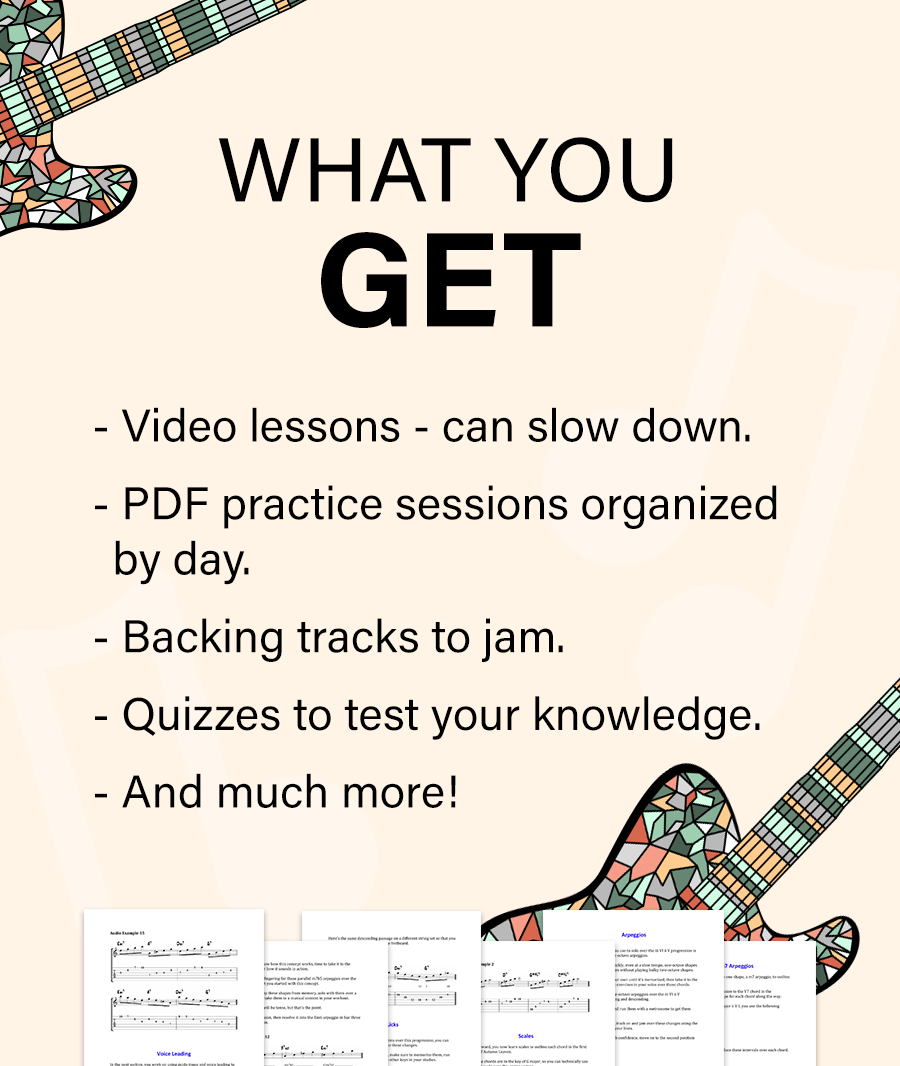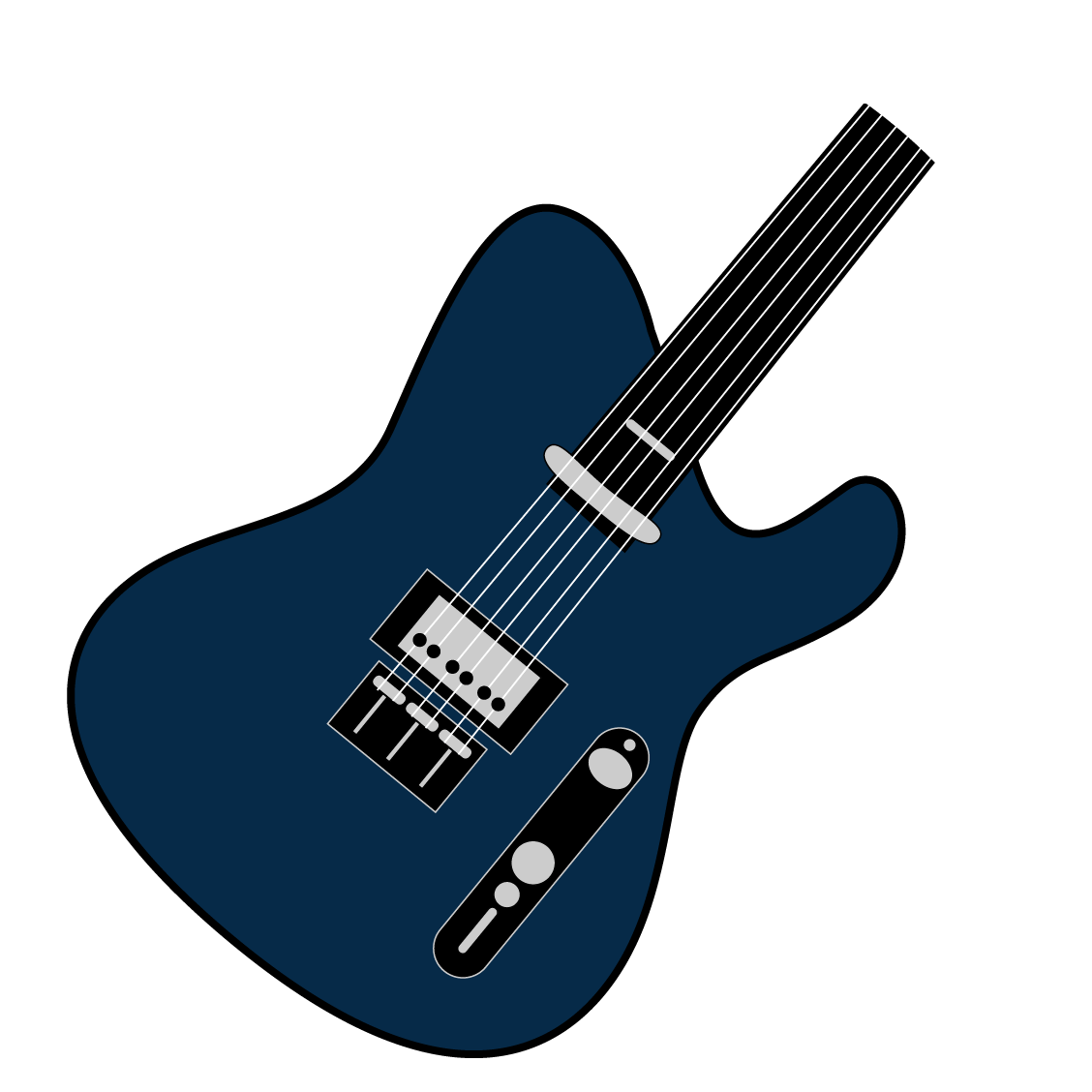 "Matt, I enjoy learning your teaching method. Great presentation of both music and guitar theory."
- Sidney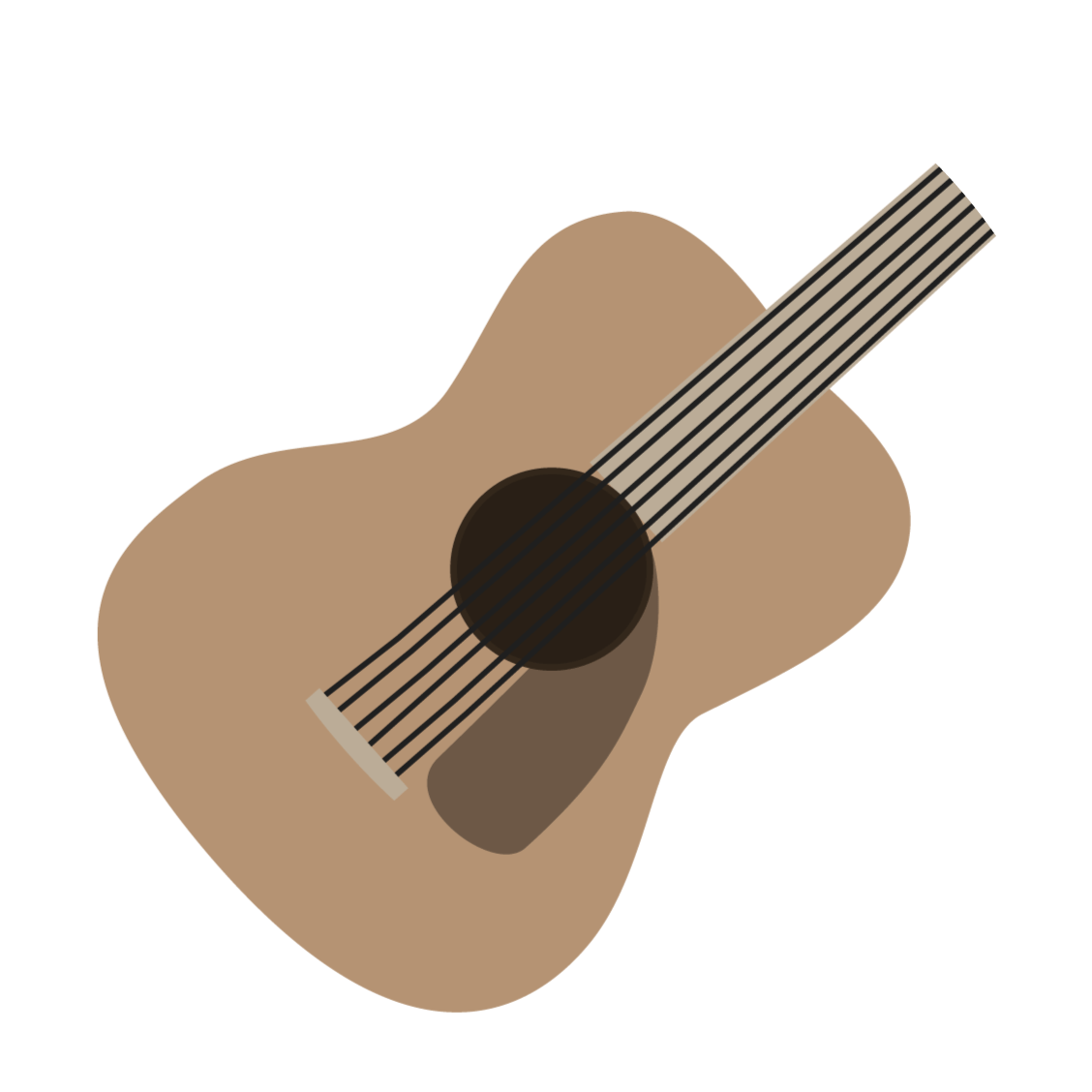 "This seems to be a very concise and educating course for all."
- C.B.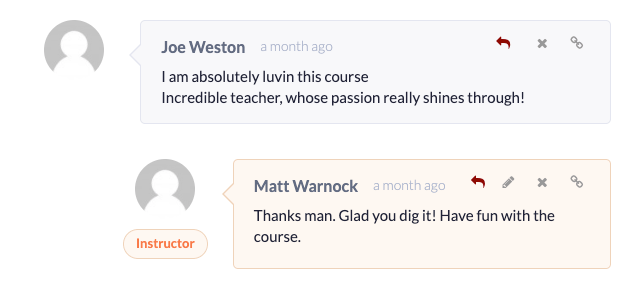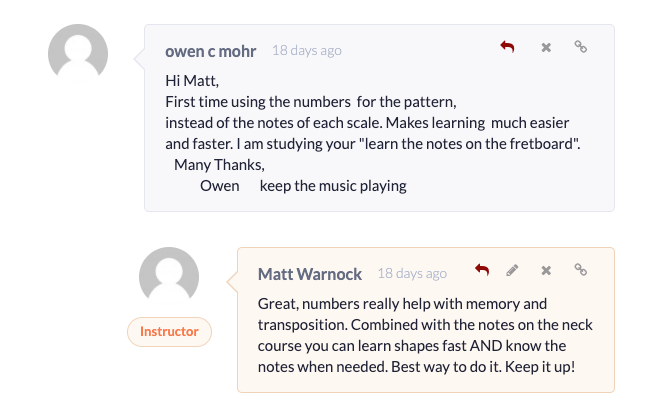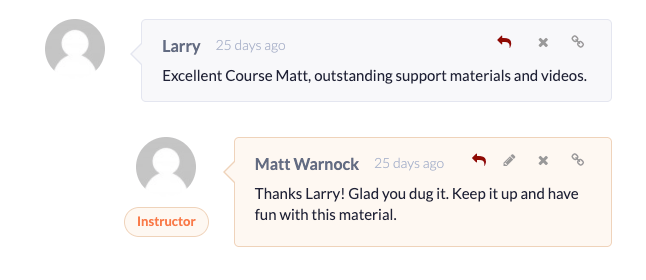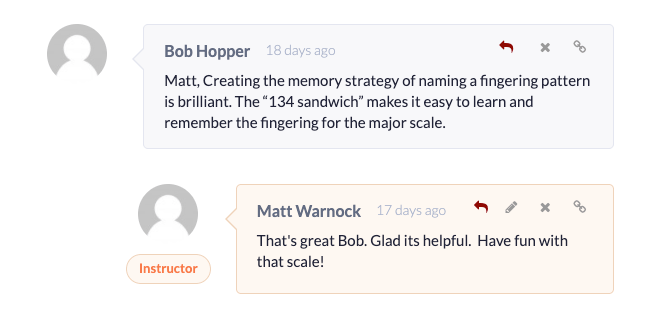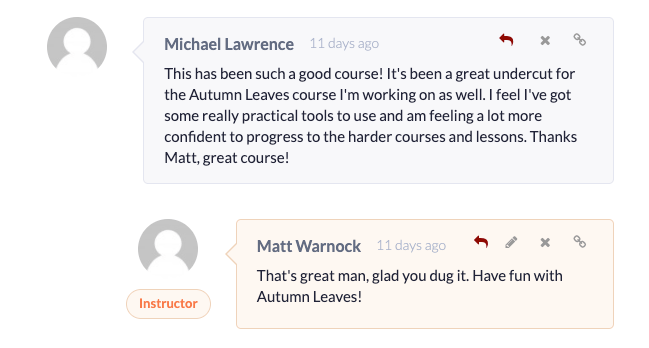 Zero Risk 30 Day Money Back Guarantee
To make sure you have ZERO risk, you're protected by a 30-day 100% satisfaction guarantee.
If you're not happy with this course for any reason, simply send Matt an email ([email protected]) or instant message and he'll refund your money.
No questions asked. No hassle. No waiting.
We guarantee that if you play these exercises you will reach your musical goals and have fun in the practice room.
If not, we'll make it right…right away!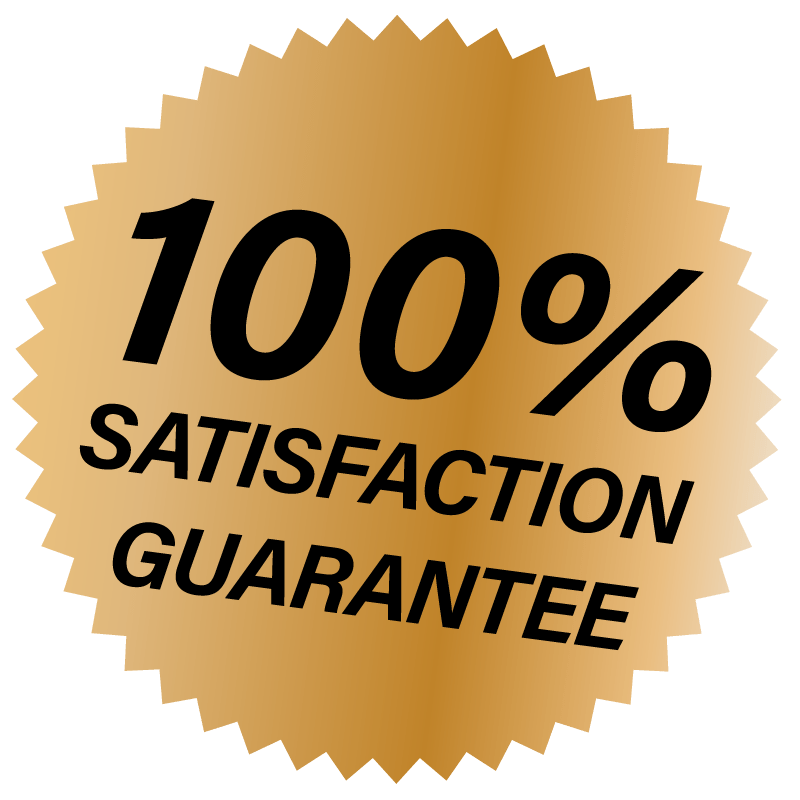 Still Feeling Undecided?
When does this course start and finish?
This course starts now and never ends! It's a completely self-paced online course - you decide when you start and when you finish.
What if I am unhappy with the course?
If you are unsatisfied with your purchase, contact Matt by email [email protected] in the first 30 days of your purchase and you will receive a full refund.
Can I download the files for each course?
You can download all PDFs, audio examples, and backing tracks to practice offline. The videos are only viewed on the page.
What if I have a question about the courses or about music?
You can post all questions related to the course in the comments of any section. I aim to answer all questions within 24 hours of posting. Also, you can use the instant messenger on the bottom right of the page to ask questions or you can email me at [email protected].
What if I don't know where to go next after finishing this course?
No worries, use our success paths and follow the step-by-step guides to learning what you want to work on – getting started, jazz guitar, blues guitar, guitar technique, lead guitar, rhythm guitar and much more!
Secure Payments. Safe and Secure SSL Encryption

1 Payment = Lifetime Access