This course is only available to GMM Members
Who is This Course For?
This course is designed for guitarists looking to learn THE most important jazz standard and expand your major and minor ii-V-I skill set.
It's for guitarist's who:
·     Want to build confidence with major ii-V-I chords.
·     Want to build confidence with minor ii-V-I chords.
·     Are ready to learn concepts through a jazz standard.
·     Love to be creative with your solos and chord work.
·     Are stuck in a jazz rut and need a little push forward.
I've been playing and teaching Autumn Leaves for over 25 years all over the world and with beginners up to professional level players.
I want to share with you everything I've learned about how to master this must-know jazz standard and have fun in the process.
Autumn Leaves is the most important jazz standard you'll ever learn. 
This tune contains 3 of the most important chord progressions in jazz, major 2514, minor 251, and the 36251 turnaround. 
If you can play Autumn Leaves, you can play countless other jazz tunes that use those progressions. 
This is why Autumn Leaves is such an important tune to learn.
Oh, and it's just plain fun to jam over!
To help you learn this essential tune, I've put together an in-depth study guide with videos, audio, backing tracks, PDFs, quizzes and more. 
Feedback from readers:
"Best thing I ever did for my growth as a guitarist!" - Kathleen
"The new Autumn Leaves Premium Guide is phenomenal!" - Mef
Autumn Leaves Study Guide Contents
Introduction
Harmonic Analysis 
Transcription Exercise
Blank Chord Chart
Guide Tones for Comping
Extended Chords with Roots
Extended Chords without Roots
Walking Basslines
Single Note Ornaments
Pentatonic Scales for Soloing
Arpeggios for Soloing
Scales for Soloing
Soloing Study - Bill Evans Lines
Chord Study - 4th Chords
Blank Music Paper
Extended Arpeggios
John Coltrane Autumn Leaves Phrases
Closed Position Chords
Syncopation Challenge
Solo Guitar Arrangement
Melodic Minor Soloing
3 to 9 Chords
Triads for Comping
Tritone Subs
Rhythmic Soloing Concepts
And More!
As a bonus you also get the Autumn Leaves Study Guide in the key of Em. 
A 10$ value, yours free!
Whew, that's a ton of material and hours of fun in the practice room.
Your next step to jazz guitar mastery begins here.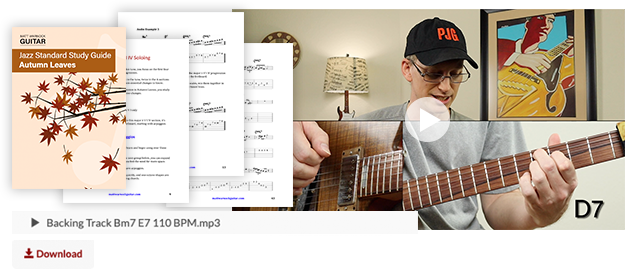 Autumn Leaves Standard Guide
"Thank you once again, Matt. I am never disappointed. Your stuff always takes me further. Even stuff I think I know. It's like gold. man! If anyone is stating to get serious about guitar, they should check you out!" 
-STEVE
Still Feeling Undecided?
When does this course start and finish?
This course starts now and never ends! It's a completely self-paced online course - you decide when you start and when you finish.
What if I am unhappy with the course?
If you are unsatisfied with your purchase, contact Matt by email [email protected] in the first 30 days of your purchase and you will receive a full refund.
Can I download the files for each course?
You can download all PDFs, audio examples, and backing tracks to practice offline. The videos are only viewed on the page.
What if I have a question about the courses or about music?
You can post all questions related to the course in the comments section of any section. I aim to answer all questions within 24 hours of posting. Also, you can use the instant messenger on the bottom right of page to ask questions or you can email me at [email protected].
What if I don't know where to go next after finishing this course
No worries, use our success paths and follow the step-by-step guides to learning what you want to work on – getting started, jazz guitar, blues guitar, guitar technique, lead guitar, rhythm guitar and much more!

This course is only available to GMM Members