Fingerpicking Essentials Chapter Preview
In this fingerstyle lesson, you learn:
Proper fingerpicking.
Relaxed technique.
Two-hand coordination.
Fingerstyle creativity.
And more...
FREE Chapter Lesson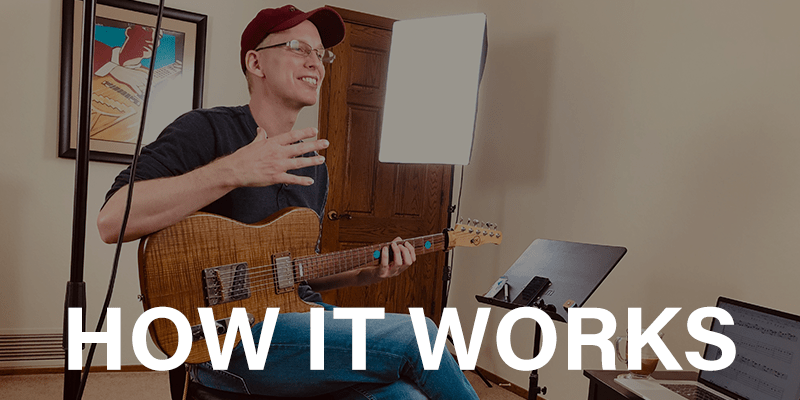 1. Sign Up
Fast sign up makes it super easy to start playing right now.
Safe & secure registration.
No credit card needed.
It literally costs $0.
2. Gain Instant Access
Get instant access to all 10 courses in this year's tour.
10 full guitar courses.
Video, Mp3, PDFs with TAB, notation & diagrams.
Practice online or off.
3. Play and have fun!
Step-by-step guidance and personal attention makes it easy & fun to learn guitar.
Get help directly from Matt.
Email & instant message support options.
Get personal attention at every turn.
MWG All Access Tour Includes 10 FULL Courses
Go behind the scenes as you experience everything MWG All Access has to offer.
Learn essential guitar skills with step-by-step guidance, including:
Lead Guitar
Rhythm Guitar
Guitar Challenges
Members-Only Live Workshops
Fretboard Fundamentals
Jazz Standards
Blues Jams
And much more!
Reach your goals, have fun playing, and express your creativity with this FREE 10-course All Access Tour.
Sign up for free here and start now!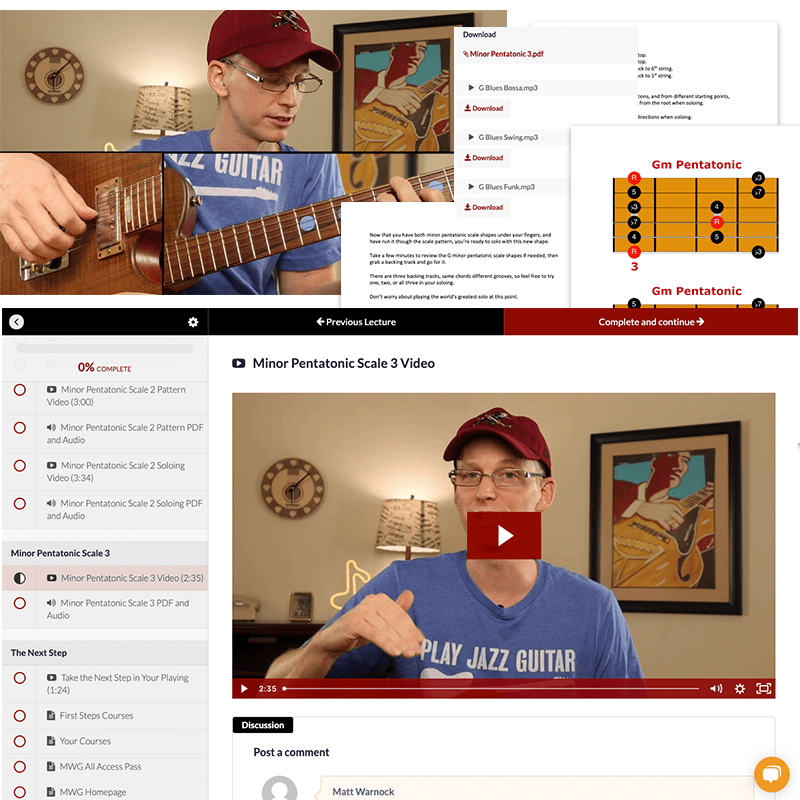 What MWG Students Are Sayin'
"This is great. Again the interactive aspect is really blowing my mind!"
- Tony S.
"Your materials got me through difficult times these past few months. The easy to access guides allowed me to fit guitar into some busy times and keep learning when time is short. Thank you!"
- Rob J.
"I've met so many good players, teachers, unable to work with positive feedback. You seem to be a people person, makes personal connections first, then teaching from there."
- Kirk S.
"Everyone should grab this, the creative comping course is amazing!"
- David W.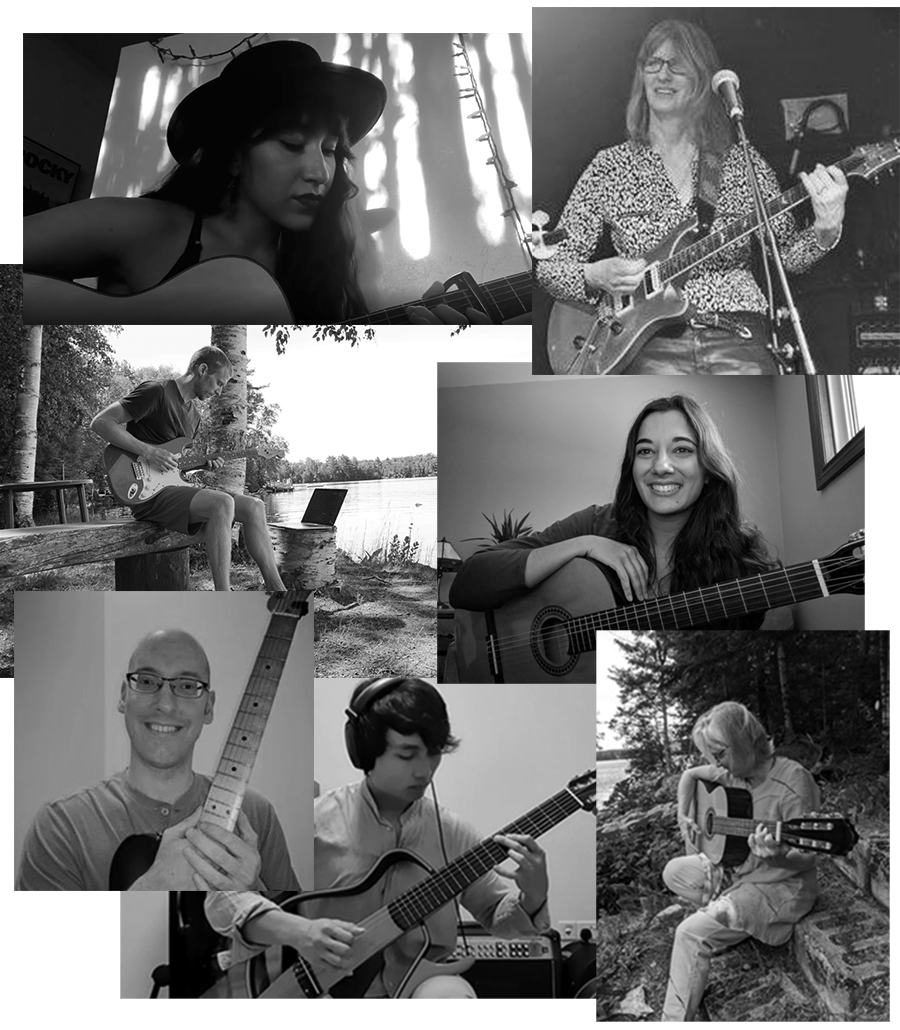 The MWG Experience
1
Expertise
Benefit from Matt's lifetime of studying, performing, and teaching players of all experience levels.
Doctorate in Jazz Performance
25+ Years Teaching Guitar
2000+ Live Performances
8000+ Private Lessons Taught
2500+ Online Lessons Published
2
Community
Discover a welcoming and encouraging community of guitarists just like yourself.
Welcoming Group of Guitarists
Friendly, Global Community
Encouragement From Your Peers
Learn From Fellow Players
Make Guitar Friends For Life
3
Personalized
Reach your maximum potential on your own schedule with expert, personalized guidance.
Personal Learning Pathways
Tailored Ways to Learn
Options for Every Learning Style
Learn by Jamming with Matt
Unique Performance Guidance
MWG All Access Tour
Back in 2011 I launched mattwarnockguitar.com with the goal of providing high-quality, affordable & free guitar lessons for anyone who wanted to learn.
After 8 years, and 10 million visits, MWG.com became MWG Courses in 2019.
Since then, players of all levels and styles have used MWG courses, workshops, & libraries to reach their guitar goals AND have fun in the practice room.
This is why I created the MWG All Access Tour: to give you the same postive learning experience in your guitar journey as you tour everything MWG Courses has to offer.
I know you're going to love these 10 courses. Now for the fun part. Grab your guitar and let's go play!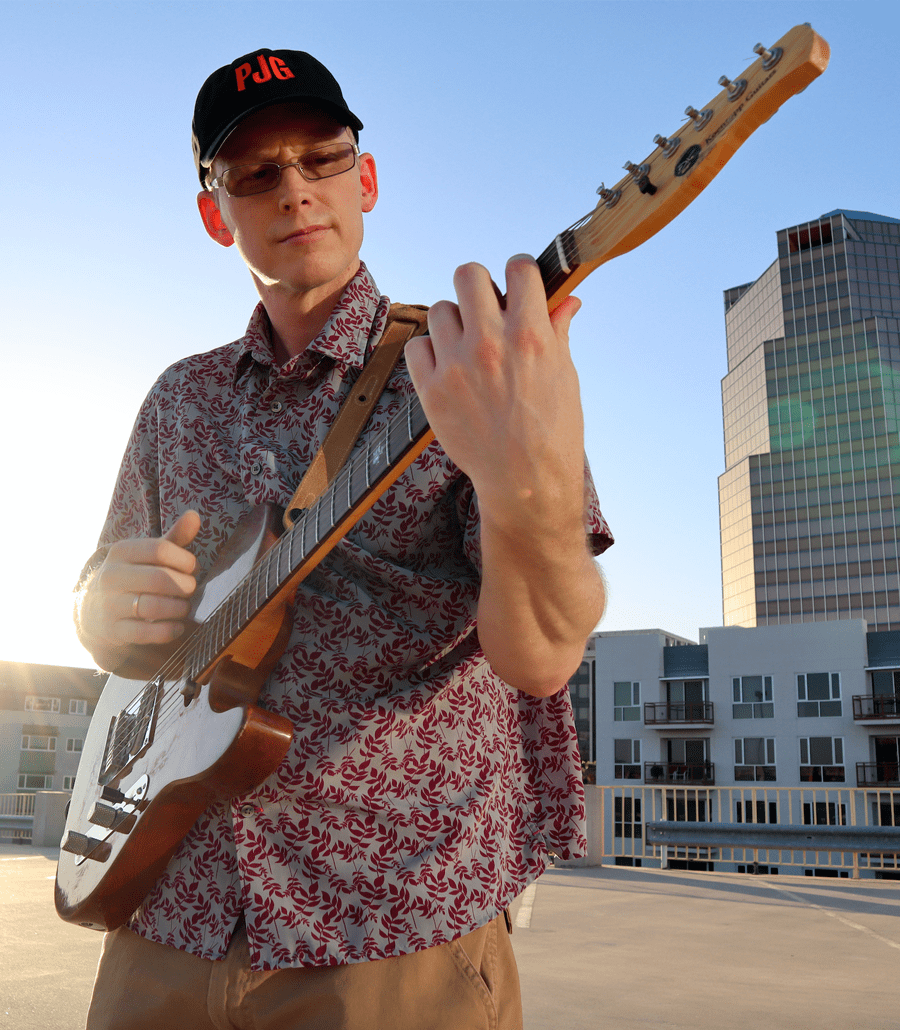 Frequently Asked Questions
When do the courses start and finish?
Once you sign up, you have lifetime access to the courses. Play at your own pace, there's no deadline to finish.
How long do I have access to the courses?
You have 24/7/365 lifetime access to the courses.
What if I decide the course isn't for me?
The All Access Tour is free, so if it's not for you, just leave it. All good.
What type of guitar do I need for this course?
You can use a nylon string, electric, or acoustic guitar for this course. Any guitar is cool, so go with what's comfortable for you.
What do I do if I need help?
Contact Matt on the Help Page to receive expert support 7 days a week.
MWG All Access Tour
10 Free Courses
No Credit Card Required.
Lead & rhythm guitar skills.
Interactive jams with Matt.
Exclusive, members-only workshop.
Learn by creating real music.
Lifetime Access for FREE
10 Full MWG Courses
MWG All Access
Spend Less & Play More
Courses, Libraries, Workshops, Office Hours...
Instant access to 155 courses.
17 full resource libraries.
Live guitar workshops every week.
7-Day expert customer support.
Learn More Here
Best Value - Most Popular