In this jam lesson, you:
Trade 4s with Matt.
Solo over Watermelon Man.
Comp behind Matt's solo.
Add soloing vocabulary.
And more...
FREE Chapter Lesson
What You Learn
1
Form
Stop worrying about getting lost when jamming and start loving every minute on the bandstand and in the jam room.
Never get lost in a jam ever again.
Learn to "hear" where you are in the form.
Drop a record and know the exact chord being played.
Much more…
2
Vocabulary
Learn how your favorite players turn chords, scales, and arpeggios into ear-grabbing riffs, runs, and phrases.
Go beyond shapes with real guitar language.
Turn every scale and arpeggio into a musical phrase.
Build amazin' phrasin' skills.
Much more…
3
Interaction
Go deep into the art of listening and reacting to your bandmates when jamming over any song in any style.
Learn to trade 1s, 2s, and 4s.
Discover the art of "compersation."
Play with your ears, not only your fingers.
Much more…
Easy-to-Follow Lessons for Every Learning Style
The step-by-step guidance you need, with the personal attention you deserve.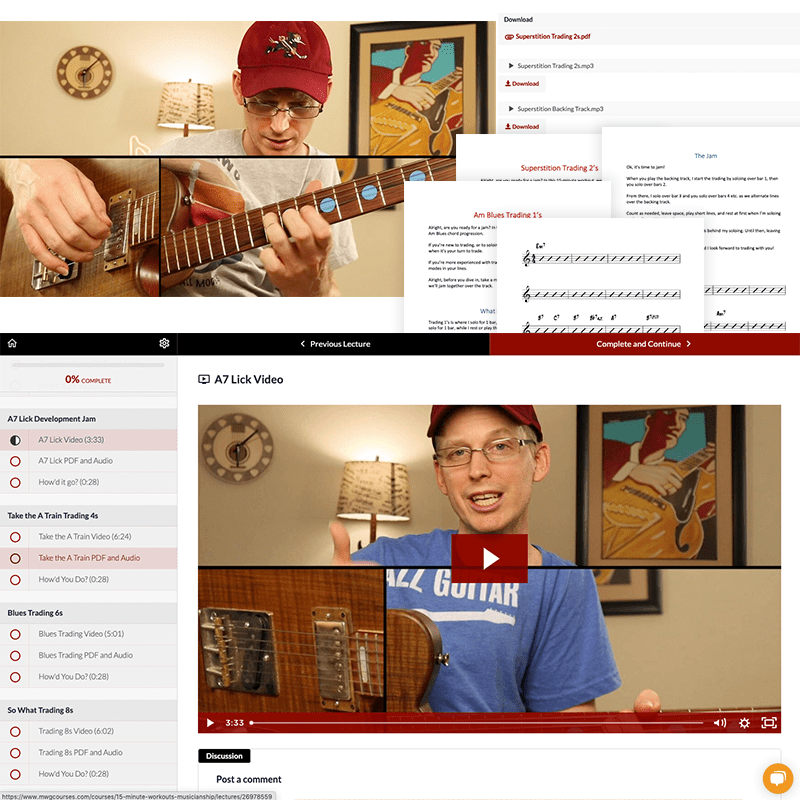 Who is This For?
1
Form Troubles
You jam over tunes and have trouble keeping track of the form when soloing & comping.
Interactive jam sessions.
Learn by jamming with Matt.
Never lose the form again.
Much more…
2
Ear Training
You've built up your technique and your ears are ready to catch up to your hands.
Hear chords, scales, & arps.
Learn by ear.
Expand your aural skills.
Much more…
3
Expand Creativity
You're tired of the same boring, old exercises and are ready to get creative.
Express yourself on guitar.
New to improvisation.
Enjoy creative workouts.
Much more…
Frequently Asked Questions
When does the course start and finish?
Play at your own pace, there's no deadline to finish.
How long do I have access to the course?
Once you sign up for lifetime access you can use the course 24/7/365, no limitations.
What if I decide this course isn't for me?
I'm happy to give you a refund within the first 30 days after your enrollment date, no questions asked.
What type of guitar do I need for this course?
You can use a nylon string, electric, or acoustic guitar for this course. Any guitar is cool, so go with what's comfortable for you.
What do I do if I need help?
Contact Matt on the Help Page to receive expert support 7 days a week.
The MWG Difference
1
Expertise
Benefit from Matt's lifetime of studying, performing, and teaching players of all experience levels.
Doctorate in Jazz Performance
25+ Years Teaching Guitar
2000+ Live Performances
8000+ Private Lessons Taught
2500+ Online Lessons Published
2
Community
Discover a welcoming and encouraging community of guitarists just like yourself.
Welcoming group of guitarists.
Friendly, global community
Encouragement from your peers.
Learn from fellow players.
Make guitar friends for life.
3
Personalized
Reach your maximum potential on your own schedule with expert, personalized guidance.
Personal learning pathways.
Tailored ways to learn.
Options for every learning style.
Learn by jamming with Matt.
Unique performance guidance.